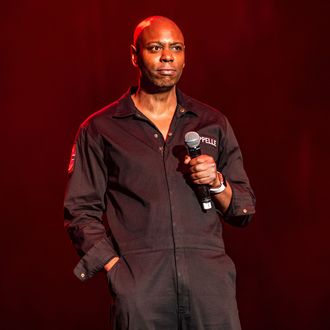 TFW you contract the novel coronavirus.
Photo: Mathieu Bitton/Shutterstock
Funnyman Dave Chappelle has some not-so-funny news. On Thursday, TMZ reported that the iconic comedian tested positive for COVID-19 while doing a string of comedy shows in Austin, Texas. Chappelle performed his first of five shows on Wednesday night before contracting the virus, and as such has canceled the remaining four shows scheduled for Thursday, Friday, Saturday, and Sunday, respectively. Chappelle has been hosting socially distanced comedy shows in Ohio since June with guests including but not limited to Chris Rock, David Letterman, Jon Stewart, Tiffany Haddish, Michael Che, Michelle Wolf, Sarah Silverman, and the controversial Louis C.K. Just two days ago, Chappelle was photographed at Stubb's Ampitheater in Austin, TX, with Joe Rogan, who was set to perform in two of the shows, as well as Grimes, who recently tested positive for coronavirus, and champion of comedy Elon Musk, who we can only hope was there as a spectator and not a comedian. A rep for Chappelle says that the comedian is currently quarantining and as of yet has not experienced any symptoms. Wishing Chappelle an especially speedy recovery because we simply must see his set about what it's like to potentially give COVID-19 to (or get it from) the richest man in the world.