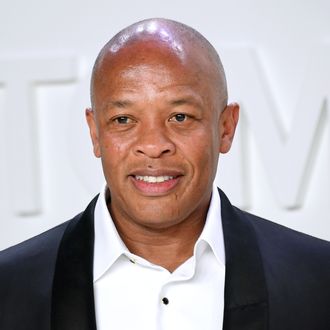 Photo: Mike Coppola/FilmMagic
January 5, 9:29pm: Dr. Dre is in intensive care at Cedars-Sinai Medical Center in Los Angeles after suffering a brain aneurysm, according to TMZ. Dre, who is 55 years old, reportedly suffered the aneurysm on Monday, and is now in the ICU. Though TMZ reports that Dre is "stable and lucid," details of his full condition are not known. The rapper and producer is currently going through a divorce from his estranged wife, Nicole Young, and is due for a hearing on Wednesday. Young filed for divorce in June 2020, citing irreconcilable differences. The couple married in 1996 and have two adult children together.
Update 10:01 p.m.: LL Cool J gave an update on Dre's condition on Twitter, writing, "Dre is recovering nicely."
Update, 11:26 p.m.: Dre shared an update from the hospital on Instagram, writing, "Thanks to my family, friends and fans for their interest and well wishes. I'm doing great and getting excellent care from my medical team. I will be out of the hospital and back home soon. Shout out to all the great medical professionals at Cedars. One Love!!"
Update, January 6, 10:28 a.m.: And during all that, while Dr. Dre was hospitalized for his brain aneurysm, burglars targeted his Los Angeles home, according to KABC and TMZ. Per TMZ, police believe the four suspects responded to reports that Dre was hospitalized and thus away from home. KABC also reports that police first believed the group had targeted Vice-President-elect Kamala Harris's nearby home. The four suspects have been arrested for attempted burglary.
Update, January 16, 10:30 a.m.: Dr. Dre was released from the hospital and returned home to recover on Friday, January 16. According to TMZ, "there are medical professionals at his home who will monitor him 24/7 for the next few weeks" as the cause of his aneurysm is still unknown. Ice T tweeted that Dre was "looking good" when they FaceTimed on Friday.