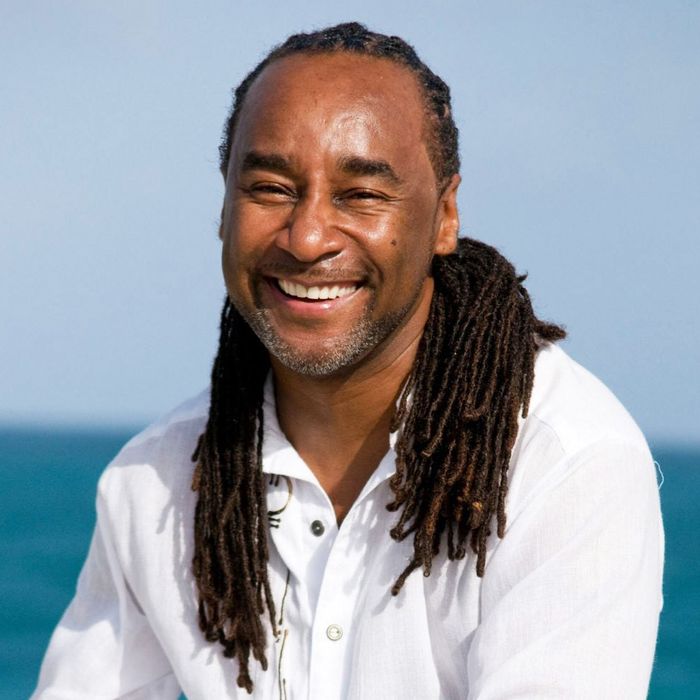 The author Eric Jerome Dickey, who died Sunday at 59.
Photo: Joseph Jones
There are grown-folks books, and there is grown-folks business, both of which I found myself often meddling in too much as a kid. I came up in a household — and in a neighborhood — where reading was a sometimes unfiltered experience. Particularly in the months when kids were out of school, looking to fill time on the days when the rain wouldn't let up and the basketball courts were soaked or the sidewalks were ill-suited for bike riding. I first read whatever was in the house and handed down by older siblings or in the libraries of my parents. In my early teenage years, the library down the street was a gateway to books that explored the depths of messy, grown, Black relationships. There is no explanation for why I was drawn to these books at the time. They were explicit enough to be dangerous, but not explicit enough to drag me to the doorways of discomfort. I understood them on a big-picture level. Love, the anxieties of aging, family. I grew up in an area that was mostly Black, and I think I loved these books because I could so easily project the people in them onto the people I saw every day.
So many Black writers and readers I know have a story about an Eric Jerome Dickey book on some mother or auntie's nightstand. For folks my age or around my age, the book is often Sister, Sister or Friends and Lovers or Milk in My Coffee. Eric Jerome Dickey books weren't at my beloved library and weren't in my home, but they were in the homes of my friends. Their mothers carried them under an arm and, yes, left them unattended on tables or nightstands. We held them close with the understanding that these books were books for adults. Like so many people who tell this type of story, I don't remember when I got my hands on the book or how. I don't even remember which pages I read or if anything especially salacious was in them. I knew Eric Jerome Dickey first as a forbidden author, who wrote things that I wasn't yet ready for but might one day grow into.
For all of those who might take the occasion of Dickey's passing to write about how prolific he was (and they would be correct in doing so, of course), I was always thankful for the path he took. I'm not someone who studied writing in college. I didn't study much of anything. I had no large dreams of being a writer, and my idea of a career simply amounted to whatever might keep a couple things in my fridge for a week until the next payday.
Dickey moved through different careers and lives before writing his first book. By the time Sister, Sister was published, in 1996, he had already spent years doing technical writing for an aerospace company. He had also traveled to do standup comedy. He found his path to writing in a way that feels familiar to me. He forged a path that might seem uncommon to some, but that continued to inform his work. Among all of his technical skills of character development, of scene-setting, there was great humor in the language he provided his speakers. There is the truth I return to: You're a writer even when you aren't writing. Even when you don't have a book and are past the age where publications might salivate over your potential as a phenom. Even when you are working a job, and doing your side hustles, and figuring out a tangled mess of ideas that aren't yet on a page or perfectly bound. Dickey became a best-selling author, but I'm always thankful for the life he lived before that. A life where he was still a writer, no matter what else he was doing.
In the early 2010s, I decided to revisit Dickey's work, along with that of some of the other Black authors I remembered sinking into during that influential era, my teenage reading life. Dickey, Terry McMillan, Pearl Cleage, among others. These works were important to me even though I didn't have the life experience to hold the full weight of them. What endures, beyond anything else, is the storytelling. Dickey was an exceptional storyteller who had a big heart for his people. And at the intersection of that were books that I got to fall in love with again as an adult, like I did as a child. Books that were contemporary. Of my time, or of a time close to mine. Touchable landscapes and characters and problems. Books where Black people were troubled, flawed, but still offered some grace.
In 2007, Dickey wrote a comic book, Storm. It focused on the love story between Storm from X-Men, and the Black Panther. I remember this because I found it in a comic shop soon after it was published. For me, it is his greatest work, the one I always found myself talking about most whenever I heard a story about a person sneaking his books as a kid, or whenever I told my own. Storm is full of comic-book theatrics and the expected superhero dialogue. But at its heart, it is a story of two people falling for each other, first slowly, and then eagerly. Storm and T'Challa find each other and fight their growing affections before giving in. I felt like this was the writing Dickey was made for. Cinematic, swelling, fluorescent, backed by high, otherworldly stakes. I haven't seen or read the comic in years, but there is a part of it I remember vividly. As Storm and T'Challa have their first kiss, Storm tries to contain her powers in the midst of passion. In the panel of the comic where a reader sees them kissing, there is language overhead — what we understand to be Storm's inner thoughts. Within them, there is a line: I asked the Gods to not let desire embarrass me.
I specifically remember that line because I wrote it down in a notebook at the time. A notebook I still have. From a moment in my life when I didn't think of myself as a writer. When I took breaks from my job selling CDs at a bookstore to write down lines I loved. The idea was that if I ever "became" a writer, I would return to these lines on the days I was stuck, on the days I needed to recall what magic could be snapped to life by the right arrangement of words. I have endless gratitude for Eric Jerome Dickey and the worlds he offered us in his time here. I am so thankful I got to grow into his work. To see it, hopefully, as he wanted it to be seen.