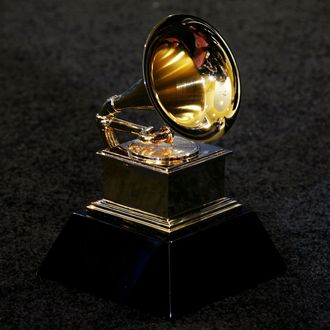 Photo: Gabriel Bouys/AFP via Getty Images
The 2021 Grammys will be postponed, a representative for the Recording Academy told Variety. Originally intended for January 31, the awards are now looking at a March date, sources have told both Variety and Rolling Stone. The event was postponed due to a new COVID-19 surge in California, where it was slated to be held in Los Angeles. Organizers first said the show would take place at the Staples Center, as it was last year, before implying in recent interviews that it could take place at sites throughout the city. According to Rolling Stone, the awards were already set to have no audience, with nominees unable to attend unless they were performing or presenting. The COVID-19 surge in Los Angeles has already prompted film and TV productions to halt shooting. The Grammys were set to be the first major awards show of 2021, with others like the Golden Globes postponed due to changes in the movie release schedule.
Beyoncé leads the Grammy nominations with nine, followed by Dua Lipa, Roddy Ricch, and Taylor Swift with six each. The news of the delay comes the day after final-round voting ended for the awards — meaning that even though artists will have to wait to find out the winners, not much that happens in the interim period should affect voting.
Update, 5 p.m.: The Grammys will now take place on March 21, according to Entertainment Weekly. "The deteriorating COVID situation in Los Angeles, with hospital services being overwhelmed, ICUs having reached capacity, and new guidance from state and local governments, have all led us to conclude that postponing our show was the right thing to do," the Recording Academy and broadcast partner CBS said in a joint statement to EW, citing "thoughtful conversations with health experts, our host, and artists scheduled to appear." The statement continued, "Nothing is more important than the health and safety of those in our music community and the hundreds of people who work tirelessly on producing the show. We want to thank all of the talented artists, the staff, our vendors, and especially this year's nominees for their understanding, patience, and willingness to work with us as we navigate these unprecedented times."
Update, 7 p.m.: The Recording Academy has officially announced that the Grammys will actually take place on Sunday, March 14, correcting the earlier reported date of March 21.