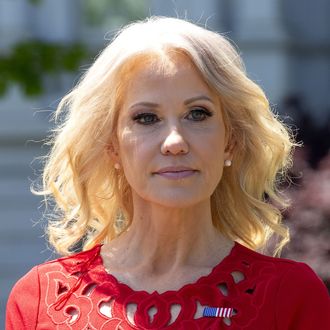 Kellyanne Conway, 54.
Photo: Stefani Reynolds/CNP/Bloomberg via Getty Images
Kellyanne Conway, ex-counselor to the ex-president, allegedly posted a topless photo of her 16-year-old daughter, Claudia Conway, on Twitter on Monday night. According to screenshots captured by users, Kellyanne's Twitter account shared the nude image using Twitter Fleets, which deletes posts after 24 hours. The post was deleted earlier than that, but not before fans alerted Claudia over on TikTok (and creeps reposted it). Claudia posted videos confirming that the photo was real. "I'm assuming my mom took a picture of it to use against me one day and then somebody hacked her or something," she said. "I'm literally at a loss for words. If you see it, report it." The TikToks have also been deleted but were reshared by concerned fans. "Please get people to talk about this," Claudia wrote in Morse code in the comments. "I'm okay but scared af spread awareness pls."
Later on Monday night, YouTuber Tana Mongeau went live on Instagram, broadcasting a FaceTime call with Claudia in which you can overhear Kellyanne, Claudia, and a police officer argue. Kellyanne can be heard calling Claudia a "phone addict," "mentally ill," and saying that an account with only "eight followers" posted the picture. "It's not sent around," Kellyanne can be heard telling her daughter. "You're wrong. It is nowhere. They don't see it. You don't see it. It is nowhere. You're making this up to be a big shot." Just last week, Claudia shared videos on TikTok allegedly exposing her mom verbally and physically abusing her. In the comments, Claudia claimed CPS has been called before, and "they do nothing. "She's way too powerful," Claudia wrote.
Update, 12:15 p.m.: Claudia Conway posted four new TikToks on Tuesday morning, updating her followers. "This isn't forced," she began. "This is coming completely from me, Claudia." The 16-year-old said she believes that her mother did not intentionally post the photo and that the accusation "hurts me more than it helps." "I will be taking a break from social media because we are really tired of being headlines," she announced. "We fight like mothers and daughters, but being in the public eye exacerbates that greatly, and it adds a lot of stress to both of our lives, and I don't want that."
Update, 2 p.m.: The police have launched an official investigation into the topless photo of Claudia Conway posted on her mother Kellyanne's Twitter account, Vulture has confirmed. Cops paid a visit to the Conway home in Alpine, New Jersey, on Tuesday, "just before noon," spending about an hour there, the New York Post reports. "An investigation is being conducted by the Bergen County Prosecutor's Office," Alpine chief of police Christopher Belcolle told Vulture, noting that case details regarding juveniles are not made public. "No additional information can be released."