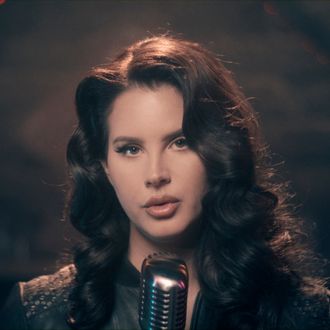 Photo: NBC/NBCU Photo Bank via Getty Images
On Sunday, Lana Del Rey dropped the cover art and track list for her highly anticipated upcoming album Chemtrails Over the Country Club, which will include songs like "Tulsa Jesus Freak" and "Not All Who Wander Are Lost," as well as the EP's previously revealed single, "Let Me Love You Like a Woman," which premiered this past fall. In an interesting nod to the plot of Christopher Nolan's Tenet, the singer also penned an Instagram comment in which she attempts to reverse the flow of the internet's entropy and defend Chemtrails' cover art against any and all future criticisms that could be leveled at it, including, seemingly, that her inclusion of women of color could be seen as an attempt to counteract her bad press from this spring. In fact, Del Rey goes wide enough to conclude with the lines: "I'm not the one storming the capital, I'm literally changing the world by putting my life and thoughts and love out there on the table 24 seven. Respect it." Phew!
"I also want to say that with everything going on this year! And no this was not intended-these are my best friends, since you are asking today. And damn!," the singer wrote in the since-deleted comment, captured here by Stereogum. "As it happens when it comes to my amazing friends and this cover, yes, there are people of color on this record's picture and that's all I'll say about that. But thank you. My beautiful friend Valerie from Del Rio Mexico, my dearest friend Alex and my gorgeous friend Dakota Rain as well as my sweetheart Tatiana. These are my friends, this is my life. We are all a beautiful mix of everything - some more than others, which is visible and celebrated in everything I do."
"In 11 years working I have always been extremely inclusive without trying to," continued Del Rey. "My best friends are rappers, my boyfriends have been rappers. My dearest friends have been from all over the place, so before you make comments again about a WOC/POC issue, I'm not the one storming the capital, I'm literally changing the world, my putting my life and thoughts and love out there on the table 24 seven. Respect it."
Back in May, the singer defended herself against criticism that her comments comparing her perceived reception to that of female artists of color like Beyoncé, Doja Cat, and fka twigs came across as tone-deaf and racially insensitive. "The fact that they want to turn my post, my advocacy for fragility into a race war," Del Rey said in a subsequent video attempting to clarify her statement. "It's really bad. It's actually really bad."
Update, January 11, 6 p.m.: Lana Del Rey is now defending her defense of her new album cover for Chemtrails Over the Country Club. Speaking to BBC Radio 1's Annie Mac for the premiere of the title track, she addressed alleged criticisms of the cover photo regarding inclusivity. "My girlfriends come from all over the world, they have children from all different types of people," she explained. "And I'm mentioning all this, like, to people who are listening because people really wanted even more people of color on my album cover. Which you know is, to a point, a photo just is what it is." Del Rey further claimed that "actually half the people in this photo are people of color." She also said the so-called controversy — which seems to have been started and fanned only by her— made her think "back to all my songs and videos and starting with more of a hip-hop sound." She went on, "I just feel like if that's really what people are gonna say, I have an answer for them, which is that if you look closer, you will see people of color. It's a black-and-white image, so zoom in, you know. It's just weird, you know?" Do we, Lana?
Elsewhere in her conversation with Mac, Del Rey spoke about the pandemic ("I always wondered, with 8 billion people in the world, [why] this did not happen sooner") and the riot at the Capitol ("Watching the people storm the Capitol, everyone gets to go look at that and figure out what Capitols they've been storming this year in their own freakin' lives").