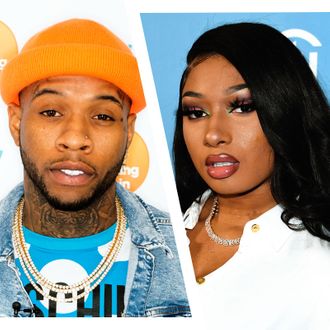 Photo-Illustration: Vulture, Shutterstock and Getty Images
Following public scrutiny after being shot in both her feet, Megan Thee Stallion confirmed in an August 20 Instagram Live that rapper Tory Lanez had shot her. "Yes, this n- - - - Tory shot me," she said, adding that his publicist had lied about his involvement. The shooting has prompted a range of responses since July 12, including radio silence from hip-hop's biggest players, distasteful jokes about Megan in the wake of the shooting, and support for her from others in the music industry. (Few have spoken out in support of Lanez since Megan claimed he was the one who'd shot her, but that hasn't stopped everybody.) "Black women are so unprotected & we hold so many things in to protect the feelings of others w/o considering our own," she tweeted nearly a week after the shooting, on July 17. "It might be funny to y'all on the internet and just another messy topic for you to talk about but this is my real life and I'm real life hurt and traumatized." Here's a breakdown of where everyone stands.
Who Supports Megan?
Kehlani
Ahead of the video for her song "Can I," which features Lanez, Kehlani tweeted that she would take him off the deluxe version of her album It Was Good Until It Wasn't. "The album came out months ago i can't remove it, doesn't work like that," she wrote on July 29 in a since-deleted tweet. "Can only move forward." Kehlani didn't feature Lanez in the video. "I stand with women, believe women, & i love my friends," she added in a July 30 tweet.
JoJo
After Megan confirmed that Lanez had shot her, JoJo tweeted, "LOVE RESPECT AND PEACE AND PROTECTION TO @theestallion ❤️❤️❤️❤️❤️❤️" on August 20. She also told a fan that she would take Lanez's verse off her song "Comeback" in the upcoming deluxe version of her album Good to Know. "Def took him TF off," she tweeted.
Yung Baby Tate
Rapper Yung Baby Tate had a simple response after Megan confirmed that Lanez had shot her. "Yeah bro I'm fucking pissed," she tweeted. "Fuck Tory Lamez."
Halle Berry
Support for Megan extended outside the music industry when Oscar winner Halle Berry tweeted on August 21. "Peace. Protection. Respect. For ALL Black Women. ALWAYS," she wrote. "@theestallion, we stand with you. F**k this sh**. #ProtectBlackWomen."
Michael B. Jordan
Actor Michael B. Jordan joined Halle Berry with his support for Megan on August 21. "Meg I admire your courage and applaud you for speaking up," he wrote. "We must Support Black Women, Protect Black Women, and Believe Black Women."
Asian Doll
Rapper Asian Doll defended Megan on an August 21 Instagram Live. "Megan is not violent. Megan is not an argumentative person," she said. "Don't try to tell nobody how to defend they friend, period."
Chance the Rapper
Coming to the defense of his "Handsome" collaborator, Chance the Rapper tweeted on August 22, "I hope Meg really gets justice for what Tory did to her. And that we can all learn from this, how near and constant and serious, the threat of lethal violence and abuse is for every Black woman."
T.I.
Rapper T.I. offered some support for Megan during an Instagram Live on August 22. Emphasizing "if" Lanez had shot Megan, he said, "How in the fuck you shoot a girl — in a bikini?" He continued, "Under no circumstances should any man be accepted for shooting a Black woman. Or any woman." T.I. went on to address Lanez: "Tory, you need to say something," he added.
J.R. Smith
Los Angeles Lakers player J.R. Smith defended Megan and called out Lanez in an Instagram Story on August 23. "This clown shoots a female an y'all listening to his music like its ok!" he wrote.
Bun B
Hip-hop legend Bun B offered support for his fellow Houstonian on a wide-ranging hour-long Instagram video on August 24. "Fuck Tory Lanez, and I don't care if this go viral or none of this shit," he said. "I'm from Houston, and if somebody would have done something to Megan in this city, we would've rode." The UGK rapper later added, "So, as an OG in Houston, I'm standing up. Tory Lanez is some ho ass shit. Period. Yeah, I know Tory. I know his manager. I know all of 'em, man. Fuck all that, though. Fuck all that." Bun B went on to call out the sexism and anti-Blackness of people not defending Megan. "Nobody is talking about it because it's a Black woman," he said. "Y'all can say what y'all want. That's just what it is … Somebody fuck with one of these white women in Hollywood — put your hands on Alyssa Milano and see what happens. Put your hands on Lady Gaga and see how quick they lock your ass up."
Maxo Kream
Fellow ascendant Houston rapper Maxo Kream spoke in support of Megan Thee Stallion on an August 24 Instagram Live. "I wasn't gonna speak on this shit until I seen n- - - -s and bitches coming for Megan, talking like she's 6ix9ine or something," he said. Kream said he was in Los Angeles three days before Megan's shooting, staying at the same hotel as Lanez, when Lanez drove to pick up food at the same restaurant as him. Lanez got out to get his food and, when he came back, opened the door to Kream's black car instead of his own. "I'm thinking like, Who the fuck is this n- - - -? so my n- - - -s up the poles on him, up sticks on these n- - - -s, you feel me? Up guns on these n- - - -s," Kream said. "And n- - - -, 'Oh! My bad bro, my bad, I didn't know where I was going, I ain't know where I was going.' You know what I'm saying, go hop back in the car." He continued, "So, with me seeing that, I'm like, bro, it's crazy. You would shoot a female, but when some gangsters get on your ass, up sticks, n- - - -s … copping pleas and shit, you know what I'm saying, begging for they life. Playing pussy." Kream went on to call Lanez "a bitch" and call out other Texans. "Any n- - - - from Texas that ain't stand up for Megan, isn't standing up for Megan, y'all is some bitch-ass n- - - -s too. Y'all some hoes too."
DaBaby
DaBaby is featured on the track "Cry Baby" from Megan's debut album, Good News, released in November. Tory Lanez announced a new song with DaBaby on January 5, but Megan clarified on Twitter that she doesn't blame DaBaby for the collab. "😂😂😂 nice try," she tweeted. In another tweet, she added, "That shit was old and not cleared," seemingly referring to Lanez's new song. She also said a video for "Cry Baby" would be out soon.
Who Apologized to Megan Over Their Bad Jokes?
Draya Michele
Speaking on the July 22 episode of the podcast Wine and Weed, Draya Michele made a joke that eventually prompted a callout from Megan herself. "I predict that they had some sort of Bobby and Whitney love that, you know, drove them down this Snapped-esque type of road," Michele said. "And I'm here for it. I like that. I want you to like me so much that you shoot me in the foot too." After the podcast came out, Megan tweeted, "Dumb bitch that shit ain't fucking funny who tf jokes about getting shot by a n- - - -." Michele first replied on July 22, tweeting (and since deleting), "I truly don't glorify domestic violence … I was trying to say just love me deeply. But while trying to be funny, I offended many, including meg. And I'm sorry." In a second reply on her Instagram Story, Michele added, "I was wrong to insinuate that there is any room for violence in loving relationships, or in any relationship for that matter. I was wrong to try to find humor or make light of the situation, and understand that my joking nature was damaging and hurtful."
Chrissy Teigen
Days after Megan called out Draya Michele for joking about the shooting, Chrissy Teigen tweeted her own ill-timed joke. "I have a megan thee stallion joke but it needs to be twerked on," she wrote, piggybacking on a Twitter joke format. Fans quickly called her out for choosing to joke about Megan in light of the shooting, and Teigen added, "I'll delete it because you guys are sooooo fucking annoying. Just unfollow me you absolute tools." She later tweeted a proper apology early on July 25, writing, "I should have known that it is just not the right time especially for something so dumb and shitty and pointless as the joke was." Addressing Megan, she added, "Making anyone feel reminded of a terrible time or letting you guys down sucks more than anything to me so I am sorry to Megan and anyone who thought this was about the incident at all." She made her account private for a period after her apology.
50 Cent
50 Cent made a rare apology for one of his jokes after Megan's emotional Instagram Live detailing the shooting. He had previously posted two memes of Megan running from Lanez on his Instagram. "👀Damn I didn't think this shit was real,🤦‍♂️It sounded so crazy," he wrote on July 27. "@theestallion i'm glad your feeling better and i hope you can accept my apology. I posted a meme that was floating around. I wouldn't have done that if i knew you was really hurt sorry. 🤷🏽‍♂️"
Who on Earth Supports Tory?
Larry Johnson
Retired NBA player Larry Johnson waded into the conversation on August 21, after Megan said Lanez shot her. "Ladies, if you date a man who coined the term 'Demon Time,' and you get shot by him during Demon Hours, be accountable for YOUR stupidity," he tweeted. Lanez's Instagram account liked a post reposting the tweet, The Shade Room pointed out.
Who's Staying Out of It?
Tory Lanez
The man Megan has accused of shooting her, who was arrested on a weapons charge on July 12 and subsequently released on bail, hasn't made an official statement since the shooting. Lanez is currently under investigation for gun-related charges, including felony assault with a semiautomatic firearm. "We're not commenting right now," his lawyer, Jim Lewis, told Vulture. Regarding speculation that Lanez, a Canadian, had been deported, Lewis said, "That's bullshit."
His collaborators
Lanez's current collaborators are still riding his success. Jack Harlow, who's sitting at No. 5 on the Hot 100 with Lanez for the remix of his song "Whats Poppin," hasn't denounced his collaborator. Neither has Lil Wayne, also featured on the track.
Who Wishes They Could Stay Out of It?
Chris Brown
Chris Brown has been linked to Megan's shooting because of his own continued career after being charged with assault. "Leave my fucking name out of someone elses situation," he wrote in all-caps on his Instagram Stories. "Yall not finna involve me in this fuck ass shit!"
Who's Just Confused?
Tekashi 6ix9ine
The notorious "snitch" rapper Tekashi 6ix9ine saw the situation as Megan snitching on Lanez rather than coming out as a victim, and he took it as a chance to make another bad joke. "Megan my new favorite rapper," he captioned an Instagram video of him listening to Megan's music. Some things never change.