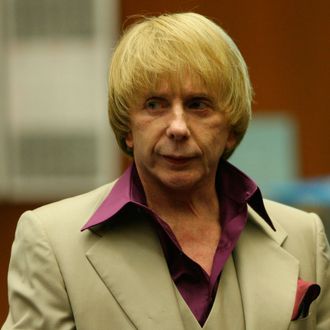 Photo: Gabriel Bouys-Pool/Getty Images
Influential music producer Phil Spector died on Saturday, January 16, in a California hospital at the age of 81. The California Department of Corrections and Rehabilitation said in a statement that Spector's "official cause of death will be determined by the medical examiner in the San Joaquin County Sheriff's Office." A source told TMZ that Spector "died from COVID-related complications, after being transferred from his prison cell to a hospital," as his symptoms worsened after he contracted the coronavirus in prison four weeks ago. Spector was serving a 19-to-life sentence for the 2003 second-degree murder of actress Lana Clarkson in his California residence.
Prior to his arrest, Spector was best known as a hit record producer who defined the girl-group pop sound of the 1960s with hits like the Crystals' "Da Doo Ron Ron" and the Ronettes' "Be My Baby." In 1970, he produced the Beatles' Let It Be. Spector pioneered the lush audio aesthetic known as the "Wall of Sound," along with his Wrecking Crew session musicians at Gold Star Studios.
Update, Tuesday, January 19, 10:30 a.m.: Hours after the death of Phil Spector became public, his ex-wife Ronnie Spector shared a photo and a heartfelt statement on Instagram. "It's a sad day for music and a sad day for me," the 77-year-old began, underneath a photo of her and her ex-husband in Gold Star Studios. "When I was working with Phil Spector, watching him create in the recording studio, I knew I was working with the very best. He was in complete control, directing everyone. So much to love about those days." The disgraced producer and the Ronettes singer were married from 1968 to 1974, during which Ronnie says Phil was emotionally and psychologically abusive, keeping her locked inside their home, threatening her life, and sabotaging her career.
"As I said many times while he was alive, he was a brilliant producer, but a lousy husband," she continued in her post. "Unfortunately Phil was not able to live and function outside of the recording studio. Darkness set in, many lives were damaged." In their controversial 1974 divorce, Ronnie forfeited all future record earnings, testifying that Phil said he would kill her if she didn't. "Phil threatened me several times," Ronnie Spector said on the witness stand in Manhattan Supreme Court, per the Daily News. "He told me, 'I'll kill you' and 'I'll have a hit man kill you.'"
In her note, Ronnie Spector focused on the art she created with Phil. "I still smile whenever I hear the music we made together, and always will," she concluded. "The music will be forever."