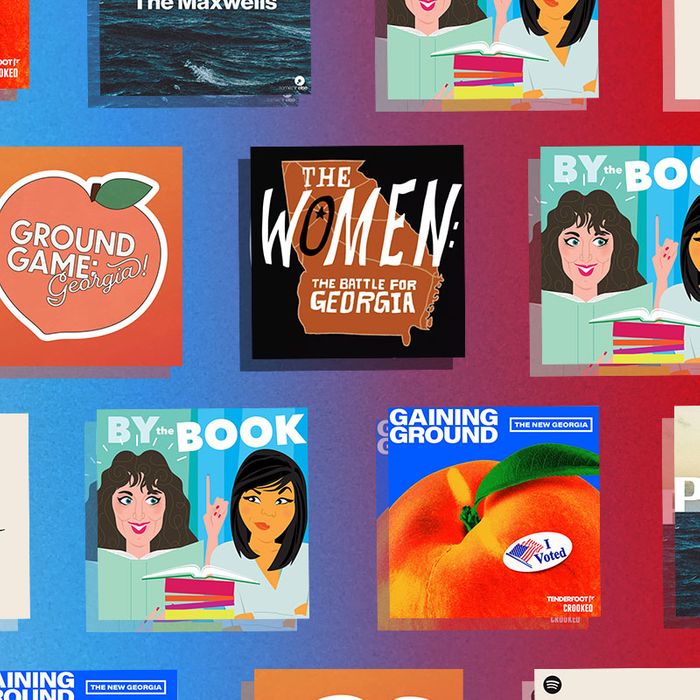 Photo-Illustration: Vulture and Studios
Welcome back, everyone, and welcome to the first 1.5x Speed of 2021. I'm glad to be back at work, because there's only so much winter horticulture a man can take. In this week's issue: Georgia, Georgia, Georgia. And: self-help books!
Find me on Twitter or reach me over email: nicholas.quah@vulture.com.
Gaining Ground: The New Georgia
Apple Podcasts | Spotify | Stitcher
This edition of 1.5x Speed comes out the day after the two Senate runoffs in Georgia, and it's looking like Democrats are on track to win both of the state's Senate seats.
Whatever the outcome, though, I'm still recommending Gaining Ground: The New Georgia, a limited-run series from Crooked Media and Tenderfoot TV that focuses on Georgia's weeks-long position at the center of the political universe, in part because it's an interesting listen and in part because the nature of this project provides a lot to think about.
So much intensity is packed into these two Senate races, which have been playing out in fascinating political terrain. Georgia is said to be changing as a whole, and this notion is the entrypoint for Gaining Ground's narrative enterprise. Hosted as a two-hander by Georgia natives Rembert Browne and Jewel Wicker, the series takes a look at the changing political conditions of the state in light of its newfound Democratic competitiveness.
It begins with what has been widely acknowledged as the focal point of the ongoing change: the state's former house minority leader Stacey Abrams, her yearslong effort to build the party, and her failed gubernatorial race in 2018 against then-Secretary of State Brian Kemp, which ended in controversy over voter suppression. The rest of the series stretches outward, cutting into Georgia's story in other lateral ways: Gaining Ground layers together stories of individual political awakenings, scenes on the frontline of Raphael Warnock's and Jon Ossoff's campaigns, and expressions of the broader dynamics that illustrate the push and pull of power and activism.
As you would expect from a project affiliated with Crooked Media, this is a story from the Democrats' perspective. Which is to say, it's a kind of tool of political communication, maybe even agitprop, more Knock Down the House than City So Real. This isn't to speak against its quality, but to contextualize it. I found value in having the picture being threaded together in this way, even as I'm cognizant that its appeals can't be divorced from its resonance with some portion of my own politics.
Gaining Ground also made me think of how I'd really like to see more political documentaries in podcast land (it remains a relatively small genre in the medium). It reminded me of the ambition driving Underdog, Texas Monthly's audio documentary following Beto O'Rourke's ultimately failed 2018 Senate race, which was compelling at the outset, before it became apparent that access was an issue. It also made me think about Wonder Media Network's Winning Wisconsin, which is perhaps the closest cousin to Gaining Ground, both an explainer and a tool of political engagement.
There's definitely space for more political docs of all stripes in podcast land, whether they come from politically affiliated sources like Crooked Media or more traditional journalistic sources. Either way, I'm hungry for more, and Gaining Ground is a good jolt for that appetite.
By the Book
Apple Podcasts | Spotify | Stitcher
'Tis the season for New Year's Resolutions, and while I don't personally believe in the practice, I do think it's a good hook to recommend By The Book, a show I've enjoyed for a long time that doubles as a good resource for informing … or replacing … New Year's Resolutions.
The podcast is premised on a gimmick, but boy, is that gimmick good: Each episode sees hosts Jolenta Greenberg and Kristen Meinzer picking up a different self-help book, living by its tenets for two weeks, and evaluating whether the book is genuinely helpful or … not so much. Part book review, part stunt recording, and part self-help in its own way, By The Book is basically a fun and intriguing meta-analysis of how the self-help publishing genre has been defining "The Good Life" for years. It won't come as a surprise that there's a lot of bullshit and privilege to reckon with in this subject matter, but it also shouldn't come as a surprise that there are honest-to-god revelations to be found.
Meanwhile…
• Here are two more picks for those wanting a little more on the Georgia beat. Hit up Ground Game: Georgia if you're looking for first-person accounts from organizers and activists … well, on the ground, and The Women: The Battle for Georgia, which structures each episode around a different woman engaged in the effort.
• If you're a certain kind of true-crime-podcast fan, heads up: Somethin' Else is releasing a new show next week on Robert Maxwell, the father of Jeffrey Epstein's associate Ghislaine Maxwell. It's called Power: The Maxwells. The podcast feed is not up yet, so keep an eye out.
• ICYMI: the Duke and Duchess of Sussex dropped their holiday podcast special on December 29, exclusively on Spotify.
And that's a wrap for 1.5x Speed! Hope you enjoyed it. We're back next week, but in the meantime: Send podcast recommendations, feedback, or just say hello at nicholas.quah@vulture.com.