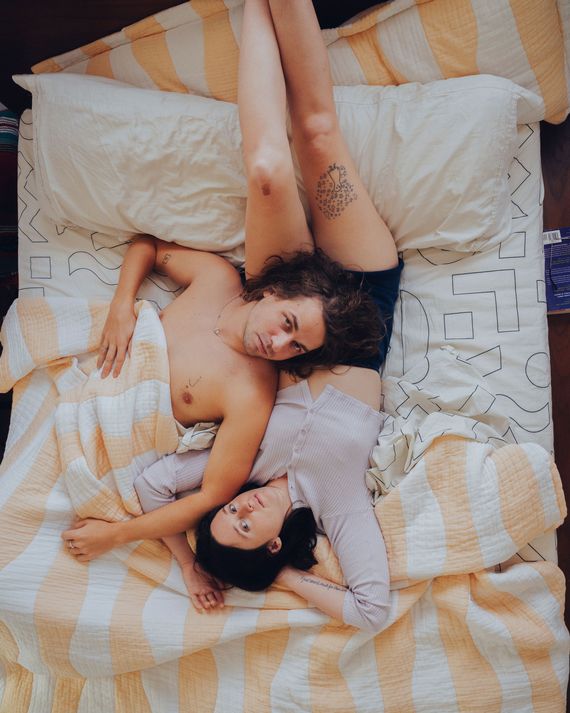 Kevin Morby is leaning back on his living-room couch in a hoodie, shorts, and a Kansas City Royals face mask. His partner, Katie Crutchfield, sits perched on his right, pulling down her plaid mask every so often for a sip of coffee. Morby is telling a story he loves to share, about how Deerhunter leader Bradford Cox told him (after the Breeders' Kim Deal told Cox, and X's DJ Bonebrake told Deal) that if he ever got the money, he should buy a house. Shortly after, in 2015, Morby found himself touring a home in Overland Park, Kansas, that his father had just finished refurbishing; he bought it on the spot with his deposit from recently signing to Indiana indie label Dead Oceans. Morby, now 32, hadn't lived in the Kansas City area since high school, when he spent his nights at DIY shows and eventually dropped out to move to Brooklyn. At the time he purchased the home, he was still living in Los Angeles, which meant splitting time between California and Kansas.
That arrangement changed in 2017, however, after a breakup and a roommate's departure left Morby with little tying him to L.A. By October that year, he left for Kansas, figuring he'd take a bit of time there to regroup. Morby was still touring heavily, too — he always was — but he wasn't spending his time off the road alone, either. He and Crutchfield, also a singer-songwriter, better known as Waxahatchee, started dating after a tour together that spring, crisscrossing the country to meet here at Morby's home just outside Kansas City when their time off aligned. Their street is a row of homogeneous one-story ranch homes with SUVs in the driveways and piles of leaves gathering out front. Inside, it becomes clear this is a musician's home. The rooms are painted different pastel shades and decorated with relics from their careers — props from past Morby videos and Waxahatchee wall art. The living room has a piano and a keyboard; the front room is a cozy listening area housing dozens of records. Morby used to record in that front room, he remembers, until his equipment started to take up too much space, so he cleared out the shed in the backyard and outfitted it as a studio, itself now overflowing with equipment and more props.
The two beloved indie artists have since spent the past three years settling into a kind of domestic life that would be unheard of for most musicians regardless of tax bracket, least likely those in the independent space. The house itself is embedded in the pair's latest albums, Waxahatchee's Saint Cloud and Morby's Sundowner, which sound like the beginnings of contemplative new phases in their musical lives. Both arrived during a time of renewed relevance for indie music — in the middle of a pandemic, folk music like theirs could be particularly comforting, like sinking into a warm bath.
Crutchfield, 32, had spent years searching for a place that felt right for her base, jumping among Brooklyn, Philadelphia, Long Island, and her hometown of Birmingham, Alabama. She barely remembered Kansas City from touring, so the first time she went with Morby three years ago, it threw her. "I was surprised by — this is going to sound really negative, but by how much I didn't dislike it," she says. "I both wanted to get away from the scene I was a part of but also still have everything I could possibly need out of a city, and it immediately struck me as a place that had all of that." Their musical roots had never led them to one city, either: After beginnings in their local punk scenes (Crutchfield's band, P.S. Eliot, featured her twin sister, Allison, on drums) and a stint for Morby in Brooklyn bands Woods and the Babies, they both landed on a similar folk-inflected rock style in their solo work, more folk or rock depending on the album. The home was its own draw, quickly becoming an off-tour musician's dream retreat. Morby and Crutchfield would relax in the hot tub, watch movies, and go for walks; they'd bike and skateboard (together — Crutchfield would bike and pull Morby on a skateboard), eat junk food, and have Nerf-gun wars throughout the house. "We'd both been so on the move constantly this has been the one place we can come when there's a slow moment," Crutchfield adds.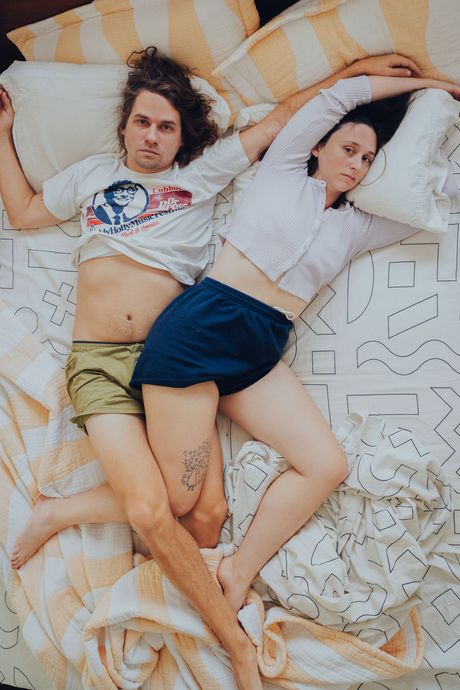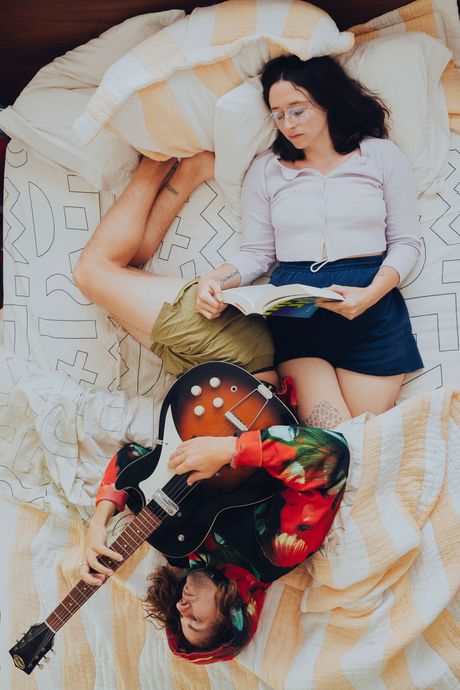 As their relationship began, they each released loud, electric records: Morby's City Music and Waxahatchee's Out in the Storm. They both describe them as products of "chaos." "I feel like Katie and I really met at a crossroads of our lives," Morby says. It wouldn't be the only one. In mid-2018, Crutchfield reevaluated the life she'd built on tour. She decided to get sober and take 2019 off the road. At the time, she was writing the songs that would become Saint Cloud while living in the Kansas City home. In a still unfamiliar place, and with Morby often away, she found a solitude she had spent years searching for in bigger cities. Loneliness had been part of the mythology of Waxahatchee ever since her debut, American Weekend, recorded over one snowed-in week at her family's Alabama home. So had the influence of her surroundings — she took the name Waxahatchee from a nearby creek in Alabama — and having a place to anchor her on this record helped too. "Being more settled, you have to go way below the surface to find inspiration," Crutchfield says. "And I have personally found that to be really fruitful." The resulting Saint Cloud is a ripe, honest account of someone working to better understand herself.
By the time she released Saint Cloud last March, Crutchfield was eager to return to touring, but circumstances, of course, had changed. Morby, meanwhile, had finished an Australian tour and hadn't gotten a true break from touring in years. Once he made it back to Kansas in early 2020, he was ready to hibernate. It was short-lived. Time at home reminded Morby of the isolation-inspired work he had made shortly after he landed in Kansas City full time, when he spent hours in the shed studio — even before installing heating and air — toying with a four-track recorder and his guitar.
Cities had inspired most of his past albums — New York for Harlem River and City Music, L.A. for Singing Saw. Last fall's Sundowner, hushed and sparse, was his Kansas record, a more grounded contrast to 2019's Oh My God, which was drawn from the liminal spaces of touring like flights and backstages. He named his latest for a type of person who "feels increased melancholy during twilight hours." The music is attuned to the cycles of the day. "In the winter, the sun goes down, and you're faced with yourself for the rest of the day with no distractions, like, Oh my God," Morby says. Sundowner was originally planned for a 2021 release. But with no tour in sight to play it on, and sitting on an album that clearly spoke to the moment, Morby arranged to move the release up to October 2020. (Crutchfield, home during Morby's album rollout, starred in multiple music videos and sang backup on lead single "Campfire.") "It felt good to offer something that might be comforting to people," he says.
Lately, Morby and Crutchfield have taken to the same mundane quarantine activities as the rest of the country: cooking, gardening, home improvement. They run and swim for exercise and go on walks for fresh air. They rejoiced when sports returned and spent their nights devouring basketball and baseball or watching Hitchcock movies on Criterion. Crutchfield has been reading a lot too, currently trying to conquer Infinite Jest. Embracing the slowdown has become part of the pandemic process, and neither artist can see themselves fully giving it up when this is over. "I think that we'll learn how to have better balance," Crutchfield says. "Kevin burned it more than anyone I know, and I took that really intentional time off, but prior to that, I burned it harder than anyone I know."
The couple tried to scratch their performance itch with some livestreamed at-home shows. They started out with casual sets on Instagram; then Crutchfield, inspired by seeing her hero Lucinda Williams play Car Wheels on a Gravel Road front to back, decided she'd play through each of her albums for ticketed streams. As she went through early Waxahatchee songs and told the stories behind them, her progress sunk in: "Especially as a person who's gotten sober, a lot of my earlier songs mean something different to me now than they did at the time. I'm like, Whoa, that's a lot of stuff I've worked on in the last couple years that I had not worked on then. And you can tell when you listen to the songs."
They've been writing more too, trading off the time in the shed; if Morby's walking around the house, messing around on the guitar, Crutchfield might tell him when something sounds interesting. Together they've dueted on some covers, appeared at each other's shows, and performed on many livestreams as a couple, but both agree that making a full collaborative project would have to be "effortless." As Morby sees it, "We'll probably go hang out somewhere for a month and be talking one day and be like, 'Oh, let's record some songs.'"
For now, they're open to all the possibilities of their new life, with a caveat. At the beginning of 2020, they considered finding a place in L.A. and spending more time there. Now, even if they still do in the future, they don't see themselves parting with the Kansas house after all it's given them. "Maybe I'll have a garden when I'm 55," Morby used to tell himself before he and Crutchfield planted one in 2020. It died after last year's first frost, but Crutchfield wants to plant some bulbs in the next few days. She's looking forward to seeing them bloom in the spring.
*A version of this article appears in the January 4, 2021, issue of New York Magazine. Subscribe Now!