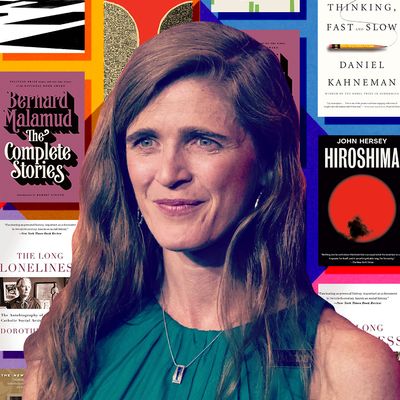 Photo-Illustration: Vulture, Publishers and Invision/AP/Shutterstock
Bookseller One Grand Books has asked celebrities to name the ten titles they'd take to a desert island, and they've shared the results with Vulture. Today, Samantha Power, Pulitzer Prize winning writer and recently nominated head of the U. S. Agency for International Development for the Biden administration, shares her list. The paperback of her memoir The Education of an Idealist is out January 26.
Achebe's debut novel from 1958 tells the story of a successful warrior named Okonkwo, who tries to defend his tribe's traditions after the arrival of Christian missionaries and British colonists. As two very different worlds collide, it is the complex, richly-drawn characters who leave their mark.
A bohemian anarchist turned devout Catholic, Day launched the Catholic Worker movement during the Great Depression. She lived her belief that the most vulnerable among us are made in the image of God and worthy of love. Day tells the story of her spiritual journey in this autobiography, but also writes revealingly about the challenges of aspiring to be good while trying to do good.
Among the many miraculous contemporary Irish short-story writers one could choose from, the lesser known Éilís Ní Dhuibhne stands out to me. She writes with striking originality and economy, her characters springing from the page into our own lives.
"I am an invisible man," Ellison writes, "When they approach me, they see only my surroundings, themselves, or figments of their imagination—indeed, everything and anything except me." As a Black man in America, Ellison's narrator grapples not only with racism and exclusion, but ubiquitous moral blindness about the enduring legacies of slavery, racial violence, and bigotry.
If I ever need a reminder of the resilience of Americans in times of crisis, I dip back into No Ordinary Time. Aided by his partnership with First Lady Eleanor Roosevelt, FDR proved masterful in rallying an isolationist country ravaged by the Depression—offering profound insights for our divided present.
Ever since high school, when I first read Hersey's magisterial portraits of six survivors of the atomic bomb dropped by the US on the Japanese city of Hiroshima, their experiences have remained etched in my consciousness. Published just a year after the bombing, Hersey shows how painstaking reporting can bridge vast geographical and experiential divides, and he reminds us why the horror of nuclear war must never be repeated.
The Nobel Prize winning psychologist whose insights about human behavior have helped revolutionize the field of economics and the practice of public policy pulls together a lifetime of insights in this masterpiece. After reading Kahneman, one's thinking about oneself—and one's thinking about thinking—is permanently altered.
The Brooklyn-born son of Russian immigrants, Malamud is a noticer who brings remarkably fresh eyes to the big and the small happenings around him in America. I have yet to come across a better encapsulation of the longing for dignity and agency that lives in every human heart than his harrowing "The German Refugee," included in this collection.
Recommended to me by the late, great journalist David Halberstam, Moehringer shows us how the corner bar—and the men who populate it—answers a young boy's cravings for a father. A soulful, at times hilarious, and poignant account of the longing for belonging in us all.
The brilliance of this book comes from the fact that Pearlman listened. She sat down, tape-recorder in hand, with hundreds of Syrians—teachers, artists, doctors, soldiers, hipsters, parents and children—and collected their first-person testimonies of tyranny and fear, protest and hope. I incorporate the book into my classes, and students feel a powerful connection to the Syrians whose voices Pearlman captures.