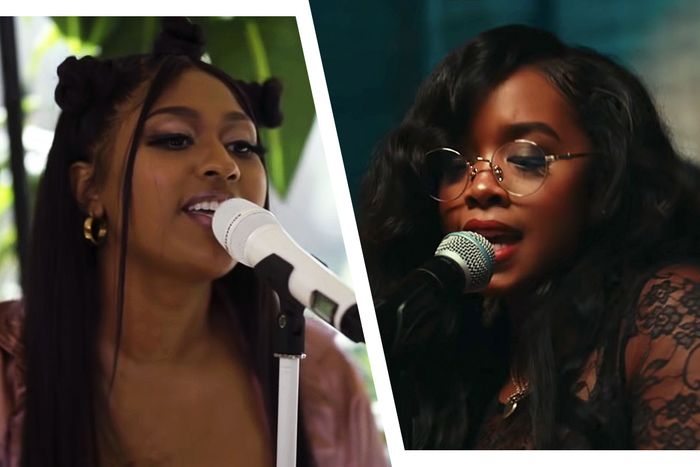 Sullivan has always asked listeners to feel what she's feeling in her songs; rarely has she made it so easy to.
Photo-Illustration: Vulture and Photos by Jazmine Sullivan/YouTube and H.E.R./YouTube
Jazmine Sullivan has spent a large part of her career known for a certain type of song. She called them "angry songs," in a 2014 interview with Billboard, marking the occasion of her first return to music after her abrupt 2011 hiatus. "I think the angry songs got chosen as singles, so those who didn't listen to the albums associate me with those angry songs," she said, noting a broader stereotype applied to Black women. That's not to say Sullivan's angry songs aren't good — songs like "10 Seconds" and "Bust Your Windows" are fantastic and arguably some of the definitive works of modern R&B. But fans knew Sullivan could channel that passion elsewhere (see: "Love You Long Time"). She wouldn't have "many" angry songs on 2015's Reality Show, she said, "Because I've grown and experienced other things in the relationship."
Now, Sullivan is back from yet another hiatus with her fourth album, Heaux Tales, noticeably devoid of those angry songs. It instead hews to the more subtle displays of women's strength that have always been the basis for Sullivan's music; she describes the album in its accompanying artist's statement as "my observation of today's women standing in their power and owning who they are. We are multi-faceted and shouldn't be defined by any one thing. We all have a journey to make and it's our choice alone how we get there." Heaux Tales proves its thesis, sprinkled with interludes of women like fellow singer Ari Lennox talking about femininity and sexual empowerment. Sullivan adeptly moves from gloriously horny on "Put It Down" to heartbroken on "Lost One" to dreaming of a future on "The Other Side." By closing track "Girl Like Me," she steps back to reflect.
"Girl Like Me" has all the fervor of one of Sullivan's so-called angry songs, and like the best of them, it's directed at the men in her life. But Sullivan isn't fired up and threatening consequences — she's surveying a larger scene, the world in which she exists as a Black woman. "No hope for a girl like me," she sings. "And I ain't wanna be / But you gon' make a hoe out of me." Calling the song an evolution would imply that Sullivan shouldn't have been mad before, which is far from the truth. But "Girl Like Me" ends up being a stronger indictment than "Bust Your Windows" ever was. By the bridge, her voice reaches its trademark fever pitch. "'Cause y'all n- - - -s be takin' us there," she sings. "'Cause you don't want us no more / It breaks us to the core." Sullivan has always asked listeners to feel what she's feeling in her songs; rarely has she made it so easy to.
Fittingly, "Girl Like Me" is the first time Sullivan has dueted with a woman on one of her own songs. She trades verses with H.E.R., one of the many women currently running the show in R&B, on a path Sullivan helped tread over the years. The whole of Heaux Tales proves that, although Sullivan has been away from music, she's been listening in and keeping up with the trends. "Girl Like Me" wears the chill, indie-rock-influenced style popularized by singers like H.E.R. and SZA well, while other songs on the record flirt with futuristic electronics. That's exciting, but still secondary to the most exciting thing about Heaux Tales: hearing Sullivan sing again. On "Girl Like Me," it isn't just her voice that remains powerful, but every word that voice utters.