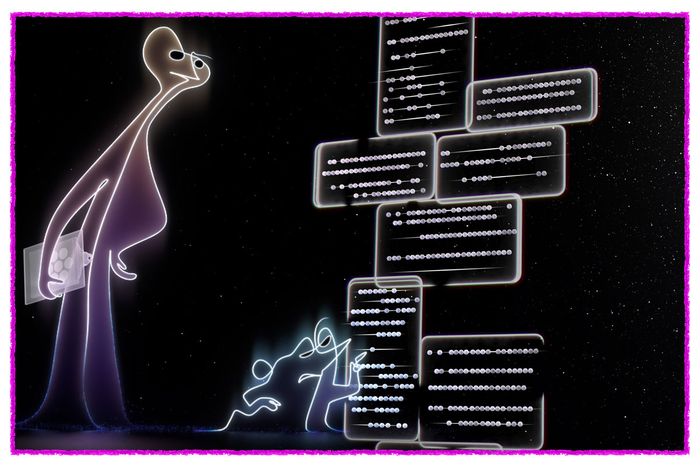 Me, calculating the FMFL scores.
Photo-Illustration: Vulture and Disney/Pixar
In Vulture's Fall Movies Fantasy League, contestants stake their pride, and the respect of their peers, on their ability to predict the tumultuous next few months of cinematic releases.
Day turns to night. Youth turns to old age. December turns to January — and thus, the end of the regular season of the Fall Movies Fantasy League.
We began in early September, when Vulture staffers and readers alike selected teams of eight films that would earn points for the method and manner of their release. Over the next 18 weeks, we explored a cinematic landscape that had been transformed beyond all recognition: a world where a wide release was a pearl beyond price, where a $3 million domestic haul could win a weekend, and where simply coming out on your scheduled release date was a major coup.
This is the final weekly installment of the FMFL column; any movie that hits screens from here on out is by definition ineligible. So today, I want to spend our time together by taking a look back at the season that was.
Of the 73 draftable films, 58 of them were released in some form or another, while the other 15 were pushed to 2021 (or in the case of Sony Animation's Connected, simply did not come out). That works out to a nearly 80 percent success rate, which is frankly much higher than I anticipated. If that feels high to you, it's probably because the 15 movies that scored goose eggs were some of the highest-profile titles on the calendar — Black Widow, Candyman, Dune, etc. — so their absence understandably overshadowed the countless films that received perfunctory streaming or VOD releases before vanishing without a trace.
It goes without saying that zero movies cracked $500 million worldwide. (The closest was Tenet, which topped out just north of $350 million.) But three films so far managed to crack $100 million worldwide: Tenet, of course, plus Wonder Woman 1984 and The Croods: A New Age, both of which passed the mark over the first weekend of the new year. A more common achievement was the two-point critical bonus for scoring above 80 on Rotten Tomatoes, bestowed upon a whopping 23 films. On the flip side, six critically savaged films scored less than 30 on the Tomatometer, and found themselves inducted into the Antebellum Memorial Wing of the Fall Movies Fantasy League Hall of Shame, with a two-point deduction for their trouble.
At the moment, the highest-scoring film in the league is Tenet, with 16 points. WW84 and Croods tie for second with 14, while Let Him Go stands in fourth with a surprising 12 points. On the opposite end of the spectrum is Hillbilly Elegy's single solitary point, which I swear happened completely by accident, followed sadly by Antebellum and Greenland at two points each. (Incidentally, both of those totals hinged on Tomatometer scores perilously close to the line; thankfully neither of the Vulture critics who reviewed those movies are playing this game or else we'd have to ask some difficult questions.)
But of course, that leaderboard almost certainly will change, because we are merely at the end of the regular season. There are still plenty more points to be awarded in the coming weeks. Here's what I'll be looking for:
Can anything else hit $100 million?
Besides the aforementioned trio of blockbusters, the box office has been understandably cold this fall; the next-highest grosser of the season was Mulan, which ground out a $66 million total without ever hitting theaters in the U.S. No other draftable movies even crossed $50 million. However, keep an eye out for Soul, which is at $32 million after its second weekend of wide release overseas. It seems to have great word of mouth, and is set to open in Russia and South Korea in a few weeks. One to watch, for sure.
Could Wonder Woman break the half-billion mark?
A long-shot possibility, certainly, but one that would completely overturn the league standings. Wonder Woman 1984 opened to about $85 million globally, which means that, to get the ten-point bonus for passing $500 million, it would have to have a nearly six-times multiplier. That's Frozen-level legs, which is not the sort of thing I'd bet money on. But the prospect is so tantalizing that I'm not calling it impossible, only improbable, especially as WW84 has yet to open in some territories.
Who'll get an Oscar-season boost?
To keep things simple, awards season in the FMFL is represented by two top-ten lists, one from the American Film Institute, the other by the National Board of Review. A spot on each list is worth three points; both will be released the week of January 25. This is when movies like Nomadland are expected to score big, but I'm also curious to see what sort of left-field results we'll get. Can Tenet add to its points haul? Could Soul sneak in? And will the NBR create the comeback of the year by picking Hillbilly Elegy?
How will the staff league shake out?
Ten Vulture staffers are taking part in their own mini league, with most of them admitting that they had no idea what they were doing. Despite this, all these months later, the competition has amazingly come down to the wire. Movies editor Katy Brooks is currently in the lead with 59 points; one behind her is bucatini enthusiast Rachel Handler with 58 points; and one behind her is editorial director Neil Janowitz with 57 points. Katy and Rachel are better set up for the AFI and NBR lists, but Neil has Wonder Woman 1984 in his squad. Which of them will earn the first (and hopefully, only) FMFL title? My DMs are open — place your bets!
That's all for the final weekly update. I'll be checking in semi-regularly to give updates on important league developments, and the season will wrap up some time in February, once all the 2020 movies have completed their theatrical runs. See you in a few weeks, and as always, here's the update on the staff league.
Week 18 Results
Justin Curto
Wonder Woman 1984: $100M global box office = 5 points
Total: 5 points
Neil Janowitz
Wonder Woman 1984: $100M global box office = 5 points
Total: 5 points
Jen Chaney
Wonder Woman 1984: $100M global box office = 5 points
Total: 5 points
Current Standings
1. Katy Brooks: 59 points (8 movies)
2. Rachel Handler: 58 points (8 movies)
3. Neil Janowitz: 57 points (8 movies)
t-4. Jen Chaney and Justin Curto: 44 points (8 movies each)
6. Tolly Wright: 43 points (8 movies)
7. The dearly departed Hunter Harris: 42 points (8 movies)
8. Alison Willmore: 32 points (8 movies)
9. Jackson McHenry: 30 points (8 movies)
10. Chris Murphy: 27 points (8 movies)
Staff fantasy-league teams are listed in full here.
Vulture's Fall Movies Fantasy League is open to all readers. Enter and you can look forward to an exciting autumn of endlessly refreshing Box Office Mojo and Rotten Tomatoes and quibbling over the precise definition of wide release.