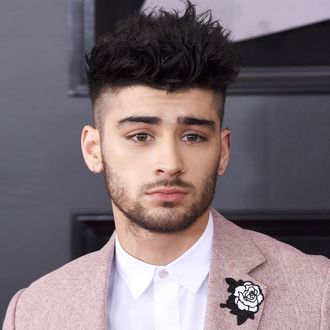 Photo: Presley Ann/Patrick McMullan via Getty Image
Not to be outshined by Harry Styles dating rumors or, uh, a violent mob at the U.S. Capitol, Zayn Malik looks to be prepping new music. The former One Direction member posted a teaser for something to his Twitter on January 7, a short clip of the word "tomorrow" over a stage and curtain. According to Pop Crave, always on top of such important news, Zayn is releasing a single called "Vibez" tomorrow, ahead of his third album, Nobody Is Listening. You'll be able to listen — or not, you know, if anything else comes up in the world — on January 15. Zayn last released the chilled-out "Better" in September 2020, the day after welcoming a child with Gigi Hadid.
Update, Friday, January 8, at 12 a.m.: Zaddy Zayn has officially sent "Vibez" out into the world. At midnight on Friday, January 8, Zayn dropped the second single from his forthcoming album, Nobody Is Listening, which drops on January 15. Check out the song below and decide whether or not Zayn's giving you good or bad vibez.
Update, Friday, January 8, at 11:30 a.m.: Affirming that Zayn would not leave without a kiss good-bye in the morning, he followed up last night's "Vibez" release with a music video this morning. You know the vibes: He's moving through a fake cityscape and end ups on an iceberg adorned with a red couch. It's almost as icy cool as his bleached-blond hair and mumbling lip-syncing. I love his lack of energy! Go, boy! Give us nothing!