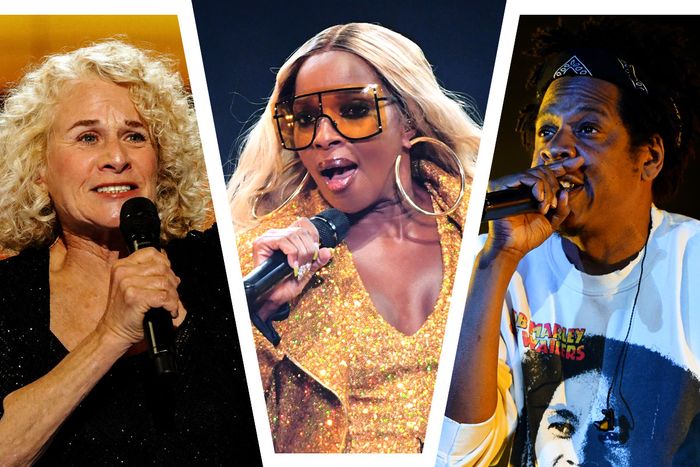 This is by far the most diverse and adventurous slate of nominees in recent memory.
Photo-Illustration: Vulture and Getty Images
Jann Wenner, the longtime editor and publisher of Rolling Stone, left his position as CEO of the ever-dubious Rock and Roll Hall of Fame last year. And already the Hall's slate of 2021 nominations, released Wednesday morning, shows that the new CEO, I Heart Radio vet John Sykes, seems to be cracking some heads together.
This is by far the most diverse and adventurous slate of nominees in recent memory. This being the Rock and Roll Hall of Fame, a lot of the nominees are evidence of the Hall's deeply imbedded chumminess and insiderism, but the results of Sykes's interventions are plain: Seven of the 16 nominated acts are women. One is an African legend. One is a hip-hop star in his first year of eligibility and another is a hip-hop/R&B diva of the first order. Some of the women nominated are long overdue. And only a churl will snipe at the idea of nominating hip-hop stars.
The story of the 2021 nominations is commerciality. For all of Wenner's oversight of the Hall, it has, for the most part, held the line against inducting what were essentially pop acts, and critically despised acts whose big claim to fame was selling a lot of records. That era has now ended.
The nominees below were decided by the Hall's nominating committee. They are now sent out to the voting membership of the Hall — totaling some 1,500 industry swells and weasels — and, importantly, every previous Hall inductee, including the inducted members. (You can find a complete guide to the Hall's workings, and a ranking of every inducted artist, here.) If recent years are any guide, six or seven of the acts will get into the Hall, but it's possible that list could expand this year to reduce a perceived backlog of nominees. The in-person induction ceremony was canceled last year and instead held virtually in November. Assuming the pandemic allows it, the 2021 ceremony should be held in Cleveland this fall, with the show to be broadcast live on HBO.
Here are the 16 inductee nominees for this year, ranked in order of whether they deserve to be in the Hall, from most to least worthy.
Todd Rundgren
Besides historically overlooking women, the Hall's biggest problem over the years has been displaying a similar bit of … discomfort, let's say, with guys who dress like women or — the horror! — guys who slept with other guys. Gay and glam performers have often gotten second shrift (David Bowie, for example, spent seven years of eligibility before getting a nod), or not been recognized at all.
The Hall's been working on this: glam progenitor T. Rex got in last year and the New York Dolls are on the current nomination list. Rundgren was a weird guy who played sweet pop some of the time and indulgent but fun space rock with a side group, Utopia, some of the rest of the time. He colored his hair and sometimes appeared made up like a wood nymph. He was a pop tunesmith of the first order ("Hello It's Me," "I Saw the Light") and one of the most important rock engineers and producers of his era, overseeing work on everything from the Band's Stage Fright to Patti Smith's Wave. He is long overdue for induction; first nominated two years ago, he didn't get in.
The Go-Go's
There are two important but separate issues when it comes to women and the Hall. The one getting the most attention of late, led by the laudable work of critic and academic Evelyn McDonnell, is that a pathetically small percentage of the Hall's nominees are women. But there's a second issue as well: The makeup of the nominating committee and the even-more pitiful lack of representation of women there, too. (The numbers fluctuate, but about 10 percent of the people over the years on the committee have been women.)
I think the criticism of the Hall's induction of women is a bit overstated; it is about as lame in nominating women as when it comes to men. However, the Hall has plainly gone out of its way to bring in slightly off-kilter figures like Laura Nyro, and less-deserving ones like Joan Jett as well. That said, there are some glaring omissions, some of which the Hall is making moves to rectify this year.
The Go-Go's are a good example: They were an all-female quartet who wrote their own songs, played their own instruments, and ended up owning the summer and fall of 1981. And you can imagine the indignities they endured, right down to being conned by Annie Leibovitz into posing for a Rolling Stone cover in their underwear. (The cover line: "Go-Go's Put Out.") They recorded two decent albums after the first, and lead singer Belinda Carlisle went on to a substantive solo career.
If you wanted to, you could make the argument that there are fewer women than men inducted into the Hall because there were more male rock stars than females. Fine — but it's ludicrous to claim that there aren't as many female fans as male fans, or that there aren't as many women qualified to nominate Rock and Roll Hall of Fame members. That will be an area to watch for Sykes's influence. A few extra female names in the nominees is not the point; the power from within the Hall needs to be shared with women.
Carole King
King is in the Hall already in an offshoot category for songwriters with her first husband, Gerry Goffin. King, beginning in 1960, wrote the melodies to so many great songs it's hard to count them all from "Up on the Roof" to "(You Make Me Feel Iike) A Natural Woman" and "Will You Love Me Tomorrow" to "The Loco-motion." She freed herself from her marriage and went solo to find her own unique and timeless voice on her second album, Tapestry. It was the best-selling album of all time until the late 1970s, virtually every song on it imprinted onto the mind of a generation. King's songwriting induction allowed her nomination into the full Hall to sort of slip through the cracks; it's possible Sykes insisted the committee rectify the embarrassing omission.
Tina Turner
Two years ago, Stevie Nicks became the first female artist to be inducted into the Hall twice, having previously gone in — and arguably more deservedly so — with Fleetwood Mac. Other, better artists, notably Diana Ross and Tina Turner, found their solo voices, and solo careers, though much more difficult and dramatic processes.
Turner's story is a brave one; having spent many years under the terror of living with her husband Ike, a brutal abuser, she finally broke free and architected a thrilling solo career that turned her into a luxe global icon — and if you think that's easy, I've got a used CD of She's the Boss I'd like to sell you.
Mary J. Blige
The induction of Whitney Houston on the first ballot in 2020 was a watershed moment for the Hall, and with the nomination of Blige, who has been eligible for a few years, it seems the institution is ready to go all-in on R&B divas, with Mariah Carey sure to follow.
There's, of course, an argument against divas, per se, that persists: Barbra Streisand isn't in the Hall, and she is, of course, a diva's diva. But she also lacks a rock sensibility — so did Houston. Blige is different; she's scrappier and more complex, evolving strongly out of her first few albums (and out of the shadow of Sean "Puffy" Combs) to create and inhabit an emotional world she understands every nuance of. Her supporters probably project too much onto her, but at a certain point, nearly three decades of consistent and evolving stardom speaks for itself.
Fela Kuti
Fela is a brilliant nomination, someone who, just in educational terms, can contextualize developments in the rock diaspora in a powerful way. I don't know what percentage of the Hall's voting membership will connect with the nomination, however, which might make his induction a long shot. No one saw this nomination coming. Fela (universally referred to by his first name) was a Nigerian bandleader who fronted an insanely focused aggregation he called Africa '70. His music began with a base of unchanging polyrhythms; on this he overlaid horns, guitars, and keyboards to create a heady, hypnotic mélange of funk, jazz, and any number of African and North American indigenous musics, all under the omnibus term Afrobeat. He was a fearless activist, standing up to Nigeria's military junta and enduring many arrests and assaults at the hands of the government. In 1997, he died, tragically, of complications from AIDS, at 58. Bill T. Jones brought a jukebox musical on his life and work, Fela!, to Broadway in 2008.
New York Dolls
The Dolls were punk-glam progenitors who wore women's clothes and laid down at least part of the aesthetic that inspired the punk movement of the mid-1970s. Todd Rundgren produced their still flinty and punky first album, New York Dolls; that and the follow-up, Too Much Too Soon, took the early camp look of Mick Jagger and dragged it through the gutter. The joke turned out to be that the Dolls were also making highly energized, lethally effective rock that exposed the burned-out Stones work from the period for what it was. Actually, there was another joke too: that in David Johansen they had a front man who could write songs as good as Jagger. Unfortunately, most of them went to Johanson's first solo album at the end of the decade. Nevertheless, the Dolls are a worthy candidate for the Hall, and again, a refreshing sign that it's getting more comfortable with men who don't conform to the gender roles expected of them. A nomination for the band 20 years ago went nowhere.
Kate Bush
Bush is sui generis singer-songwriter-producer, a cult figure in the U.S. and a highly respected artiste in the U.K. The Hall is all over the map with the U.K., fawning over some U.K. faves, ignoring others (don't get me started on either New Order or Lonnie Donegan). Bush is an adventurous producer, writer, and vocal stylist with an impenetrable aesthetic; a fey moonchild here, a rockist presence there, and lots of ambient and electronica everywhere else. If you buy into her shtick, she's a titan whose work reflects an undiluted personal vision. She was nominated in 2018 but didn't get voted in.
Iron Maiden
A late-'70s metal act beloved by some; in that world, the lack of attention from the Hall toward lumpen '70s metal bands — Judas Priest chief among them — is seen as criminal. The Hall worked hard to clean up misses in '70s prog rock and early metal (Yes, Deep Purple) but seems to be basically done with the genre: Priest was nominated but didn't get in in 2018, and then again last year; Motorhead, plainly a cut above either of those acts, didn't either. Iron Maiden comes later in metal's evolution and seems much less likely an inductee than either of those.
Devo
Back after being nominated in 2019 and not getting in. They were a thing in 1979 — part joke, part art project — catchy enough to have a hit or two and subversive enough to essay a charmingly robotic cover of "(I Can't Get No) Satisfaction." But in the end they were just a New Wave offshoot that went nowhere, and "Whip It" doesn't exactly do much.
Jay-Z
Sometimes it's hard to think clearly about Jay-Z as an artist, as opposed to facile rapper and sensational talent scout and producer. Since commercial success is one of his goals, any problems you have with his art he can dismiss by noting it worked in the marketplace. In this way he is the epitome of corporate hip-hop. His remarkable, lasting success and slick positions — from his art to his acts to his marriage — has made him a perennial superstar. But there is something bleak and empty about him, between peddling rote lyrical subject matter — many of his samples obvious and overdone — and collaborating with R. Kelly long after the latter was exposed as a predator. Jay-Z is careful to a fault. But for the last part of the '90s and most of the 2000s, Jay's carefulness and emptiness ruled. Still, he probably deserves to be in the Rock and Hall of Fame — at some point. But not in his first year of eligibility.
Chaka Khan
Khan and her original group, Rufus, have been nominated six times. Rufus was a proto-pop-funk outfit, and Khan went solo and had a big hit, (Prince's) "I Feel for You," in the 1980s. Her career might not be overwhelmingly distinctive, but the members of the nominating committee have proven they feel she's worth considering; it's just hard to see how the voting committee is going to go for her after all those previous unsuccessful nominations.
Dionne Warwick
There's always been tension in the Hall between popularity and artistic value. The Hall's stated qualifications for membership are these: "Besides demonstrating unquestionable musical excellence and talent, inductees will have had a significant impact on the development, evolution and preservation of rock & roll." Rock and roll is and should be a big tent, and Dionne Warwick, who had a string of hits in the 1960s and '70s under the Bacharach-David operation, is a warm presence in it. She has a gorgeous voice and is a beloved figure who has recently been on fire on Twitter. There's also an argument to be made that since the industry offered so few positions of power to women, lines shouldn't be drawn to exclude them. That's a decent case to make for Warwick, though those who came earlier in that role, like Lesley Gore, should get in first.
Rage Against the Machine
Guitarist Tom Morello is an amazing player and thoughtful activist. And at some point the origins of rap metal might have to be considered by the Hall, just probably not for this group, which never made a great album. Morello's close to the Hall, however, and the nominations for him just keep coming. (This is Rage's third.)
Foo Fighters
Dave Grohl & Co. have been sucking up to the Hall for two decades, and most observers pegged their nomination in their first year of eligibility as a foregone conclusion. That it came to pass is a perfect illustration of the Hall's insularity: Only in that meeting room could this popular but critically unheralded band be considered a Hall of Fame act, much less one that should be inducted in its first year of eligibility. The sameness of the song constructions; the harmlessness of Grohl's vocals; the ear-friendly productions schemas — these are all the signs of a bland dead end of the challenging punk rock Dave Grohl's former band Nirvana once epitomized. He and his bandmates deserve the big paychecks and the accouterments thereof, like a glowing recent New York Times profile (which, amusingly, while straining to find nice things to say about Grohl gave the band big credit for its industrious work ethic of releasing an album every three years). It's hard to see the sprawling, overwhelmingly male voting membership not going for these guys — and conveniently giving the Hall a big draw for its induction concert later this year.
LL Cool J
Another perennial choice, LL has been nominated five times over the last decade. The voting committee seemingly just isn't interested in inducting him, and neither am I. Most in hip-hop contend he's a patently important figure, but it mostly feels like he turned away from any potential gravitas after his fourth album, 1990's Mama Said Knock You Out, and has spent the rest of his career bouncing around aesthetically — and hacking it up in myriad ways, like being the most oleaginous Grammys host of all time.