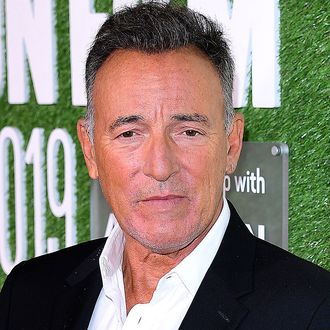 Photo: Ian West/PA Images via Getty Images
Not even the Boss is above the law. Bruce Springsteen, enthusiast of patriotic Jeeps, was arrested on suspicion of driving under the influence last November in a case that has evaded public attention until now. Vulture can confirm that the arrest occurred in (duh) New Jersey, with Springsteen receiving three citations for "reckless driving, consuming alcohol in a closed area, and driving while intoxicated." He was busted in the National Recreation Area of Sandy Hook, which is known for its year-round open beaches. "Springsteen was cooperative throughout the process," a National Park Service spokesperson explained. He's expected to appear in court (in the U.S.A.) in the coming weeks.
Update, February 11, 10:45 a.m.: The law-enforcement account of Bruce Springsteen's arrest has emerged in documents obtained by Vulture; a police officer alleged that Springsteen admitted during the arrest to taking "two shots of tequila in the last 20 minutes."
"While on foot patrol, I observed a male (Bruce F. Springsteen) consume a shot of Patron tequila and then get on his motorcycle and start the engine. I contacted Springsteen and informed him alcohol is prohibited at Sandy Hook. The Patron bottle that the shot was poured out of was completely empty (750 ml)," the November 14 statement of probable cause stated.
The officer claimed they asked Springsteen if he was leaving. "He confirmed that he was going to drive out of the park. Springsteen claimed that he had two shots of tequila in the last 20 minutes," the document stated. "Springsteen smelt strongly of alcohol coming off his person and had glassy eyes."
The officer claims they had Springsteen perform "standardized field sobriety tests and observed four out of six clues on the [horizontal gaze] test." The cop alleged that Springsteen was "visibly swaying back and forth while I observed his eyes." The officer further claimed that they observed "five of eight clues on the walk and turn test."
"Springsteen took 45 total steps during the walk and turn instead of the instructed 18," the doc stated. "Springsteen refused to provide a sample on the preliminary breath test."
Additional reporting by Victoria Bekiempis.