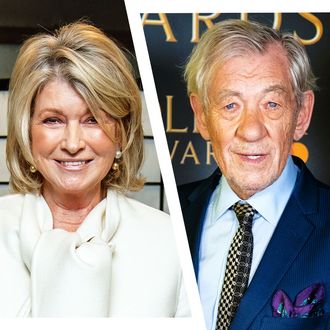 You can now sleep peacefully knowing that Martha Stewart and Sir Ian McKellen have been vaccinated.
Photo-Illustration: Vulture and Getty Images
Many celebrities, politicians, athletes, and influencers contracted the coronavirus this year, but we are now seeing some begin the process to immunity. There are numerous vaccine rollouts ongoing, including the Moderna and Pfizer-BioNTech vaccine, the Oxford University–AstraZeneca vaccine in the U.K., and more currently in phase three of clinical trials. While some celebs in the U.K. started receiving the vaccine in early December, and some have already received their second round, the U.S. mostly saw politicians receiving the vaccine in December, with celebrities starting to get the vaccine in January. With current age and career restrictions on the vaccine, it may be a moment until we see a wave of celebs under 60 receiving the vaccine, but until then rest assured that icons such as Martha Stewart, Prue Leith, Joan Collins, and more, are in the clear.
Jonathan Van Ness
The Queer Eye star got his first shot on February 22 because of his HIV+ status. Van Ness encouraged other HIV+ people to check their vaccination status online or try to get leftover doses when possible.
Amanda Kloots
The Talk host Amanda Kloots got her vaccine on February 20 when she went to a vaccination site and waited until appointments were over to see if there were any extras. "I cannot tell you how emotional I was and still am right now," Kloots shared. Her husband, Broadway star Nick Cordero, passed away after a long battle with COVID-19 in July.
Alice Cooper
The rocker got his jab in Goodyear, Arizona, on February 9, just in time for his new album, Detroit Stories, due on February 26. While at the hospital, Cooper signed autographs and thanked health-care workers, according to azcentral.com.
Stephen King
Famed horror author Stephen King got his Moderna vaccine on February 5, which he said was "very cool." Now we can go back to being scared by killer clowns and haunted hotels, not a global pandemic.
Barbara Corcoran
The Shark Tank investor woke up bright and early at 4 a.m. on February 12 to get her second shot. "I feel like I won the lottery!" she said.