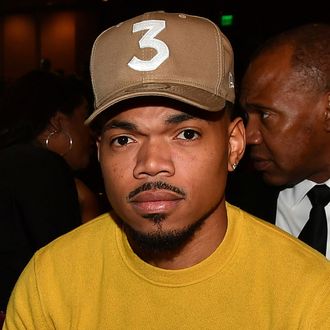 Photo: Paras Griffin/Getty Images
Chance the Rapper has responded to the lawsuit filed by his former manager. According to filings provided to Vulture and reported earlier by Pitchfork, Chance (born Chancelor Bennett) has filed to dismiss most of the claims made by Pat Corcoran and has filed a separate lawsuit against him — while slipping in a defense of his album The Big Day on top of it all. Chiefly, Chance is claiming his team does not owe Corcoran (a.k.a. Pat the Manager) outstanding fees through their agreement that Corcoran would earn 15 percent of Chance's net profits. Corcoran's initial suit, filed on behalf of Pat the Manager, LLC, claimed Chance's companies owed him over $3 million in missed commissions, which were unpaid after his firing in April 2020. Further, Corcoran claimed he is owed money for three years after his termination, per industry standard; Chance's team is attempting to have that claim dismissed.
Chance is suing for over $3 million in response, citing breach of fiduciary duty, tortious interference with prospective economic advantage, and breach of contract. (Corcoran's current suit against Chance also claims breach of contract, among other counts.) Chance's new suit is separate from Corcoran's and not a direct countersuit — Corcoran sued three of Chance's companies on behalf of his company Pat the Manager, while Chance is suing Corcoran directly as an individual. In a statement to Vulture, Chance's legal team called Pat the Manager's initial suit "a groundless and insulting lawsuit that ignores his own improper self-dealing and incompetence." Chance's team added, "Mr. Bennett trusts the legal system to reveal the truth of the parties' relationship in due course."
Corcoran's lawsuit notably criticized Chance's most recent album, The Big Day, released in July 2019. The suit called it "a freestyle-driven product of sub-par quality" and "a complete deviation from the meticulous writing process that brought Bennett fame for his wordplay and wit" and cited multiple incidents of Chance ignoring Corcoran's management advice, which allegedly led to his firing. In a filing responding to Corcoran's lawsuit, Chance's team claims he worked on The Big Day "for months" ahead of announcing the album and that "the album received many favorable reviews." Further, the response claims that ahead of Chance's album announcement, "Mr. Corcoran had effectively checked out of the actual work of managing Mr. Bennett's career and never developed a concrete strategy to market or promote the album."
Chance's filings and new lawsuit go on to downplay much of the influence Corcoran — widely credited as part of Chance's early independent success — had on his career. Chance's new lawsuit calls Corcoran "a disgruntled former manager" with "shocking violations of his position of trust." The suit goes on to claim Chance's issues with Corcoran go back to the initial days of their partnership in 2012, when Corcoran allegedly could not be trusted to hang fliers for a concert. Among other allegations, Chance's new suit says that Corcoran tried to promote his own business interests through his associations with Chance. Corcoran, as Chance's team claims in the suit, used a tour negotiation with Live Nation to get the company to buy wine from his other company, No Fine Print. Another time, the case alleges, Corcoran leveraged an opportunity given to Chance in 2017 to write and co-produce a movie for MGM with Scott Bernstein, but instead turned it into an opportunity for Corcoran's company, Haight Brand. Both instances allegedly happened without Chance's knowledge.
When Chance was given the opportunity to work with a new company, UnitedMasters, which promotes artists' ownership of their work, and sit on its board of directors, Corcoran attempted to secure "the same compensation" for himself, and founder Steve Stoute notified Chance. "Mr. Corcoran responded with copious tears" after Chance confronted him about the dealing, according to the new lawsuit. Months later, the suit adds, Corcoran attempted to strike a new agreement with Chance, through Haight Brand, that would give Corcoran final say on many of the rapper's career decisions, including signing to a major label. The suit calls the proposal "astounding, both in its audacity and in how fundamentally at odds it was with all of Mr. Bennett's efforts to be (and remain) an independent artist." Those claims — along with Corcoran's subsequent partnership with Warner Records, a major label — led to Corcoran's eventual firing, according to the lawsuit. Yet even after his firing, Corcoran has allegedly held onto Chance's chanceraps.com domain name and fan mailing list, both of which were created under Corcoran's name. Chance's suit claims Corcoran "acted out of spite" and should have returned the materials after being fired.
Corcoran's legal team countered the new filings in a statement to Pitchfork. "The defendants have elected to attack Mr. Corcoran's character and rewrite history," the statement said. "The aspersions cast by the Chance camp are offensive and do not reflect the reality of the relationship that Mr. Corcoran and Mr. Bennett developed over many years of collaboration." Corcoran's team added, "Mr. Corcoran looks forward to presenting his claims and airing out the defendants' baseless accusations in court." And we look forward to a final ruling on the quality of The Big Day.
This post has been updated throughout with information from Chance the Rapper's new filings.