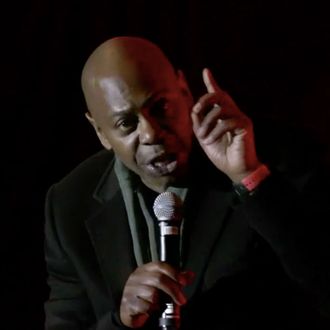 Photo: Dave Chapelle/Instagram
Less than three months after Netflix removed Dave Chappelle's Comedy Central series Chappelle's Show from the streaming platform at his request, the show has now returned to the streaming network. In an Instagram clip posted on Thursday, February 11, Chappelle — who was performing for a live crowd at Stubb's in Austin, Texas — revealed that he's now been paid for the show by ViacomCBS. "I never asked Comedy Central for anything. If you remember, I said, 'I'm going to my real boss and I came to you,' because I know where my power lies. I asked you to stop watching the show, and thank God almighty for you, you did. You made that show worthless, because without your eyes, it's nothing," Chappelle told the crowd. "And when you stopped watching it, they called me. And I got my name back, and I got my license back, and I got my show back, and they paid me millions of dollars. Thank you very much." As part of the deal, Chappelle's Show has now returned to Netflix.
"This is a very important moment. I wanna thank Ted Sarandos at Netflix, a CEO who had the courage to take my show off his platform at financial detriment to his company just because I asked him," Chappelle said in the clip. "And I wanna thank Chris McCarthy of CBS Viacom; this guy is younger than me, and like most people younger than me, has an interest in making the past right and did something very courageous." It was a sentiment the companies returned. "Dave Chappelle is one of the greatest comedians of our time and a defining voice of the Comedy Central brand," Chris McCarthy, president of MTV Entertainment Group at ViacomCBS, said in a statement. "After speaking with Dave, I am happy we were able to make things right."
In the clip, Chappelle also offered some thoughts on COVID-19 diagnosis in January. "Nothing feels better to a coward than to watch a brave guy fall," he said in regards to what he described as the "faction of people" he says cheered the fact that he'd contracted COVID-19 while performing live shows. "Well, enjoy yourselves, motherfuckers, 'cause I'm better now." He also spoke about U.S. Capitol riot in January. "That's what white people did: They felt what Black people have been feeling for 400 years for 30 minutes, stormed the Capitol, and rubbed their shit on the walls," he said. "If you could solve a Black American's problems, this country wouldn't have no problems. You're so busy talking about pronouns and this that and the other, but this is a very basic wrong: They kidnapped us, they brought us here, they treated us like shit, and all the time that they did that, they were afraid that we would do what you would do in the same situation. But did we storm the halls of the Capitol and rub our shit on the walls? Well, of course not. If that would've worked, we would've tried it! I know how to solve my problems. You need to know how to solve your problems. You need to know where your power lies. You are Americans, so your power lies in each other." The clip can be viewed below in its entirety, though the comment section has been limited.