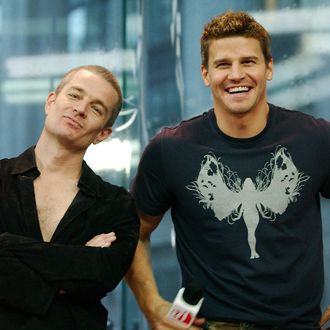 Buffy
actors James Marsters and David Boreanaz.
Photo: PA Images via Getty Images
Buffy actors Dave Boreanaz and James Marsters have joined the chorus of voices to lend their support to the many actresses who allege misconduct against Joss Whedon. Boreanaz, who played vampire turned private investigator Angel on Buffy the Vampire Slayer and its subsequent spinoff Angel, took to Twitter to support his former Buffy co-star Charisma Carpenter, who accused Whedon of abusive and unprofessional behavior in a two-part statement she posted on social media, titled "My Truth." In the statement, Carpenter claims that Whedon lodged "ongoing, passive-aggressive threats" at her, and that he was "mean and biting, disparaging about others openly, and often played favorites, pitting people against one another to compete and vie for his attention and approval." Boreanaz joined fellow Buffy actors Sarah Michelle Gellar, Eliza Dushku, and Michelle Trachtenberg in standing with Carpenter. "@AllCharisma I am here for you to listen and support you. Proud of your strength [heart emoji][prayer hands emoji]," tweeted Boreanaz in response to Carpenter's statement.
James Marsters, who played British vampire Spike on Buffy and Angel, also took to social media to show his support for Carpenter, tweeting, "While I will always be honored to have played the character of Spike, the Buffy set was not without challenges. I do not support abuse of any kind, and am heartbroken to learn of the experiences of some of the cast. I send my love and support to all involved." Stories of Whedon's alleged misconduct on the Buffy and Angel sets have resurfaced after actor Ray Fisher accused the director of abusive behavior on the set of reshoots for Justice League. Whedon has denied all of Fisher's allegations, and has bowed out of the forthcoming HBO series The Nevers, citing exhaustion.
Updated, February 16, 1:12 p.m.: Nicholas Brendon, who played Xander on Buffy, addressed Charisma Carpenter's allegations in a Facebook Livestream on February 15. He says that Carpenter's time on set "was not a good story" and that transgressions were made, while also saying that he loves Joss Whedon. Speaking from a hospital bed before undergoing spinal surgery, Brendon said, "Unless you know Joss, it's a situation where it's kind of like, out of this, I just hope growth comes, and healing, and being a better person, and better people. Because I think that's what every day is about. Not beating somebody up." It is unclear whether Brendon is referring to Joss Whedon not bullying and emotionally abusing women on set, or referring to Whedon's critics. He continued, "Were there transgressions? Yeah, there were. To me as well. I had my relationship with Joss as well. And I love him. For me, I took the good; I took the bad. But that's not everybody. As I said, I love and support C.C. very much. And I know that story, and it's not a kind story. I know my relationship with Joss, and —" Here, Brendon began to choke up, "A lot of kindness. But also a lot not. So it's kind of hard to give a statement when things are like that. 'My thoughts and prayers for the victims' families.' I don't do that shit."