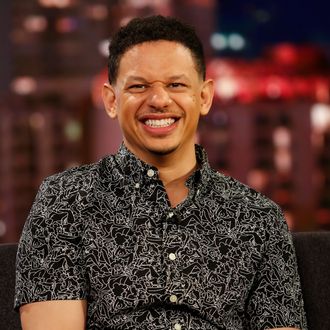 This agent of subterranean chaos is an MTA insider, now.
Photo: ABC via Getty Images
Here is an incomplete list of things Eric Andre has done on MTA subway cars and platforms over the course of The Eric Andre Show: fell all over people while wearing Heelys, scattered loose M&Ms out of jai alai paddles, pretended to be a beekeeper unleashing bees, dumped cakes in riders' laps while dressed as a giant centaur, "pissed" on a sleeping passenger, and dumped milk and Froot Loops into a veterinary cone on his head while desperately begging commuters to drink from it. Now, this agent of subterranean chaos, this demon of the rails, has become a voice of authority for the MTA. Beginning Friday, February 12, riders can hear Andre making recorded announcements reminding commuters to wear masks and stay home if they're sick.
The comedian is just one of many New York City celebrities participating in this campaign spearheaded by New York Nico (Nicolas Heller). Other famous voices include Jerry Seinfeld, Fran Lebowitz, her ace impersonator Bowen Yang, Desus Nice, the Kid Mero, Abbi Jacobson, Ilana Glazer, Cam'ron, Whoopi Goldberg, Jadakiss, Awkwafina, Natasha Lyonne, Edie Falco, Debi Mazar, and Bob the Drag Queen. Heller told the New York Post that the 25 celebrities agreed to donate their vocal talent for free, and that "no one had an issue with there being no money involved." In a video promoting the campaign, Seinfeld jokes, "Welcome to the premiere of Comedians in Trains Getting Coffee," because of course he does.