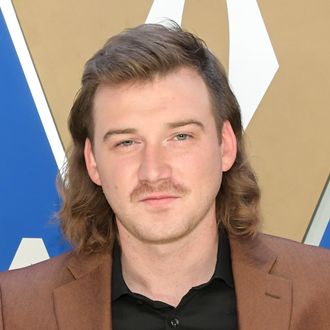 Photo: Getty Images for CMA
Morgan Wallen found himself issuing yet another public apology on Tuesday night after TMZ leaked a video of him using the N-word. In the video, which was reportedly recorded by a neighbor, Wallen can be seen walking home in Nashville with friends and calls one of them the N-word. "I'm embarrassed and sorry," Wallen told TMZ in a statement. "I used an unacceptable and inappropriate racial slur that I wish I could take back. There are no excuses to use this type of language, ever. I want to sincerely apologize for using the word. I promise to do better." Wallen has spent three weeks atop the Billboard charts for his album Dangerous, which also broke the first-week streaming record for a country album.
Many in the country-music community have already commented on the situation, with Mickey Guyton, who was the first Black female solo artist to receive a Grammy nomination in a country category, tweeting, "This is not his first time using that 'unacceptable' racial slur and we all known that. So what exactly are y'all going to do about it. Crickets won't work this time." Kelsea Ballerini, meanwhile, tweeted, "The news out of Nashville tonight does not represent country music." Maren Morris seemingly responded on Twitter, writing, "It actually IS representative of our town because this isn't his first 'scuffle' and he just demolished a huge streaming record last month regardless. We all know it wasn't his first time using that word. We keep them rich and protected at all costs with no recourse."
This is not Wallen's first brush with controversy. In May of last year, he was arrested for public intoxication and disorderly conduct at Kid Rock's Big Ass Honky Tonk Rock N' Roll Steakhouse in Nashville. Months later in October, his performance on Saturday Night Live was canceled after videos of him partying and ignoring COVID-19 protocols went viral on social media. He apologized at the time, calling his actions "pretty shortsighted." Wallen was then allowed to appear on the show in December.
Update, February 3, 8:50 a.m.: Country-radio stations owned by Cumulus Media, which owns over 400 stations in total, received a memo to remove Wallen's music from all playlists, according to Variety. Listeners also noticed his music was no longer being promoted on streaming, with his songs taken off Apple Music Country playlists and Spotify's Hot Country playlist.
Update, February 3, 12 p.m.: Wallen's music has now been pulled out of rotation at stations owned by iHeartMedia, the country's largest radio network, according to Billboard. "In light of Morgan Wallen's recent actions involving the use of a racial slur, we have made the decision to remove his music and content from our stations effective immediately," a spokesperson told the magazine. Major radio network Entercom has also pulled Wallen's music, according to Radio Insight, which notes that Beasley Media stations have also not played Wallen's music today.
Meanwhile, Jason Isbell has disavowed Wallen, who covers Isbell's song "Cover Me Up" on Dangerous. "Wallen's behavior is disgusting and horrifying," he wrote to a fan on Twitter. "I think this is an opportunity for the country music industry to give that spot to somebody who deserves it, and there are lots of black artists who deserve it."
Update, February 3, 5:35 p.m.: Both of country's major awards-granting bodies have taken action against Wallen. The Academy of Country Music, which just finished first-round voting for its 2021 awards, said it "will halt Morgan Wallen's potential involvement and eligibility for this year's 56th Academy of Country Music Awards cycle." Second-round voting for the awards, recognizing 2020 releases, begins on February 10; while Wallen's Dangerous: The Double Album wouldn't be eligible, Wallen was a possible favorite for song and artist categories.
The Country Music Association, meanwhile, tweeted it "is removing his digital content from our platforms." The CMA awarded Wallen New Artist of the Year in 2020. "We will confer with our board of directors to review additional measures and will continue to examine our industry's inclusivity efforts," the statement continued. The CMA Awards will take place in the fall.