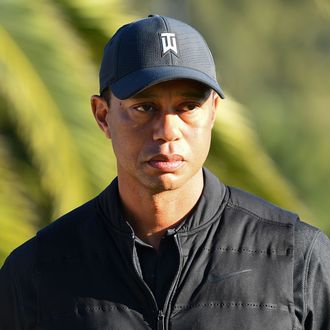 Photo: Icon Sportswire/Icon Sportswire via Getty Images
Tiger Woods has been hospitalized after crashing his car in a rollover accident, police told TMZ and other outlets. The LA County Sheriff's Department said the crash happened around 7 a.m. between Rolling Hills Estates and Ranchos Palos Verdes, California, and golf star Woods was "the driver and sole occupant." Police also said emergency responders had to use the jaws of life to get Woods out of the car — which, in footage on MSNBC, appears to have crashed into a field on the side of the road. Woods's agent told TMZ that the 82-time PGA Tour winner is currently in surgery for leg injuries. A police source told the outlet the department did not believe alcohol factored into the crash, but could not rule out other substances. Woods previously pled guilty to reckless driving after being charged with a DUI in 2017; he claimed at the time it was the result of prescription medication.
Update, February 24: Woods "is currently awake, responsive, and recovering" after surgery on his right leg and ankle, according to a statement posted to his Twitter late February 23. The golfer had a rod placed in his tibia and pins and screws placed in his foot and ankle, after his rollover car crash that morning. "Thank you to the wonderful doctors and hospital staff at Harbor UCLA Medical Center, the Los Angeles County Sheriff's Department, and the Fire Department," the statement said. "Your support and assistance has been outstanding."
Meanwhile, the L.A. County Sheriff's Department and Fire Department provided more details on Woods's crash at a February 23 press conference. Police said Woods "was alive and he was conscious" when they responded to the accident, and "there was no evidence of impairment," according to a People report. The fire-department chief added that Woods was removed with an axe and Halligan tool — not the jaws of life, as originally reported. Police said Woods had been speeding down a road with "a high frequency of accidents," and hit a sign before rolling into the field onto the side of the road.