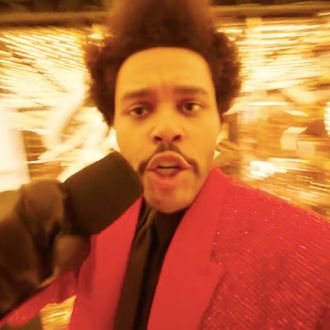 If Sunday's Super Bowl was your first introduction to the Weeknd, there's a lot for you to process, from the medical bandages to the spangled suit jacket to the dark '80s synth fantasy of it all. If you're already very familiar with the Weeknd and his visuals, however, you can go ahead and narrow your focus to a few standout moments like Twitter did immediately following the singer's Super Bowl LV halftime show.
Dozens of viewers instantly started riffing on the singer's dazed expression as he stumbled through his set's golden, mirrored hallways. Hey, you'd be confused too, if you were about to be swarmed with dozens of yourself, all clearly needing medical attention for that whole face situation.
Of course, the fact they might have vertigo from how close the camera was to the Weeknd's face probably isn't helping their overall health, either.