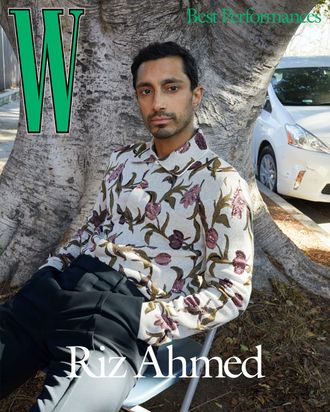 Riz Ahmed, chilling.
Photo: W Magazine
For another year running, W magazine editors woke up on the day of their "Best Performances" cover shoot and chose violence. The magazine spread highlighting some of the year's most outstanding actors has put German photographer Juergen Teller at the top of Twitter's most wanted list. The 22 different photo shoots are each shockingly mundane, some painfully so, with the celebrities just sort of loitering on an L.A. street. While gratuitous photos of their favorite celebrities doing literally anything typically gets film Twitter excited, the uncomfortable images of Steven Yeun, Tracee Ellis Ross, Tessa Thompson, and more are killing the vibe for Alan Kim, LaKeith Stanfield, and other decent covers. Here are all of W's Best Performances shoots, ranked by the agony, discomfort, and cries for help in their eyes.
22. Alan Kim
He's king of the world! Minari's 8-year-old star Alan Kim is the only one here who knows the true meaning of joy, fully climbing on top of the car for his W shoot.
21. Robin Wright
Robin Wright actually looks comfortable crouching by her sprawling tree roots — and is one of the few who actually found it in her to smile for this shoot. Good for her.
20. LaKeith Stanfield
Leave it to LaKeith Stanfield to still look cool leaning against a tree stump.
19. Maria Bakalova
Borat 2 star Maria Bakalova's shoot is fittingly playful, and laying on the road couldn't have been worse than sitting on a bed with Rudy Giuliani.
18. Riz Ahmed
Riz Ahmed was there for a good time, not a long time. The Sound of Metal actor tweeted that this shoot was "the fastest of my life," and you can tell he was chilling for all "20 seconds."
17. Vanessa Kirby
Vanessa Kirby's cover is W's true neutral, and at this rate, we're not complaining.
16. Rachel Brosnahan
Category is: Stevie Nicks realness. Rachel Brosnahan just looks like she got a bit lost on her way to San Francisco.
15. Michelle Pfeiffer
She's reaching for her keys and we don't blame her.
14. Gal Gadot
Imagine there's no effort put into this shoot, it's easy if you try.
13. Sacha Baron Cohen
Six-foot-three Sacha Baron Cohen is a giant against this tiny car. A very serious, no-fun giant.
12. Taylour Paige
Dream girl Taylour Paige could beat us up and the photo says she might just. Watch Boogie, out March 5.
11. Tom Holland
Dammit, Tom Holland, your boyish charm saves you, yet again.
10. Jonathan Majors
The way he's palming the tree has more energy than most of these pictures combined. Whew.
9. George Clooney
In this photo, George Clooney proudly plays the role of bicycle rack for his twins, Ella and Alexander.
8. Andra Day
Andra Day looks radiant, even when she's stumbling up to you, asking for directions.
7. Jared Leto
Sure, the shoot is fine, but we just really can't sit idly by as another Jared Leto Oscar campaign happens.
6. Jacob Elordi
Don't feel bad for Jacob Elordi, feel bad for the plastic cup on the street and our planet's impending doom. No one wanted to pick that up? Cool.
5. Leslie Odom Jr.
There's fear, sadness, and confusion in Leslie Odom Jr.'s eyes. Who at W hurt this man?
4. Tracee Ellis Ross
While we can't quite knock Tracee Ellis Ross for staying safe in a pandemic, we can knock her for wearing a face shield that looks like an astronaut helmet.
3. Nicole Beharie
How are you going to have Nicole Beharie look like a million bucks in a 99 Cent Store shopping cart?
2. Tessa Thompson
It's not an easy task to make Tessa Thompson look unremarkable, yet W makes her seem like she stumbled right onto this photo shoot.
1. Steve Yeun
How dare anyone inflict this much grief upon Steven Yeun? His films are supposed to make you feel that way, not vice versa.