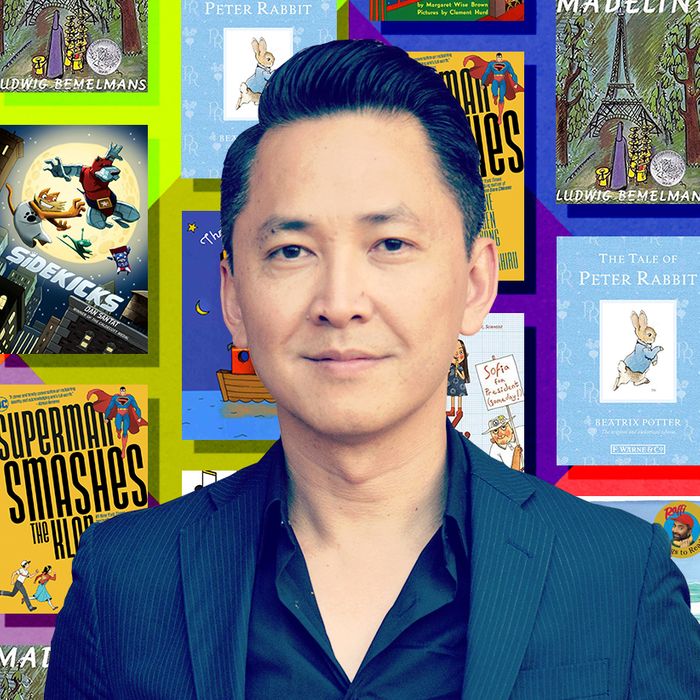 Photo-Illustration: Vulture; Photo: Mimmo Frassineti/Agf/Shutterstock
Bookseller One Grand Books asks celebrities to name the ten titles they'd take to a desert island, and since 2017, they've been sharing the results with Vulture. Today we have a twist on the list courtesy of their newest shop, Little Grand. The children's bookstore will provide curated lists recommending children's books by those who love the genre. Today, Pulitzer Prize–winning novelist Viet Thanh Nguyen, whose new book, The Committed, is out now, shares his list.
Memorable, often humorous poems that teach the alphabet through activist political examples. Never too early to expose your children to justice.
Wonderful rhymes and a modernist, surrealist rendition of a childhood bedroom that is so successful it just seems normal.
Updates the Superman origin story with an Asian American, antiracist twist. My 7-year-old read it three times in a week.
The book is based on a song by Raffi that is lovely and memorable, and I like to sing it while I read the book to my children.
A graphic novel about a superhero's pets who are actually superheroes themselves. I love Santat's visual and narrative style.
The French have no idea who this Madeline is, and I never read her as a boy, but I've come around as an adult.
The whimsy and charm of Potter's story and illustrations are truly timeless. I enjoyed this as a child, and my son responds too.
Visually inventive and wildly imaginative, this book is all pictures and no words. It's like Buster Keaton embodied by Snoopy and drawn by Salvador Dali.
But really anything by Beaty in her rhyming series about children with amazing futures. And let's hope we see a woman of color president in our lifetime.
Or anything by Sandra Boynton. We have so many of her books. But this one with a song by the Monkees' Davy Jones is the favorite.