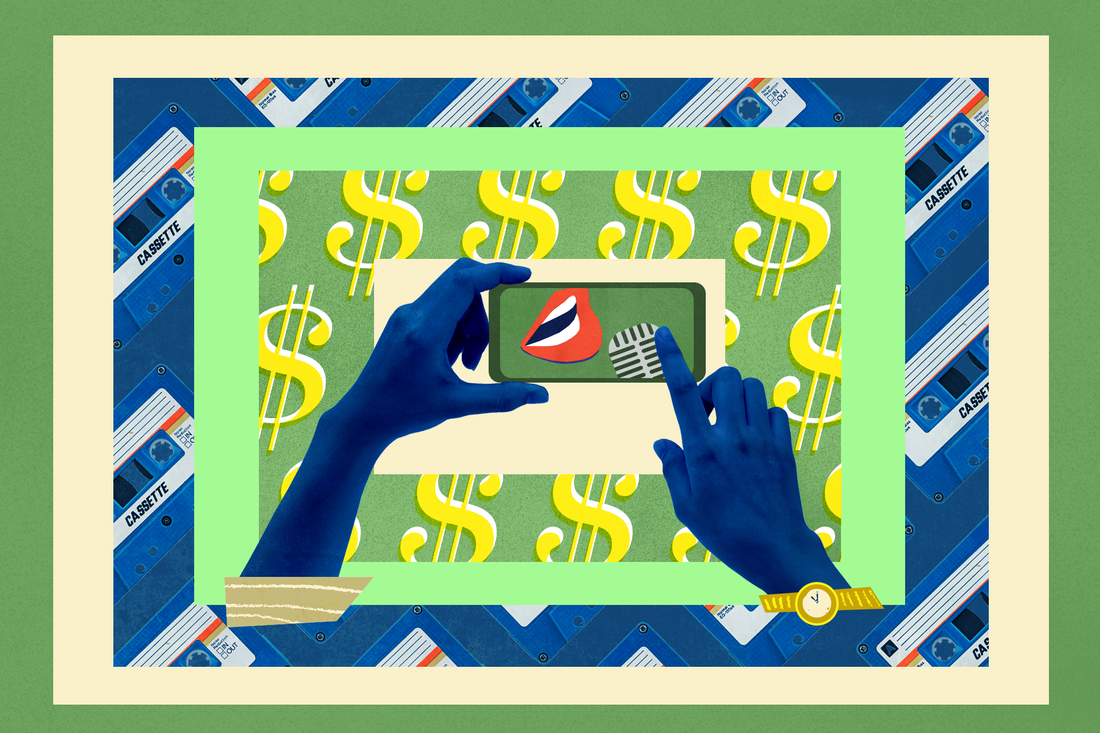 Illustration: Lauren O'Connell
In the music industry, money doesn't always guarantee a hit. It's sometimes thought that the best songs require a lucrative contract with a record label or access to extensive hours in the recording studio with the best producers money can buy. But that simply isn't true: There are countless examples of successful artists who used inexpensive equipment, or recorded in locations other than traditional studios. And in today's world, tracks recorded on a cell phone can go viral from an artist's personal social media account without any promotion or record label required. All it takes is a creative mind and exceptional musical talent to make a hit (just look at "Born in the U.S.A." by Bruce Springsteen or the success of Bon Iver's For Emma, Forever Ago.) Expensive doesn't always mean better — here are five of our favorite budget albums and music videos to prove it.
Bruce Springsteen's Nebraska
Springsteen originally recorded the songs on his 1982 album Nebraska as demos, using a simple 4-track cassette recorder so that he wouldn't need to spend money on a recording studio session for tracks that he was planning on re-recording with the E Street Band. In the course of one day, January 3rd, 1982, Springsteen recorded 15 songs on the cassette recorder. However, the themes of these songs — American despair and loneliness — were more attuned to the stark, acoustic nature of the demos, something that the backing of the full band couldn't replicate, so Springsteen decided to release 10 of the demos as they were on Nebraska. He also included other songs from this recording session on his next album, Born in the U.S.A. (including the famous title track), though they were ultimately re-recorded with the E Street Band.
Drake's "God's Plan" music video
The opening of the "God's Plan" music video, released in February 2018, states: "The budget for this video was $996,631.90. We gave it all away. Don't tell the label." The video, which was filmed in one day in Miami, shows Drake donating money to residents across the city: Handing strangers a stack of cash, signing a check for a donation to a local fire department, donating toys to children, paying for shoppers' groceries at a local supermarket… you get the idea. During the course of production, Drake also donated $25,000 to students at Miami Senior High School and surprised a University of Miami student with a $50,000 check for tuition fees. The innovative video demonstrated that you don't need expensive sets, backup dancers, or costume changes to make a music video for a hit single — Drake's collection of clips from this day in Miami ended up being the perfect backdrop to the song. A budget production for a good cause, this music video is one of the most-streamed clips on YouTube, with over 1.2 billion views.
The Black Keys' "Lonely Boy" music video
The "Lonely Boy" music video consists of only one low-definition, three-minute clip, recorded in a single take: a solitary man dancing and lip-syncing to the song in a motel hallway. The man, Derrick T. Tuggle, was cast as one of several extras meant to be in the video, but the director noticed Tuggle's dance moves during filming and asked him to dance to the whole song by himself. The result? An instantly iconic, low-budget music video — Tuggle's infectious grooving makes you want to get up and dance too. "I'm elated, and I'm still in shock, to be honest," Tuggle told MTV News at the time of his starring role. "Honestly, I just went down there to do my part and see what would happen. Who knew I would take over the whole thing?"
Bon Iver's For Emma, Forever Ago
Justin Vernon of Bon Iver recorded this critically-acclaimed album while staying alone in a remote cabin in Wisconsin, after experiencing both personal and professional breakups. He brought with him his guitars, inexpensive microphones, and an old Macintosh computer and left with nine songs — the tracks on For Emma, Forever Ago. "That's all I had … my computer, my four-track stuff, my microphones were probably in my car for two weeks before I brought it in," Vernon said in an interview at the time. "So I mean, I always have it around; I'm always working on music. But the reason I went up there, first and foremost, was really out of necessity. It was kind of a rushed decision. I didn't go up there thinking, 'Alright, I gotta make a record.'" Vernon originally saw the nine songs as demos that he might later re-record in a studio, but was convinced to leave them as-is. He then self-released the album on MySpace; after an outpouring of positive reviews, it was later released on an independent label, Jagjaguwar.
Florence + the Machine's "Dog Days Are Over" music video (2008 version)
The original version of Florence + the Machine's music video for the hit song "Dog Days Are Over" was recorded "on a whim" — singer Florence Welch and some family and friends went to the woods, put on costumes, and put together a homemade music video. The low-definition video shows the group running through the forest, costumes flying in the wind. "We went down to the woods and we only had one camera," Welch said. "I got my dad to put on a clown costume and my friend's nephew to dress up as the baby clown while we decorated the woods. Dog walkers gave us the weirdest looks. It was really fun." Though a second, higher budget version was eventually filmed and released in 2010, this wasn't the only time Welch put together an inexpensive music video — her 2008 "Kiss With a Fist" video, from the same album, takes place entirely in one room, with a plain white background.
As these examples prove, the best creations don't need a steep price tag or a binding contract; in fact, budget productions can often breed innovation and allow the artist more creative freedom. That's why SIMPLE Mobile offers affordable wireless plans with no contracts and no strings attached — so you can get creative, on your own budget and your own terms.
This advertising content was produced in collaboration between Vox Creative and our sponsor, without involvement from Vox Media editorial staff.