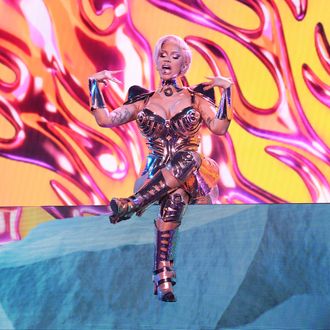 Photo: Kevin Winter/Getty Images for The Recording Academy
No matter how much editing Cardi B and Megan Thee Stallion did to "WAP," it was never going to be enough for Fox News. The rappers cleaned up their filthy hit just enough to perform it on March 14's Grammys, even bleeping out such suggestive phrases as "bucket" and "little dangly thing" — along with, of course, the titular phrase. Still, they gave Fox News something to talk about the following night, with Candace Owens telling Tucker Carlson the "WAP" performance contributed to "a weakening of American society." (No, "WAP" doesn't actually stand for "Weakened American Public.") "Yaaaayyyyyyy WE MADE FOX NEWS GUYS !!!" Cardi tweeted in response to a clip of Owens's appearance. "Matter fact I'm just going to thank Candy," Cardi added in another tweet. "She put my performance on Fox News giving it more views that boosted the views on YouTube and is counting towards my streams and sales 😜 STREAM 'UP' AND 'WAP.'" In another response to the Fox clip, Cardi added, "Wow. Imagine if 'WAP' caused the downfall of the American empire and not North Korea bomb threats, terrorism, racism, or bad government? !! THAT WOULD BE SO ICONIC !!!"
Eventually, Cardi's tweets made their way to Candy herself. Candy accused Cardi — calling her by her birth name, Belcalis — of encouraging "young women to strip themselves of dignity," in a quote tweet. "I don't know why Candy is so bothered by 'WAP.' I was just inspired by our former First Lady," Cardi tweeted in response, with a nude-model photo of Melania Trump she scribble-censored over. When Candy then asked about Cardi's "obsession with the Trump family," Cardi replied, "I'm obsessed she's my idol 😍 She showed me I can be naked, perform 'WAP,' and still be a First Lady one day !"
As of press time, Cardi and Candy's back-and-forth is still going strong. Not even an old Candy tweet about Cardi can put this beef to bed (although she was right, Cardi does believe in freedom). If you need us, we'll be streaming "WAP" and "Up" and awaiting the day we get First Lady Cardi B.
Update 9 P.M.: The fight has taken a weird turn. Candy has threatened to sue Cardi for posting a Photoshopped tweet in which Candy wrote that her husband cheated on her with her brother. In response, Cardi claimed that the tweet wasn't Photoshopped, to which Candy replied that she would be "100% suing" Cardi over the "slander" against her brother, "a private citizen." Cardi then threatened to countersue Candy for claiming that Cardi "and her team" Photoshopped the tweet.
Even after the threat of court action, both continued fighting, with Candy taking to Instagram with a 13 minute (!) video reiterating her intent to sue Cardi, to which Cardi responded on Twitter, "Not candy doing a whole 13 minute video of this shit on IG .Deum i be making her waNna pull her pussy hairs out." Cardi also offered to debate Candy on "Trump and Biden," with Candy responding that "me and you in a courtroom debating defamation law is what's around the corner." Cardi then clarified, "IN THONGS ?" Candy has not yet responded.