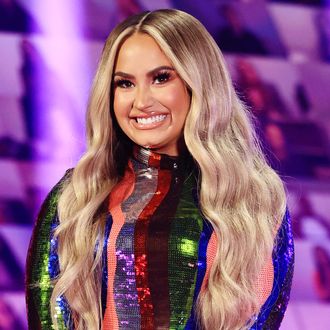 Demi Lovato, several haircuts ago.
Photo: Christopher Polk/E! Entertainment/NBCU Photo Bank via Getty Images
Fans have waited years for Demi Lovato's upcoming seventh album — following her 2017 album, Tell Me You Love Me, it's her first record since her harrowing 2018 overdose and her big return to music on the 2020 Grammys stage. And Lovato is making Dancing With the Devil … The Art of Starting Over (out on April 2) worth the wait. She spoke with Entertainment Weekly for its March 25 cover story about her new docuseries, also titled Dancing With the Devil, which follows her path to and recovery from her recent overdose (the series hit YouTube on March 23). Lovato slipped in a few details on her new music.
The 19 tracks on the album span three years, with the earliest recorded on Valentine's Day 2018. Lovato will address her experience with addiction and substances on songs like "California Sober," with a title referencing her current approach to recovery. Fair warning: Lovato gets explicit on two songs, "Dancing With the Devil" and "The Way You Don't Look at Me." "If I'm painting a picture as an artist, telling my truth is so important to me," she told EW. "I don't censor my substance use in 'Dancing With the Devil.' I don't hold back from that, so I don't want to hold back from any other place in my authenticity, you know? While I desperately hope that it doesn't trigger anybody, I also know how important it is for people that are going through those things to have an outlet to be able to listen to. I want to make sure that people know that I'm not glamorizing anything."
The album follows Lovato's journey to overcome her darkest moments, like her hyperpublic breakup with actor Max Ehrich. She says "thank u, next" on a new banger, "15 Minutes," where she congratulates Ehrich on his time in the spotlight. Lovato is also addressing her queer identity more straightforwardly on the track "The Kind of Lover I Am," singing "doesn't matter if you're a woman or a man."
Dancing With the Devil … The Art of Starting Over will include the musician's previously released songs "Anyone" and "What Other People Say," a duet with Sam Fischer. Demi Lovato has teased several collaborations including "My GFs Are My BFs" with Saweetie, "Met Him Last Night," her collab with Ariana Grande, and a new track with Noah Cyrus. Lovato shared the news on Twitter and confirmed song titles in a cover story for Paper magazine. April 2 can't come soon enough.
Update: On Thursday evening, Lovato posted the album's full tracklist to Twitter, revealing, among other songs, her collaboration with Noah Cyrus, titled "Easy."
This is a news story and will continue to be updated.