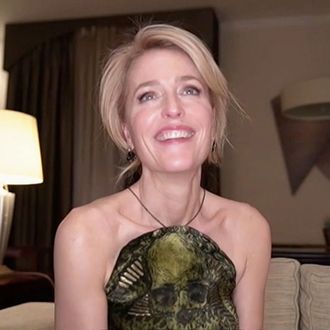 Okay fine, Jason Sudeikis giving a bleary-eyed acceptance speech at the Golden Globes in sweats was relatable for those of us who were watching the Globes similarly bleary-eyed and in sweats. But consider for a moment Ms. Gillian Anderson. She is also going through a breakup, and with someone who was actually on tonight's very fancy Zoom call that was this awards show. She is in maybe the most inconvenient time zone, revealing in her red-carpet interview that she was "alone, in a hotel room, in Prague." This needs to be the title of her memoir immediately, but that's a conversation for a less busy day. However, even with all this going on, the woman appeared in full glam, in a gown with a skull on it. Need I remind you she is alone, in a hotel room, in Prague?
That means, when she did her red-carpet interview, it was already well past midnight. At 3:55 a.m. Central European Time (the time zone in Prague that is), she watched her ex-boyfriend Peter Morgan give his acceptance speech for The Crown's Best Drama win. And for a moment, she probably had to consider that that might end up being what she stayed up all night to do. Then, finally, at the unholy hour of 4:15 a.m. CET, she won a Golden Globe. But at what cost? It's Monday where she is now, and her week is absolutely ruined. Even if she goes to bed right now — which she probably can't do because she still has to do her nightly skin-care routine — what could she possibly get? Two, maybe three hours of sleep? Let's say she's got some excellent, Hollywood-style sleep aids even. What, is she going to sleep until 4 p.m. Prague time? Hopefully she can get about four to five hours of restless sleep this morning, and then a big pot of coffee to hold her over until around 8 p.m., when it will make sense to sleep again. And in the meantime, Gillian, congratulations and I'm so sorry.
Update March 1, 12:12 a.m.: Gillian Anderson has shared photos of her gown, that reveal she is in fact alone, in Prague, with Stella her dog. While being alone together with a dog is very nice, actually, this does put her circadian rhythms at an even greater risk, because that dog is going to have to go out in like an hour.