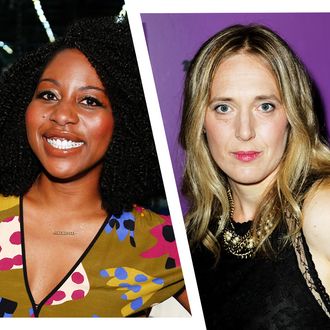 Enjoy Your Meal
executive producers Amy Aniobi and Galt Niederhoffer.
Photo-Illustration: by Vulture; Photos by Getty Images and Shutterstock
Reply All's Bon Appétit investigation may have gotten cut short, but HBO Max has been cooking up its own adaptation of the magazine's reckoning with institutional racism — as a workplace comedy. According to the Hollywood Reporter, the streamer is developing the half-hour series Enjoy Your Meal, which will "draw inspiration from the multiple media scandals of summer 2020 and today, focusing on a cohort of young assistants of color who rise up to tear their cookie cutter corporate culture apart," per a log line. So no, it's not explicitly adapted from the falling out at Bon Appétit, where editor-in-chief Adam Rapoport resigned last June after a photo of him dressed as a Puerto Rican emerged and multiple members of the Test Kitchen video series later quit that fall over alleged racial disparities in contracts and pay. The series will, however, have input from Rapoport's former assistant Ryan Walker-Hartshorn, who was the only Black woman at Bon Appétit before she quit in August and will serve as a consultant. (Bon Appétit's new editor-in-chief, Dawn Davis, is a Black woman.) Executive producers will include Insecure head writer Amy Aniobi, who has a deal with HBO, along with Galt Niederhoffer, Monica Villarreal, and music producer Drew Dixon, who appeared in the HBO Max documentary On the Record. At least now we'll have time to brace ourselves for the eventual adaptation of the Teen Vogue falling out.