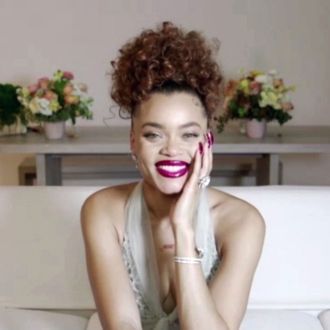 Photo: NBC/NBCU Photo Bank via Getty Images
If there's one thing we can say about the embattled, harrowing dystopia that was the 2021 Golden Globe Awards, it's that they delivered some pleasantly surprising winners. As the saying goes, if you're going to be a bunch of cloistered, old white grifters, at least get weird about it. Inasmuch as there could be said to be "favorites" in this deeply strange and irregular movie awards season, the Golden Globes avoided most of them. Instead, we got surprise wins for Andra Day (Best Actress in a Drama for The United States vs. Billie Holiday), Rosamund Pike (Best Actress in a Comedy/Musical for I Care a Lot), and Jodie Foster (Best Supporting Actress for The Mauritanian). Add to that Nomadland and director Chloé Zhao triumphing over more traditional Hollywood films like Mank and The Trial of the Chicago 7, and it's all very exciting! Especially if it means more excitement and intrigue for the upcoming (you know, eventually) Oscars! After all, a big part of why the Golden Globes became the Golden Globes is because they've been historically seen as a prescient bellwether for the subsequent Academy Awards. A Globe winner on Sunday becomes an Oscar frontrunner on Monday.
But how true is that, exactly? After all, there's no logical reason for it. Not one of the 87 very white members of the Hollywood Foreign Press association is a member of the Academy, so their choices are no indicator of Oscar voting trends like, say, the SAG Awards are. Yet the Globes have been seen as the early trend-setter FOR DECADES. I was somewhat dubious, so I decided to dig into the numbers. I looked at all the Golden Globe winners since 1990 and cross-referenced them with the Oscar winners to determine how many of them went on to win the Oscars — all in an effort to answer the most burning question I've had since Sunday night's Globes: Is Jodie Foster really now set to win her third Oscar?
Here's the big top-sheet number: Of the 404 Golden Globes that have been handed out in the 14 film categories since 1991, 201 have gone on to win the Academy Award. In other words, juuuust under half of all Globe winners — 49.8 percent to be exact — will go on to win the Oscar. It's a coin flip, really. There are, of course, some incongruities to deal with there. The Globes hand out two awards for Best Picture, Best Actor, and Best Actress, so even in a year where the Globes award the Oscar-winning Best Picture and both Oscar-winning lead performers, three Globe champs will get shut out. But it also means the Globes get two chances to get it right (or "right," insofar as the Oscar champion is the right call, which so often it's not, the Green Book triumph being just the most recent example).
In the acting categories, the overlap is actually quite strong. Of the last 30 Best Actress Oscar winners, 27 won the Globe. Among Best Actor winners, it's 24 of 30. (This is an especially good omen if you're in the Andra Day camp and wondering how the actress's late-breaking Oscar buzz is going to fare with Oscar.) In the supporting categories, the correlation is weaker: 20 of the last 30 Supporting Actor Oscar winners won the Globe first, as did 19 of the last 30 Supporting Actress winners. Still that's two out of every three. For an organization run by shadowy European access-peddlers, that's pretty good.
The "why" of it all has always been a bit of a mystery. Chalk some of it up to a lemming effect, where Oscar voters bereft of any better ideas see a Golden Globe winner and decide to get on the train. In that way, the Globes are a kind of Overton window for films and performances, pushing their winners into the realm of plausibility. There's also the basic explanation that the same films and studios that can afford to wine and dine the Hollywood Foreign Press most effectively are also the ones with big enough promotional budgets to successfully appeal to Oscar voters as well — albeit less, you know, overtly. Not to be underestimated, though, is the theory that a Golden Globe winner can boost their Oscar chances with a really good and likeable acceptance speech. This is the preferred explanation for why Meryl Streep got an Oscar nomination for the middling Florence Foster Jenkins shortly after her incredibly well-received Cecil B. DeMille Award acceptance speech where took aim at Trump and called Ryan Gosling a nice Canadian boy.
As our own Nate Jones pointed out earlier this week, the one area where the Globes are actually not great at predicting the Oscars is the Best Picture category. And they're getting worse at it. From 1991–2004, 11 of the 14 Best Picture Oscar winners had won the Globe previously; but in the 16 years since, that's only happened six more times. Only twice in the past six years has the Golden Globe winner for Best Motion Picture Drama or Musical/Comedy won the Oscar. What changed in the interim? Well, in 2004, the Oscars moved their ceremony from late March to late February, which could theoretically give the Globe winners less time for the impact of their wins to be felt. There's also the fact that the expanded Best Picture ballot and preferential voting system that was introduced in 2009 makes room for different kinds of films — often smaller films like Spotlight — than the ones the Globes honor. Whatever the reason, it means Sunday night's win for Nomadland shouldn't fool you into thinking Searchlight has that Oscar in the bag.
All that said, if there were ever a year that a bunch of cool, unlikely Golden Globe winners could ride that momentum to Oscar wins, it'd be this year. Recent history says a Golden Globe is worth a 50/50 shot at an Academy Award. If we've got Jodie Foster, Andra Day, Chloé Zhao, Daniel Kaluuya, Rosamund Pike, and Diane Warren all flipping coins for Oscar, the odds are at least some of them will come up heads. Maybe we haven't seen the last of Jodie Foster in her PJs this awards season after all.