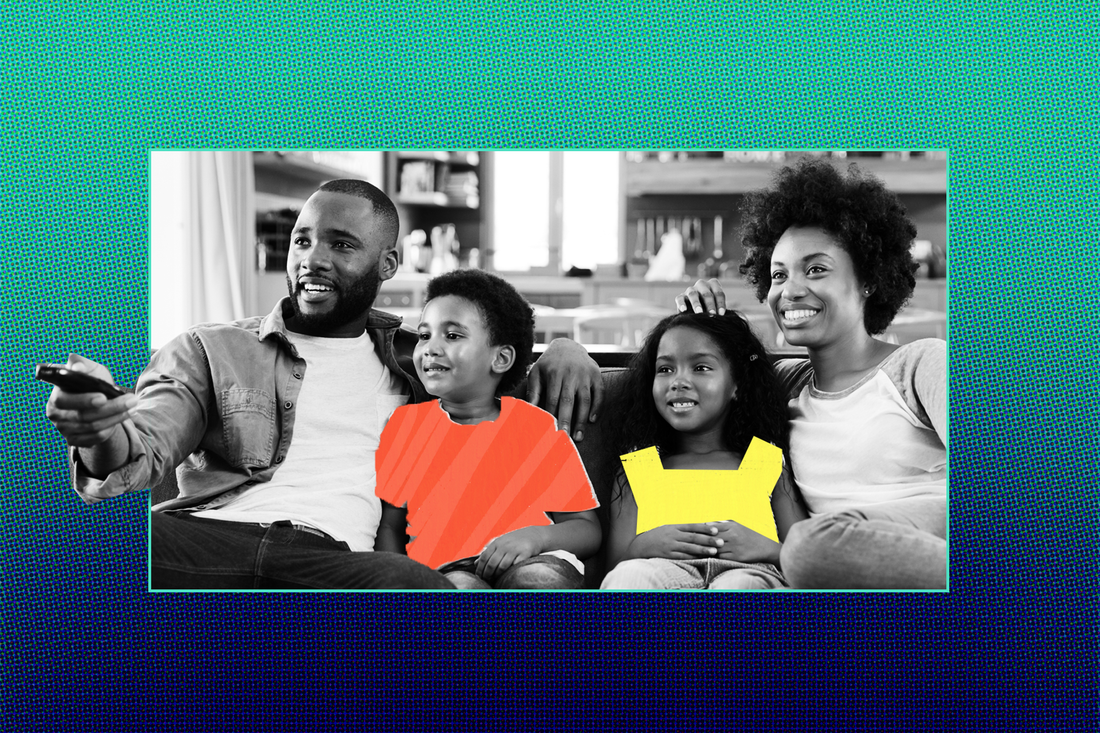 Photo-Illustration: Lauren O'Connell
If you're like many people, you've probably spent the last year staying connected to the world (and sane) via streaming services. Americans now spend an estimated $1 billion dollars per month on streaming content, so your household isn't the only one where bills are adding up. Cutting back on costs can be tricky — after all, you don't want to sacrifice the pleasure of keeping up on the latest series, or connecting with your loved ones. That's why, in partnership with Total Wireless, we've come up with clever ways you can streamline your digital services to find more wiggle room in your budget, without going full-on Luddite. Below are four ways to find savings where you wouldn't expect.
Streamline your… movies and TV services
Long gone are the days where you just paid one cable bill. The wide variety of movie and television streaming options sounded like a delight at first, but you've probably realized by now that it's hard to get away with paying for just one. Maybe you subscribed to a service because you had to check out a buzzy new show, and another because it kept your kids mercifully entertained on their 231st day of quarantine.
There are a few different strategies you can use to trim a ballooning entertainment budget. The easiest? Take a moment to look at your monthly recurring charges and simply drop the subscription you use the least. Or, plan around your family's favorite shows: If you signed up for a streaming service for a single series that you binge-watched on a weekend, cancel it and resume your subscription when the show comes back — that can mean serious savings, as many series go a year between seasons.
Another savvy tip is to avoid those yearly subscriptions, even though they offer discounts for longer tenures. Subscribing "on demand" will likely save you more money in the long run. You can rotate between your TV streaming services so you always have an option to use (say, one in the fall and a different one in the spring).
Streamline your… wireless plan
For many of us, our face-to-face interactions these days are still limited to our curbside delivery guys. This past year we've seen just how important a role our devices play in helping us maintain relationships and stay connected with our loved ones. In light of everything, it's been good enough, but Total Wireless is here to help turn those experiences from good to amazing. With an unlimited 4-line plan* now with nationwide 5G in more than 2,700 cities, you'll spend less time buffering blurry video chats, and more time catching up with the people that matter to you most.
Total Wireless can save you up to $1,200 a year, compared to a four-line, postpaid plan from the leading carrier.** That's money for bikes for the whole family, finally taking that camping trip, or it can go towards building that indoor treehouse for the kids (because, why not?). You can choose a new phone, or do amazing with more savings by hanging onto the one that's already working for you.
Streamline your… apps
While we're on the topic of making our phones work better for us, take this time to declutter your applications. Apps provide everything from news to educational entertainment for the kids to virtual workouts and everything in between. They make things convenient, productive, and more fun — but, it's easy to lose track of which apps you're subscribed to versus the ones that are free. It's even more likely if you've signed up for a free trial and forgot to cancel.
Check your app store (there's likely a "subscriptions" tab under your profile), or do an inbox search for "subscriptions" to look for any recurring payments. From there, purge any apps that you haven't used in over a month or ones that accomplish the same thing as an app that's free.
Streamline your… music
 Music helps us create memories, whether we're working, playing, or learning the latest viral dance. If you're the type who loves to purchase individual songs, consider loading up your online shopping cart and sitting on it for a week or two before you check out. It'll prevent spur-of-the-moment purchases of songs you'll end up listening to once or twice and never play again.
If you stream your music, check to see if there's a non-premium tier that's a better fit for your budget — maybe you can live with 20-second ads for half the cost. Lastly, you and the family can head to your local library. (Newsflash: It has more than just books.) If you have a library card, you can download free music from your local library that you can actually keep, not just borrow. It can be limited to a few songs per week depending on the library, but make it a fun family activity to pick out your weekly favorites. Meanwhile — if you don't mind us getting a little nostalgic here — let someone else play DJ for a change and blast the radio at home. Especially during our times, the radio is not just a source of free entertainment, but even companionship… and these days we could all use a little bit more of that.
* First 100GB shared data at high speed then 2G.
** Savings claim: When compared to the monthly cost of comparable 4-line postpaid plans of the leading carrier. Excludes taxes, fees, autopay discounts, and limited time pricing. Source: Competitor Websites, February 2021.
This advertising content was produced in collaboration between Vox Creative and our sponsor, without involvement from Vox Media editorial staff.