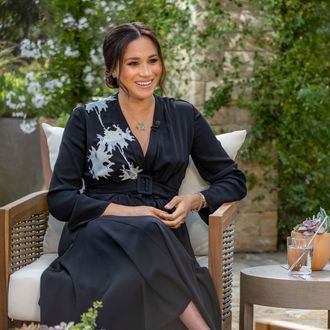 Last night, over 17 million people tuned in to CBS to watch Oprah Winfrey interview Meghan Markle and her husband, Prince Harry, about why they left the royal family. Among those 17 million viewers were some of the U.S. and the U.K.'s most prominent nonroyal celebrities, who took to social media to express their support for Meghan, their anger at the royal family, and their respect for Oprah's unparalleled interviewing abilities. Here, reactions from celebrities across sports, film, news, and TV.
Serena Williams issued a statement sending Meghan love and kindness, writing, "I know first hand [sic] the sexism and racism institutions and the media use to vilify women and people of color to minimize us, to break us down and demonize us."
Ava DuVernay shared a clip of Princess Diana from the famous 1995 interview with Martin Bashir.
Jada Pinkett Smith thinks the queen should be brought to the Red Table.
Poet Amanda Gorman supported Meghan's bravery.
Gabrielle Union shared a post from activist Brittany Packnett Cunningham.
Ana Navarro-Cárdenas suggested that Prince Charles ought to worry about his grandchildren's ears before anything else.
Michael Moore said "Wow."
Jameela Jamil condemned the British tabloids.
Other celebrities, like TV host and great interviewer in her own right Tamron Hall, praised Oprah's interview skills.
The Real Housewives of New York City's Bethenny Frankel issued an apology after actually watching the interview. Earlier that day, Frankel tweeted, "Cry me a river," about Meghan vocalizing her pain.
While her castmate Luann de Lesseps stayed on the right side of history. Respect.