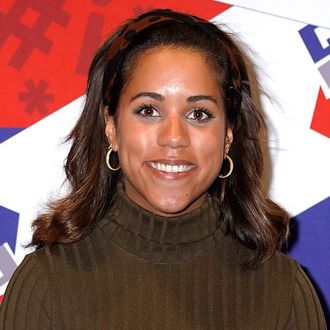 Photo: Ed Rode/Getty Images for Politicon
Update, March 18: Alexi McCammond is no longer set to be editor-in-chief of Teen Vogue following criticism of her past anti-Asian racism. The Daily Beast reported the decision, set to be discussed in an afternoon meeting with Teen Vogue staff, just before McCammond made a new statement confirming the report. "My past tweets have overshadowed the work I've done to highlight the people and issues that I care about," she wrote in a statement posted to Twitter. "I should not have tweeted what I did and I have taken full responsibility for that," McCammond added. Per the Beast report, Condé Nast knew of McCammond's tweets — which she first addressed in 2019 — before she was hired. Condé Nast initially defended McCammond, but the Beast reported that the company's chief content officer, Anna Wintour, met with Teen Vogue staff over concerns about McCammond's hiring ahead of the split.
Criticism of Teen Vogue's newly hired editor-in-chief, Alexi McCammond, has risen since her hiring, culminating in Teen Vogue staff calling out their new boss over past racist and anti-gay statements. Condé Nast announced on March 5 that McCammond, formerly a political reporter for Axios, would lead the digital publication, known for mixing progressive political coverage with fashion and celebrity journalism, after previous editor Lindsay Peoples Wagner moved to New York's website the Cut. Days after, Diana Tsui, an editorial director at Infatuation and former Cut fashion editor, posted screenshots of anti-Asian tweets McCammond wrote in 2011. "thanks a lot stupid asian T.A. you're great," she wrote in one, about a bad grade on a college assignment. "now googling how to not wake up with swollen, asian eyes…," she wrote in another. Tsui noted that McCammond, who is Black, had previously apologized for the tweets in 2019, but called them "deeply insensitive" rather than "racist." "When we talk about accountability versus cancel culture, we need to talk about how this should have been addressed, not just by her but also Teen Vogue and Condé Nast as a whole, especially in light of the current national discourse about Asian racism," Tsui wrote. Others criticized McCammond for screenshotted tweets that use "gay" and "homo" as insults; those screenshots do not show the dates of those tweets, but one references baseball umpire Dale Scott's December 2014 coming out.
More than 20 Teen Vogue staff members posted a message to social media on Monday, March 8, saying they had written to Condé Nast leadership about McCammond, "in light of her past racist and homophobic tweets." "In a moment of historically high anti-Asian violence and amid the on-going struggles of the LGBTQ community, we as the staff of Teen Vogue fully reject those sentiments," they wrote. "We are hopeful that an internal conversation will prove fruitful in maintaining the integrity granted to us by our audience." Celebrities including Olivia Munn and Daniel Dae Kim posted a message of support to the staff, reading, "We — Asian American activists, creators, and citizens — stand in solidarity with the staff of Teen Vogue, and want to thank them for speaking out against anti-Asian racism."
McCammond apologized for the tweets in a message to staff on March 8, according to the Daily Beast. "You've seen some offensive, idiotic tweets from when I was a teenager that perpetuated harmful and racist stereotypes about Asian Americans," she wrote. "I apologized for them years ago, but I want to be clear today: I apologize deeply to all of you for the pain this has caused. There's no excuse for language like that." And in a statement to the Daily Beast, Condé Nast defended McCammond's hiring, citing her 2019 apology. "Throughout her career she has dedicated herself to being a champion for marginalized voices," a spokesperson said.
The criticism of McCammond and Condé Nast comes after summer 2020, when Bon Appétit editor-in-chief Adam Rapoport resigned after a photo of him dressed as a Puerto Rican emerged. That prompted former Bon Appétit Test Kitchen stars including Sohla El-Waylly and Priya Krishna to call out racial inequality at Condé Nast Entertainment, the publisher's video studio; over half a dozen stars eventually quit the Test Kitchen in response.
This isn't the only recent controversy surrounding McCammond, either. Her relationship with boyfriend TJ Ducklo, which began as she was covering Joe Biden's presidential campaign and he was the campaign's press secretary, made headlines early in the Biden administration. (She was reassigned from covering the campaign once they began dating.) Vanity Fair reported in mid-February that when a Politico reporter attempted to cover their relationship, Ducklo told her, "I will destroy you." This prompted the White House to suspend Ducklo, at that point a deputy press secretary. He later resigned.
Update, 11 p.m.: Teen Vogue has released a statement regarding the controversy on Instagram. "We respect and value our diverse community of Teen Vogue readers," the statement reads. "We're so proud of the brand we've built and we're confident that Teen Vogue will continue to be a leader uplifting all BIPOC and marginalized communities and telling their stories to the world." The statement continues, "As a team, we've had frank, thoughtful, and real conversations over the last days about inclusivity and the way forward." The statement is signed from the "Teen Vogue staff & EIC Alexi McCammond."
Update, Wednesday, March 10 at 10:30 p.m.: Alexi McCammond has issued a statement regarding her controversy on Twitter. In a note that she addressed to Teen Vogue community, McCammond apologizes for the "awful introduction" that has transpired in her first week as Editor in Chief of the publication due to the resurfacing of past anti-Asian and homophobic tweets. "I am so sorry to have used such hurtful and inexcusable language," McCammond writes. "At any point in my life, it's totally unacceptable."
Per The Daily Beast, beauty brand, Ulta Beauty, has paused a 7 figure ad campaign due to the ad due to the controversy. "Diversity and inclusion are core values at Ulta Beauty—and always have been," a company spokesperson said. "Our current spend with Teen Vogue is paused as we work with Condé Nast to evaluate the situation and determine next steps regarding our partnership."