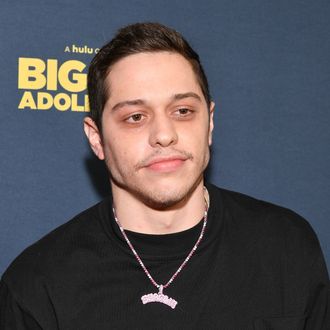 Photo: Dia Dipasupil/WireImage
In a sad, upsetting addendum to a fake press release sent out earlier this week, falsely announcing the launch of Pete Davidson's production company, as well as his marriage, TMZ reports that police have taken into custody a woman who entered a Staten Island home owned by the Saturday Night Live cast member on Thursday. Michelle Mootreddy, law enforcement told TMZ, entered Davidson's house through an open side door and took a seat at his kitchen table. While the comedian himself wasn't home, one of his relatives was, and subsequently called 911.
Mootreddy is allegedly the same person who sent out the fake press release on Tuesday to multiple outlets, claiming she and Davidson are launching a production company called Bodega Cats Presents, in addition to being spouses. "The press release being circulated this morning about Pete Davidson is completely false," Davidson's attorney told Complex in a statement later that day. "Not a word of it is true. Mr. Davidson has no idea who this person is. We are investigating and considering all legal and equitable remedies."
Update, March 19: Per a report from the New York City Police Department, Mootreddy has been charged with criminal trespassing, trespassing, stalking, and harassment.
Update, March 19: According to a police report obtained by Vulture, Mootreddy has been involved in several incidents since the end of October, specifically sending "numerous letters and packages" to Davidson and coming to the home. According to the report, after entering his home Thursday, she declared, "I'm here for Pete. Pete told me to come here." Davidson's mother, Amy Waters, was present in the house and told Mootreddy to leave, to which she replied, "I sent him packages."
Following yesterday's arrest, Mootreddy was charged with Burglary in the Second Degree, Burglary in the Third Degree, Criminal Trespass in the Second Degree, Criminal Trespass in the Third Degree, Stalking in the Third Degree, Stalking in the Fourth Degree, Trespass, and Harassment in the Second Degree.  According to the document, "the Defendant was placed on supervised release and Full Order of Protections were issued."