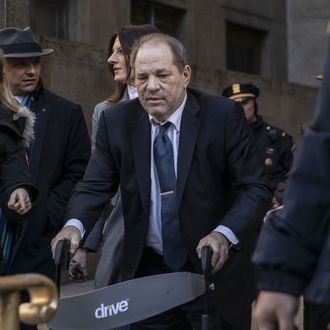 Photo: Bloomberg/Bloomberg via Getty Images
Harvey Weinstein's extradition to Los Angeles was delayed yet again after his legal team fought his transfer during a remote proceeding Monday afternoon. One of his attorneys said that Weinstein was scheduled for several critical health procedures — to treat his failing vision and "save his teeth" — and should be able to get them before extradition.
"He is almost technically blind at this point and in need of surgery … and shots," said Norman Effman, one of Weinstein's attorneys. "He's also had some major dental issues and he has scheduled, as we speak, we don't know again exactly when, for some dental procedures to save his teeth. He's lost, I think, four at this point."
"The basic human nature of this case, it seems disruptive to undo what New York State has accomplished in its ability to care for a person, in their custody, and to ensure that he is receiving appropriate medical treatment," he also said.
The attorney said that Weinstein, who appeared in court via video from Wende Correctional Facility, a state prison near Buffalo, would agree to being arraigned on his Los Angeles charges remotely.
Los Angeles prosecutors first announced sex-crimes charges against Weinstein on January 6, 2020 — one day before his Manhattan trial started. Prosecutors there accused him of raping one woman and sexually assaulting another woman during separate incidents over two days in 2013. In April of 2020, L.A. prosecutors charged Weinstein with another count for allegedly assaulting a woman at a Beverly Hills hotel in May 2010. In October, the L.A. District Attorney's Office said that Weinstein was hit with six more counts — three felony counts each of forcible rape and forcible oral copulation. Weinstein has since been indicted on sex-crimes charges in L.A.
"We're not trying to avoid what is going to happen in California. We believe that there is not only defense to these charges, but a very good defense to these charges," Effman said. "We believe it will result in an acquittal."
Judge Kenneth Case said that even if he ordered extradition during today's proceedings, Weinstein would have the right to appeal. So Case gave Weinstein's legal team until April 20 to file papers detailing their opposition to extradition. Prosecutors have a week to respond, and there will be another proceeding on April 30.