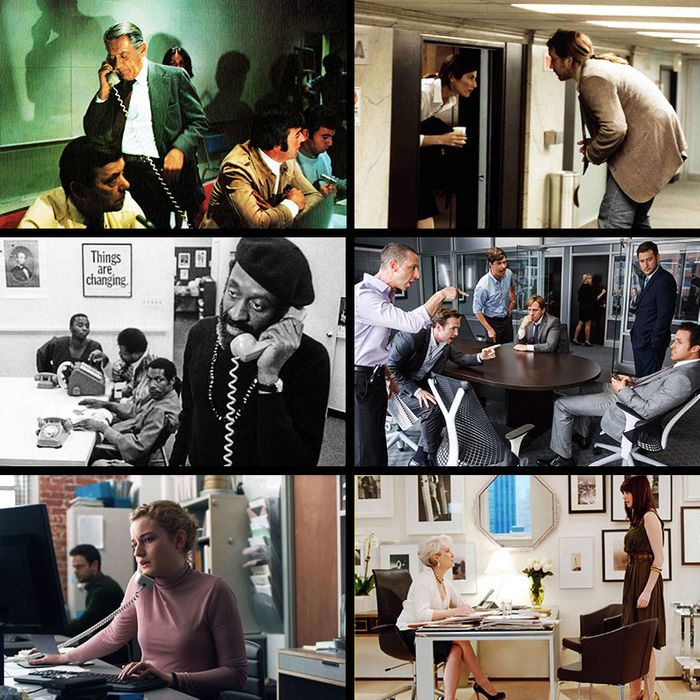 Photo: Courtesy Everett Collection/United Archives GmbH/Alamy Stock Photo/Chuck Hodes/©Fox/Courtesy Everett Collection/Pictorial Press Ltd/Alamy Stock Photo/Jaap Buitendijk/©Paramount/Courtesy Everett Collection/Glasshouse Images/Alamy Stock Photo/©Bleecker Street Media/Courtesy Everett Collection/Pictorial Press Ltd/Alamy Stock Photo/Album/Alamy Stock Photo
.

The Glossy Playground
The most blessed and beautiful people work in a certain kind of fantasy office: luxe, well lit, and packed with stylish strivers. Mod décor is a must, as seen in How to Succeed in Business Without Really Trying. Often, the employer is a fashion magazine — whether colorful, as in Funny Face, or awash in creamy sophistication, as in The Devil Wears Prada. Lately, these dream jobs might exhibit millennial playfulness — see The Intern's Anne Hathaway riding a bike inside her Brooklyn start-up. But like Lucious Lyon's headquarters on Empire, all of these gleaming offices exude a tantalizing wealth that's just close enough to touch.
 Funny Face (1957)
How to Succeed in Business Without Really Trying (1967)
The Devil Wears Prada (2006)
The Intern (2015)
Empire (2015–20)
.

The Greedy Snake Pit
These workplaces run on avarice. Size is a motif: In The Hudsucker Proxy, industrial egos are bigger than the comically oversize furniture. Filling a similarly enormous boardroom table with all Black executives made for one of Putney Swope's most unforgettable images. More recently, thanks to trick cinematography, the nearly boundless office of the CEO in Mr. Robot reflected the global reach of his corporation. Often glass and hard edges are everywhere — symbolizing Gordon Gekko's ruthless insider trading in Wall Street and the ice that runs through the veins of The Big Short's market contrarians.
The Hudsucker Proxy (1994)
Putney Swope (1969)
Mr. Robot (2015–19)
Wall Street (1987)
The Big Short (2015)
.

The Soul-Killing Void
Some workers are insignificant, replaceable drones — as in the silent film The Crowd, which pans up a skyscraper and into an office where the desks of worker bees stretch to infinity, and in Billy Wilder's The Apartment, which returned to that image decades later. Drudgery would get weirder over the years, manifesting in the light-flickering horrors of the Staten Island factory in Joe Versus the Volcano and the absurd "floor 7½" of Being John Malkovich. And a truly dark side to menial tasks is the focus of The Assistant, which is loosely based on Harvey Weinstein's abusive work environment.
The Crowd (1928)
The Apartment (1960)
Joe Versus the Volcano (1990)
Being John Malkovich (1999)
The Assistant (2019)
.

The Chaotic Newsroom
Everybody's on deadline: There are scoops to chase, presses to stop, a show that's going live in five … four … three … two … one. The newsrooms in Blessed Event and The Paper are as busy and messy as the stories the reporters try to cover. The TV side of the business is often depicted as darker than print, as seen in the shadowy studios of Network, where profitable rants take the place of news. In most of these media shops, though, women wield as much power as the men, including Queen Latifah's independent magazine editor on Living Single and the anchors of The Morning Show, who are mad as hell at the patriarchy and not going to take it anymore.
Blessed Event (1932)
The Paper (1994)
Network (1976)
Living Single (1993–98)
The Morning Show (2019–present)