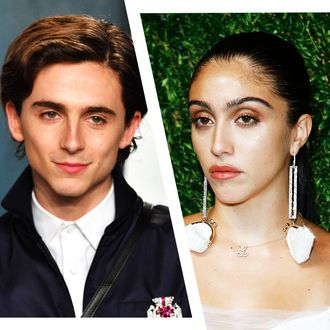 Timothée Chalamet and Lourdes Leon.
Photo-Illustration: by Vulture; Photos by Getty Images
And we thought we were messy! Vanity Fair went there in an interview with Lourdes Leon, daughter of Madonna, and got an iconic response about her high-school boyfriend, Timothée Chalamet. The two 24-year-olds attended Fiorello H. LaGuardia High School, the alma mater of Nicki Minaj, Ansel Elgort, and many more famous New Yorkers. "I respect him a lot, we were a little item," Leon acknowledged the Oscar nominee. "My first boyfriend or anything." Their age is absolutely evident in the photos fans dug up. In one, they're dressed and mic'd for a school performance, giving very much Rachel and Finn before a Glee club performance. Hope they made it to regionals! Leon had nothing more to say about the relationship — or what Timo Thée Chalamet's been up to since graduation — but she does have some constructive criticism for Ansel Elgort, who's she calls "a terrible DJ." (To be fair, DJ Ansolo himself told Vulture he hates his hit "Thief" because it "misrepresents my vibe.") Welp, as long as Li'l Timmy T is on the mic, their high-school reunion will be the event of the decade.