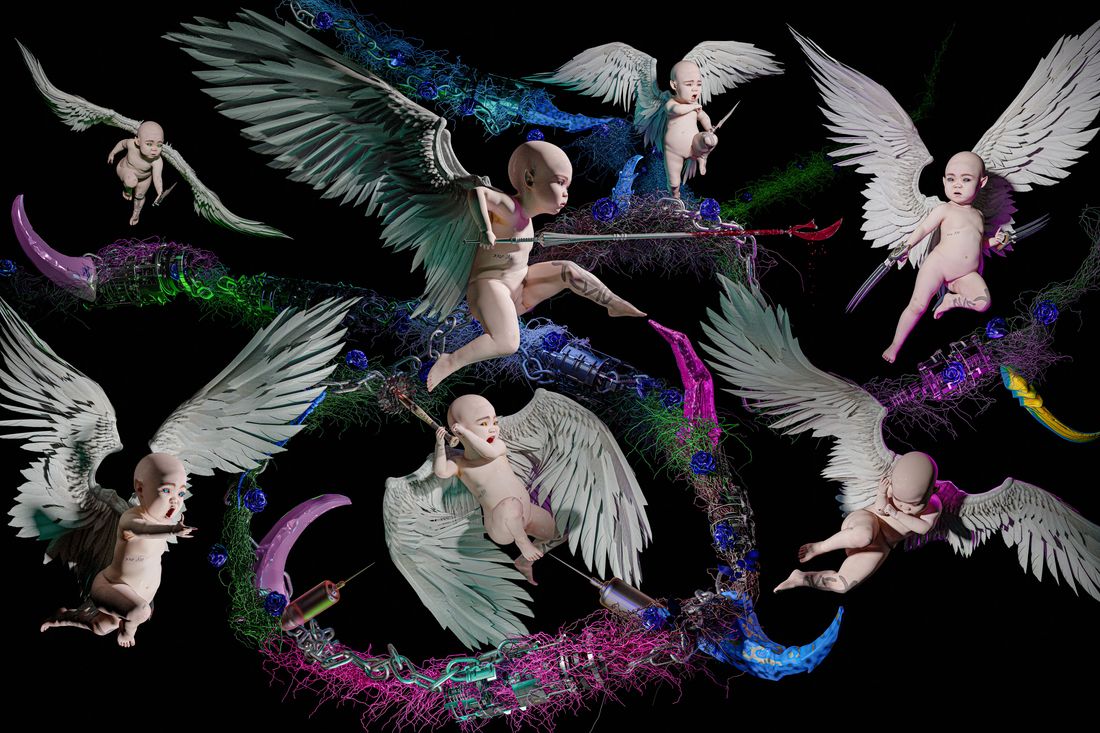 Mac Boucher,
Battle of the WarNymphs
.
Photo: Visuals by Mac; Music by Grimes
The collision of NFTs and art is not, strictly speaking, new. One of the first people to inscribe art on the blockchain was Kevin McCoy, a digital artist who started playing around with the idea in 2013. "Coming from a digital art background, you saw these issues around markets, around ownership, around provenance — all the ways in which the digital way that you and your friends are working didn't have a place inside the traditional art world," McCoy recalls. "We raised some money — never enough — and built a set of tools that are similar to what's happening now. We could get some traction on the artists' side, but there was no market. People did not understand it."
Most people still do not really understand it, but with the influx of cryptocapital into the NFT art market, all eyes are now glued to the possibilities of NFT art. "This whole mainstream sweep happened sooner than we anticipated," says Jonathan Perkins, the co-founder of SuperRare, which launched in 2018. In its first year, it averaged about $8,000 a month in sales. By the second year, $100,000 a month. Last month — around the time it announced a series-A investment from the likes of Samsung, Ashton Kutcher, Mark Cuban, and Marc Benioff — $30 million a month.
These are not numbers that the traditional art market cares to ignore. Among critics, noses may wrinkle, but dealers, galleries, and artists are racing to find their way in. Christie's became the first traditional player to have a blockbuster when Everydays: The First 5000 Days, a digital piece by the artist Beeple, climbed to a final hammer price north of $69 million. Sotheby's found its own star in Pak, an anonymous digital artist, who created a set of NFT "cubes" that, over the course of three days, brought in more than $14 million. One of his works, Pixel — a single gray pixel — sparked a bidding war that lasted more than an hour.
All of this has set the stage for an us-versus-them battle: the traditionalists versus the digital upstarts; the art-historical canon versus an emerging digital aesthetics of 3-D renderings, game-worlds, memes, and LOLs; the ivory tower versus the cryptopopulists. But proponents of the world say the future is already here. Here, six of them, from top sellers to shadowy collectors, weigh in on the current boom.
.

"Even after the human race is gone and there's an alien race, they will have a record of what we have done here today."
Toronto-based digital artist Krista Kim, whose previous work involved sound- and light-based installations, minted her first NFT in early 2021. In January, she applied for a spot on the SuperRare marketplace, and two months later, she made what was then the platform's largest sale to date: 288 ETH (~$514,000) for Mars House, a soothing, Zen-like virtual meditation room. 
Traditionally, artists have been trained to depend on the gallery system to gain notoriety or to promote our careers, but on a platform like SuperRare, you can reach the collectors directly and create an immediate relationship. The culture of cryptoart collecting is a personal one. My collector and I know each other now through the entire process of collecting my art. He is anonymous, but we do have meetings.
The Mars House is the largest sale I've ever made. It will be exhibited in the metaverse for the public to enjoy, but my collector is the only person who owns it. I was approached by a wedding planner who wanted to plan a virtual wedding in augmented reality in the Mars House, but whether or not they can rent it, that's for my collector to decide.
I call NFTs the supreme art medium because all of your ideas and your creative energy are carried into infinity. So even after the human race is gone and there's an alien race, they will have a record of what we have done here today. There's no one that's going to intercept it or block it; it's not going to get burned. No one can destroy our ideas; it will be out there, and it's decentralized. Even when the human race is extinct, the footprint of who we were as human beings will always exist.
.

"During the sale, I felt like Pandora at some points. I felt like Faust at other points. I felt like Michael Jordan."
The shot heard round the traditional art world where NFTs are concerned was the March sale at Christie's of Everydays: The First 5000 Days by Beeple (né Mike Winkelmann), who can now claim to have commanded the third-highest auction price of any living artist. The person who made it happen was Noah Davis, a specialist in postwar and contemporary art at Christie's New York and — as of a few weeks ago — its head of cryptoart. ("We're still workshopping it," he says of the title. "It's a little clunky.")
I was haunted by Beeple on my Instagram but more haunted by meme accounts reposting his images. I wasn't familiar with his practice until December of last year, when he had that huge, splashy suite of sales at Nifty Gateway. As an auction person, when you see numbers on the board like that coming out of the blue, you pay attention.
With the Beeple sale, it was something that the business side had a lot of appetite for. We were already intrigued by the idea of accepting cryptocurrency for payments, so we used this opportunity to test that out. That was more than enough motivation for everybody above me to get behind the initiative, but it certainly helps that I was able to explain what was happening on Nifty Gateway and bubbling up on Clubhouse and on Twitter, to back up my thesis that NFTs were going to very quickly and in short order revolutionize every creative industry.
During the sale, I felt astonishment. Elation. I felt like Pandora at some points. I felt like Faust at other points. I felt like Michael Jordan.
I will tell you straight up that there were maybe three or four people who participated in the Beeple sale that we knew previously. Everybody else was brand new. Look at Justin Sun. He was the direct underbidder in the Beeple sale, and he turned around and he bought a Marie-Thérèse painting by Picasso and Warhol triple self-portrait in a fright wig for more than $20 million. That was his first transaction with Christie's.
I think a lot of artists entering this space are very quickly going to see that it doesn't work for their practice. It's a novelty thing — there's a degree of FOMO. You'll see people dipping their toes into the NFT world and then quickly exiting. But there are definitely artists thinking about NFTs in the right way and who are going to create NFTs that are going to be mind-boggling and interesting and aesthetically satisfying to somebody from the blue-chip fine-art world. Beeple and his ilk are not those artists. They have a very populist aesthetic. People have described it as screen-saver art, or visual junk food, and I think that's totally appropriate to categorize it that way — if you want to look at it from a sort of privileged, ivory-tower perspective. But this movement has nothing to do with Donald Judd or minimalism or the concerns of the art-historical canon. If art history is a tree of life, then cryptoart has been evolving in a primordial soup that's nearby. It's a totally different beast. Comparisons are futile, but the closest one I can think of is street art, because it was so different from the aesthetic of contemporary art and because it made all of the hifalutin art people cringe.
Nobody's neutral on this issue. A lot of people are shivering in their boots. With the advent of NFTs and the blockchain—the kind of transparency that it allows and requires—it really does pull the rug out from underneath a lot of strategies that have been tried and true in the art world for millennia. Now there's a lot of subterfuge and a lot of cloak and dagger. Especially for emerging artists who are being widely speculated on in the secondary marketplace and even tertiary marketplaces, we might have two or three different intermediaries between the buyer and the seller. With the blockchain, that's no longer a hoop that people have to jump through. The bodies are buried in plain sight.
.

"You have to think like George R.R. Martin or J.R.R. Tolkien — you're building a world that you need to continue to grow and develop into a fully realized project."
Mac Boucher, the brother of musician Claire Boucher (a.k.a Grimes), has worked with his sister on everything from music videos to the collection of NFT artworks she sold for nearly $6 million in February. The NFTs mostly featured WarNymph, a winged-baby avatar the Bouchers created using photogrammetry scans of Grimes herself. 
Back in 2018, I did a deep dive into photogrammetry, which I figured out from looking at Marvel posters and reading about how film posters are made. We scanned Grimes using photogrammetry — you go into this dome of 100 to 150 cameras that surround you and capture you from every angle, then software makes it into a 3-D object, then you find a retopologist to clean up the data and make it a usable asset. For what became WarNymph, we added elf ears and long nails and bone structure, then eventually it became a baby. It's gone through so many different models and evolutions that it doesn't have any of Grimes's bone structure anymore. The tattoos are the thing that identifies it as her.
In our current world, the concept of fashion, makeup, plastic surgery, and working out is to augment our bodies to something more ideal or more expressive. Our thesis was: If it now became almost free to do that in a virtual space as a character, why on earth would we want to maintain our physical forms when we can be anything we want?
We were going to do an art show last year that was going to be an introduction to WarNymph. COVID shut that down. At the same time, these NFT platforms were popping up and our gallerist was pushing us, "We've got to talk to Nifty." To us, the art was uninteresting and crypto-oriented. Then Beeple, whom I've been a fan of for years, did his drop, and it had reached this critical-mass adoption, and we had this collection of Warnymph imagery. It was a natural fit.
NFTs were the gateway to this video-game–Ready Player One universe that we have been bullish on from the beginning of WarNymph. Our statement was: This is the introduction to the Grimes metaverse, which is very much a hype word, but it's true. That is not just art but the evolution of art identity and how we're going to interact with each other and create in this emerging virtual economy that I think is going to be absolutely massive.
It's still new, and the dust hasn't settled. I've got a backlog of art I could drop as NFTs, but I'm holding off. You have to think like George R.R. Martin or J.R.R. Tolkien — you're building a world that you need to continue to grow and develop into a fully realized project. Doing these random drops that have no meaning is a very Instagram mentality. What happened with GameStop is reflective of internet bull-market culture and how you can monetize that very quickly, but then it can stabilize and drop quickly, too. If we were to do our drop today, it probably would not have been nearly as significant as what it was in February.
.

"With NFTs, the community can rally around it like a scoreboard."
A former second-baseman for the White Sox, the Dodgers, and the Braves, Micah Johnson retired from baseball in 2018 to focus on his art. He played around with the idea of a young Black astronaut — inspired by his young nephew — which he named Aku. By 2020, he went full steam into the NFT space, where he sold a million dollars worth of art in one minute and won NFT of the Year at the inaugural NFT Awards. 
Painting was my first love and escape. I left baseball because I knew that painting, in the long run, was better for my mental health. I was not represented by a gallery, and, at first, NFTs were a way to generate revenue. The traditional art world, I don't know how to navigate it. But one thing that was beautiful about the digital art world is that everybody was so accessible on Twitter or Discord. In crypto, everybody's in the same spot. I was just reaching out to people, asking the OGs. Anonymous or not, we still can get in touch.
I've always thought about making a character that could inspire a generation, and that's how I came to build Aku. What I did was create a Pixar-type studio, where we'd make this character and bring IP to the NFT world. Then you could take it to a production studio and say, "Look, this community rallied behind this character, and we generated X amount of dollars."
We launched Aku on February 21, a little bit before the boom happened. It was tremendous — we sold a million dollars in one minute. People bought 1,400 of those Aku Chapter Ones. Two or three people in the Crypto for Black Economic Empowerment group had said, "We want to make this a big, big drop." So 48 hours before the release, they got together and rallied people behind Aku. With NFTs, the community can rally around it like a scoreboard. They're incentivized to spread the word about what they bought, because the more they spread the word, the more they're driving up the secondary market, which is very transparent. That's why I think you see these prices that are a lot higher than for a physical painting. It's because you have an actual way to see your ROI.
.

"People think of us as just some art collectors that want to invest in NFTs. We're investing in the vision of the artist."
When Krista Kim sold Mars House to a collector on SuperRare for 288 ETH, she didn't know who he or she was — and still doesn't. The collector is, in fact, a collective that goes by the acronym AOI, for Art on the Internet (or Artists on the Internet). Its founding member agreed to speak anonymously. He's in Dubai, but AOI, he said, doesn't really have a base: "Our base is the world."
The notion of Banksy was what kicked off this conversation — one of my friends is one of the largest Banksy collectors, and we were saying the ethos of Banksy would be perfect to cross over into the NFT world. That spawned AOI.
People think of AOI as just some art collectors that want to invest in NFTs. We are, but that's not really what we're trying to do here. We're investing in the vision of the artist. Every piece that we purchase, we love to speak to them.
I do believe that NFTs are a good medium of the transfer of wealth. If you look at the Beeple auction, these are crypto-orientated guys that have made millions and, all of a sudden, they're able to convert the ethereum into something else and something else with a purpose. The state of the world at the moment is like techno punks meets the art world. But we're not here to make money, and we're not a profit-making entity. We're more decentralized.
In a real-life gallery, you have to follow the laws of physics; in the metaverse, there are many fewer limitations. We're in talks with a big architect in the real architecture world, and we want to create a gallery, but each part is designed for a unique portion of digital art, whether it's augmented reality or still-life animation.
.

"I'm like, Wow, I can fall in love again."
The Swiss artist Urs Fischer is a model of success in the gallery system as we know it: He's a Gagosian-repped star whose sculptures and installations routinely sell for six or seven figures at traditional auctions. When Loic Gouzer, the founder of the online auction platform Fair Warning, approached him about making a first NFT, Fischer agreed to try it. Never mind Larry Gagosian wasn't sure what to do with it and declined to partner with the app to sell the series' subsequent NFTs; Marc Glimcher of Pace, one of Gagosian's top competitors, was only too happy to. Fischer's first NFT, CHAOS #1 Human, a digital video of a disposable lighter spinning and colliding with an egg, went onto the virtual block on Fair Warning on Sunday at an opening bid of $1,000. The final price: $97,750.
It's an old problem — how do you validate a digital file on a digital medium? For example, I make lots of drawings on the iPad. I go to regular galleries and say, "Can you just put that out and people could make a mural, a T-shirt, a cup — I don't care." It doesn't have a physical way to be. And it's always been ignored. For a long time, we've been scanning everything in my studio. It's all digital anyway.
The way I approach NFTs is the same way I would approach a physical sculpture. For a physical sculpture, I would cast it and make sure that, if you put it outside, it doesn't fall apart, that it can withstand the environment. For digital work, it's about how you take care of your data, how you compress things.
Five years ago, the world was more interested in the philosophical question, Can you attach an image to a blockchain? It wasn't about the visual art form, like, "This is very beautiful" or "Look at how this paint is applied." But the aesthetic angles logically move in. I'm just exploring this, but at times I feel almost relieved. I'm like, Wow, I can fall in love again. There is so much out there, and it's not defined yet. It doesn't get rid of the old art world. It just makes the whole thing bigger.
Yesterday evening, I had a friend over — an older gentleman, early 60s, a curator for decades — and we had some conversation about NFTs. He didn't get it. My daughter, who is almost 12, came out and told me that she had got some gems in a video game, that she went to some other place where you can trade them in, and she made a good trade for some gems. She was very excited. To her, this mattered more than getting something tangible. That's where my friend understood what I tried to tell him the whole afternoon, the story of it all. It doesn't matter where it takes place.