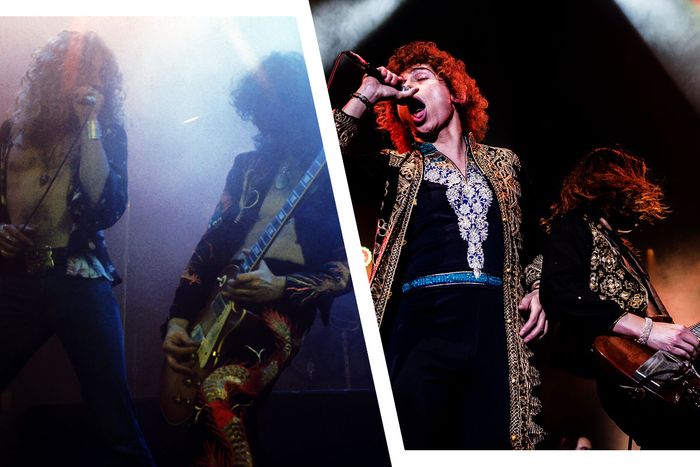 Kudos to our photo team for this one.
Photo-Illustration: by Vulture; Photos by Getty Images
Upon their hair-feathered arrival on the scene in 2018, Greta Van Fleet were met with a lot of attention, often unwelcome, about how much they seemed like pubescent rockers attempting to be a Led Zeppelin cover band before their parents shut off the power to the garage. Never mind that they're four-time Grammy nominees and SNL alums, or that Robert Plant himself anointed them as a good successor to Zepp's sound. (Maybe don't mention that Pitchfork review?) "It's an innate human instinct, to compare and contrast and make things more relatable. That's something that will always be a human instinct," bassist Sam Kiszka told Vulture of the comparisons in a 2019 interview. "I really feel like it's died down. Which is nice, because I'm getting kind of tired of answering those questions."
Well, now they're back to stir up more discourse with new album The Battle at Garden's Gate. And while we have no desire to fan the flames of what boomers, millennials, and teens believe is "good rock music," we do propose this great experiment: If we were to take away the explosive guitars and just give you a lyric penned by Led Zeppelin or Greta Van Fleet, could you identify which band wrote it? Are you astute enough to tell apart Houses of the Holy from Anthem of the Peaceful Army? What about horny musings of the 21st century from hornier musings of the 20th? It's tough, but go ahead. We think you can do it.
Was this lyric penned by Led Zeppelin or Greta Van Fleet?
A diabolical way to prove your rock knowledge.