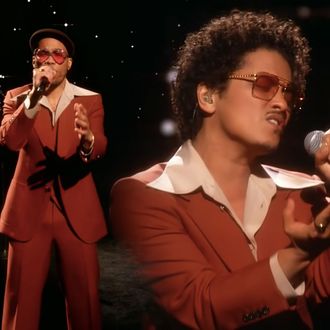 Anderson .Paak and Bruno Mars.
Photo: YouTube
"The Hot 100" left the door to No. 1 open, and Silk Sonic walked right through. The retro-R&B duo of Bruno Mars and Anderson .Paak rose to the top spot on this week's chart with "Leave the Door Open," their sensual first single as a group. It's the eighth No. 1 song for Mars and first for .Paak — whose only previous chart appearance was as a feature on Eminem's "Lock It Up," which peaked at 89. The No. 1 comes during the fifth week on the chart for "Leave the Door Open"; it debuted at No. 4 last month and stayed in the top three ever since, thanks in part to Silk Sonic's throwback Grammys performance. The song hit No. 1 after physical CDs shipped to buyers last week, leading to a 138 percent increase in sales, Billboard reported. We hope Mars and .Paak can sip some wine in their robes to celebrate.
Elsewhere on the chart, Olivia Rodrigo gave us déjà vu back to the beginning of the year and once again debuted in the top ten. "Deja Vu," her follow-up to runaway hit "Drivers License," entered this week's chart at No. 8, making her the first artist to ever debut their first two singles in the top ten. (Rodrigo previously hit No. 90 with High School Musical: The Musical: The Series song "All I Want.") "Drivers License," meanwhile, is still sitting pretty at No. 5 after its previous eight weeks at No. 1. And speaking of songs that are still in the top ten, the Weeknd's "Blinding Lights" is at No. 9 this week, marking its 70th week total on "The Hot 100," now officially the fourth-longest run ever on the chart.