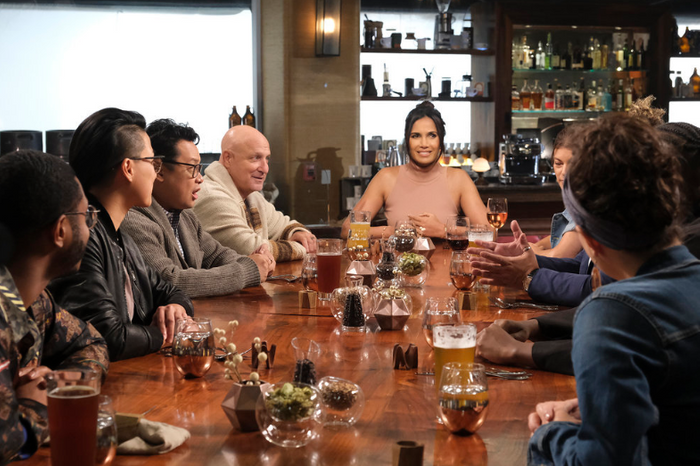 Hands up, utensils down: Top Chef is back! For its eighteenth season, filmed entirely during the pandemic, the reality cooking show heads to Portland, Oregon, with a cast of 15 executive chefs and restaurant owners from across the country. It's the first time Top Chef has ever visited the Rose City, and this season the "cheftestants" will compete in a variety of challenges celebrating Portland's unique cuisines, ingredients, and flavors.
"Portland is an amazing city filled with iconic indigenous ingredients and a strong sense of community. We're also front and center in our nation's current fight for racial equality," Top Chef alum and Portland local Gregory Gourdet says in the season premiere. Gourdet is a part of this season's new twist: For the time time ever, a collection of Top Chef alums will serve as a judging and dining panel for each challenge. One panel member will rotate in every week to join host Padma Lakshmi and regular judges Tom Colicchio and Gail Simmons at the judges' table.
This new season also comes as the restaurant industry faces a prolonged period of hardship due to the ongoing pandemic. In the first episode, many of the competing chefs spoke soberly of being forced to close their doors and furlough their staff members last year. The season was also filmed in the midst of months of city-wide protests in Portland for racial justice. Read on for everything you missed in the first three episodes.
Episode 1: "First Impressions"
The premiere episode opens with the chefs discussing the impact the pandemic has had on their restaurants. "There could not be a more perfect time to compete on Top Chef," contestant Kiki Louya says. "We can come together and support each other." Kiki is one of 15 contestants on this season, which also includes Brittanny Anderson, Avishar Barua, Dawn Burrell, Gabe Erales, Nelson German, Byron Gomez, Sasha Grumman, Roscoe Hall, Sara Hauman, Maria Mazon, Shota Nakajima, Gabriel Pascuzzi, Jamie Tran, and Chris Viaud. (In a first for Top Chef, Padma notes that there are no sous chefs in the group — so you know it's going to be a competitive season.)
The contestants barely have time to get to know one another and make awkward small talk before being thrown into their first Quickfire Challenge. For this challenge, they're split into five teams of three, and each team must combine all three of their personal favorite ingredients into one cohesive dish. (Their favorite ingredients included fish sauce, salted anchovies, plantains, and good ol' butter.) The winning team is Sasha, Kiki, and Sara with their harissa-seared halibut dish.
Meanwhile, the Elimination Challenge is based on a favorite ingredient of the Portland area: birds! "From the Oregon Ducks to birdwatching, Portland is obsessed with birds," Padma says, adding that there are more than 500 species of birds in the state. The chefs are tasked with creating a dish featuring either quail, duck, squab, turkey, or chukar (a type of partridge). The Quickfire Challenge winners get to pick their birds, but everyone else draws knives to determine which bird they get. The winner of the challenge is Sara, who cooks a glazed quail with green beans, charred dates, and grilled eggplant coconut yogurt. Roscoe, who made duck adobo with sweet potato dumplings, is eliminated, and we hear our first "please pack your knives and go" of the season. In his exit interview, he looks ahead to Top Chef: Last Chance Kitchen, where he'll have a chance to compete to re-enter the competition.
Episode 2: "Trouble Brewing"
In the beginning of the second episode, Sara (also a Portland local!) jokes that "all eyes are on [her]" now that she's won both challenges. This week's Quickfire Challenge is brunch-based, because as Padma notes: "Portland is an amazing breakfast town." The chefs must make eight breakfast plates (including spam and kimchi fried rice, fried eggs and a veggie hash, and more) for the judges in only 30 minutes, and pandemonium ensues as they rush to cook the meals. (It's stressful just watching this happen.) The judges declare Jamie and her cheddar polenta with cajun gochujang shrimp as the winner.
The Elimination Challenge is based on two brews that Portland is known for: beer and coffee. The contestants draw knives to determine whether they'll be cooking a dish based on beer or coffee, and order the ingredients for their dish. However, when they show up the next day to cook, there's a twist. (Isn't there always a twist?) The chefs are paired up with someone who has the opposite drink, and the two have to combine their ingredients in one cohesive dish that prioritizes the beer and coffee flavors.
The judges ultimately chose Avishar and Shota — and their lobster sunomono — as the winner. Sasha and Brittanny's team comes in on the bottom, and Sasha is eliminated. (They made beer-marinated pork loin with a coffee hazelnut crumble.) On her way to Last Chance Kitchen to meet up with Roscoe, Sasha exits with an inspirational speech: "Getting eliminated so early in the competition is like a stab in the heart and kind of hits you in the gut. But one failure does not make me a failure. One mistake does not make everything else invalid." We're rooting for you, Sasha!
Episode 3: "Pan-African Portland"
In the beginning of episode three, Brittanny says she has "survivor's remorse" after Sasha went home for a dish that they both worked on. "I didn't feel like one of us was any better than the other," she says tearfully. But soon, it's time to wipe those tears and move on to this week's Quickfire Challenge. A dessert challenge! The chefs must make a layered dessert inspired by Talenti Gelato Layers — and they only have 45 minutes. This is a fun challenge, since we get to watch some of the chefs channel their inner scientist and use liquid nitrogen to keep their desserts cold. The judges declare Avishar and his Buckeye bonbon (a tribute to his home state of Ohio) the winner.
For the Elimination Challenge, Padma brings in Gregory Gourdet and Kwame Onwuachi, another Top Chef alum. The two chefs are there to take the contestants on a road trip to Portland-area restaurants specializing in pan-African food, including Jamaican, Guyanese, and Haitian cuisine. "With the fight for equality in America, it's helped bring attention to some of the amazing pan-African restaurants right here in our town," Gregory says. The chefs' challenge is to create a dish inspired by pan-African cuisine and the local spots they toured. "The reason that I came on Top Chef is that I want to shed light on what it means to be an African American woman in this industry," Kiki says after learning about the challenge, later adding, "This whole experience is only reminding me of how impactful historically this food is, but how unrecognized it is."
When it comes time to pick a winner, the judges select Dawn, who made curried goat with crispy roti and a green pepper sauce that the judges raved over. ("To win this challenge, it means so much to me," Dawn says. "I could not be more honored.") On the bottom are Brittanny, Kiki, and Chris. The judges eliminate Brittanny, who made pickled mackerel with allspice fritter. "I think the pressure of Top Chef is intense," she says in her exit interview, adding, "I think that our culture tells us we can only do experiences if we're supposed to win them. But I think the experience is also something that you can win at."
Ed. note: After publication of this article, reports of misconduct regarding contestant Gabe Erales surfaced. You can find more information about the allegations here.
Welcome back to normal? Not quite. Portland has never really been normal. It's a city that's perfectly imperfect. A place where possible is still possible. It's James Beard's hometown and America's culinary epicenter, filled with food carts, farmers' markets and award-winning restaurants. Portland may not be for everyone, but it's definitely for you. Welcome to the new not-normal. Welcome to Portland. Plan your visit today.






This advertising content was produced in collaboration between Vox Creative and our sponsor, without involvement from Vox Media editorial staff.