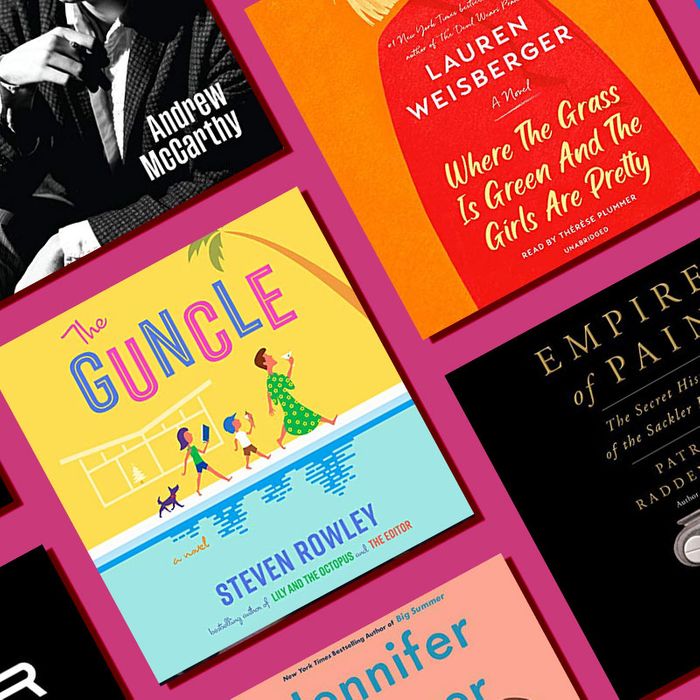 Photo-Illustration: by Vulture; Photos by Publishers
The audiobook category is expanding every day, and I certainly can't listen to everything. The goal of this monthly column is to steer you toward audiobooks that I hope will provide the best experiences, pop-culture value, and something to talk about on your next Zoom.
Photo: Publisher
Length: 4 hrs, 55 mins
Read by: the author
Speed you can listen: at least 1.9x
The very on-the nose slash extremely bad fake '80s synth pop muzak that opens this audiobook is only one of its pleasures. McCarthy's recognizable tenor is another one. It may not provide Rob Lowe-level dish, but McCarthy's voice is like a Proustian madeleine that lulled me back to simpler times of Teddy Ruxpin, Garbage Pail Kids, VCRs, landlines, and sneaking into R-rated movies at the Bridgewater Commons mall. That is, until the record scratch when McCarthy — the star of Pretty in Pink and Mannequin who now works as a travel writer and journeyman television director — actually takes a moment to define the term "after-school special." Then I just felt terrifyingly old.
Photo: Publisher
Length: 8 hrs, 17 mins
Read by: the author
Speed you can listen: at least 1.8x, but slow it down to 1x for the monologue from Uncle Vanya.
First, I'm not sure who told Julianna Margulies to write a memoir. Second, even though her mom or dad nicknamed her "sunshine girl," it's a weird title. Third, with a title like that, should the cover of the book be black and white? (Full disclosure: I wrote for AMC's Dietland, in which Margulies appears, though our interactions were very minor.) The first half of Sunshine Girl, which covers the actress's adolescence, is uncomfortably detailed. Things begin to gallop when she heads off to Sarah Lawrence. I had an especially hard time reconciling the Margulies of The Good Wife with a) her supposed love of rollerblading in Venice, Calif., and b) an aside about a particularly uncomfortable moment in her life when she writes: "The conversation made me want to rip my skin off and flush my remains down the toilet." Intense! Regardless, her vocal impressions of Barbara Walters, Joy Behar, and Steven Seagal, plus that gorgeous aforementioned Chekhovian moment, are pure magic.
Photo: Publisher
Length: 11 hrs, 24 mins
Read by: the author
Speed you can listen: at least 2x
My hopes were not high for a book called The Guncle. I also did not personally love either of Rowley's other novels: The Editor, about a writer who has a working relationship with Jackie O., and Lily and the Octopus, the story of a man and his dog that left others sobbing and me about to throw my Kindle into the Atlantic Ocean. (Both are read by Michael Urie.) I worried this one, about a gay, washed-up sitcom actor self-isolating in Palm Springs who takes in his niece and nephew for a summer, would be more Raising Helen than Auntie Mame. But there are a handful of welcome, winking references to the Jerry Herman Mame musical, including opening a new window and needing a little Christmas, and the Hollywood stuff here actually works. Rowley's voice won me over pretty quickly, though perhaps an actor would have made the niece and nephew Maisie and Grant less grating.
Photo: Publisher
Length: 16 hrs, 10 mins
Read by: Ray Porter
Speed you can listen: at least 1.8x
Like Andrew McCarthy's memoir, this novel, from the author of The Martian, also feels like it time-traveled from the 1980s. A science teacher turned astronaut must save the planet, using the help of a very special alien he names Rocky. Sometimes I zoned out or briefly napped when the science got too gobbedly-gook — 16 hours in space is a long time, especially without Matt Damon — and sometimes the sound effects were so lame I thought I was trapped inside a vintage Speak & Spell or on a really long line at Costco with Wall-E. But Porter, who apparently voices Darkseid in Zack Snyder's Justice League (??), is very amiable company as the astronaut. He's a bit less believable as the alien Rocky.
Photo: Publisher
Length: 6 hrs, 28 mins
Read by: the author
Speed you can listen: at least 1.7x
I don't listen to her Real Housewives podcast Bitch Sesh and I didn't watch Happy Endings, but Wilson swooned her way into my heart on several occasions in this collection: When she describes working for Susan Sarandon as an "assistant's assistant's intern's intern." When she calls an early boss a "creative succubus garbage-y talentless fuck." When she pronounces a stunted exchange with someone as "Pinter-esque." And when she pines for her mom, who died of a heart attack when Wilson was just 25. In fact, I found much of Wilson's rhapsodizing about her Mom so personal and wrenching (her voice even breaks a little) that on the day I listened, I needed to take a break and sob into a pillow. Okay, it was also after I sang a Brandi Carlile song during a voice lesson, but it was cumulative.
Photo: Publisher
Length: 6 hrs, 14 mins
Read by: the author and a large cast of relatives and friends
Speed you can listen: around 1.5x
Sometimes this excavation into the formative years of the Canadian-Jewish actor's life can feel like a re-creation of Rogen's 2007 movie Superbad, complete with child actors performing dirty dialogue. You don't even have to listen very closely to hear Rogen, who now has his own cannabis brand, inhale marijuana as he narrates this collection of candid autobiographical essays. There's some shockingly decent anecdotal gossip here, including a great story about a meeting with George Lucas and another when Kanye West (voiced by Jay Pharaoh) plays Rogen an album-in-progress in a van outside of the Mercer Hotel. I particularly loved Jason Alexander as one of Rogen's first managers and some very rapid interjections by Rogen's Green Hornet director Michel Gondry. I have now changed my ring tone from Cate Blanchett cursing to Gondry barking in a French accent: "You have no respect. You jerk us around like fools. This is over!"
Photo: Publisher
Length: 11 hours, 33 mins
Read by: Thérèse Plummer
Speed you can listen: at least 2x
This new summer read from the author of The Devil Wears Prada doesn't quite reach the heights of her last novel When Life Gives You Lululemons (read wickedly by Laura Benanti). But listening to this story of two sisters caught up in a cribbed-from-the-headlines admissions scandal goes down like Frosé. One's a fancy reporter known by all the waitstaff at Le Bilboquet, the other's a philanthropic earth mother. Like most beach reads, it seems unnecessary to summarize any of the plot, but I did write down one life lesson, spoken especially ebulliently by Plummer, an actress: "Everyone loves dogs and hand-job jokes." Also, I probably listened too fast and missed it, but I have no idea why the book title is a lyric from "Paradise City."
Photo: Publisher
Length: 13 hours, 21 mins
Read by: Sutton Foster
Speed you can listen: at least 2x
Another beach book with a cribbed-from-the-headlines plotline. This time it's all about two women reconciling with the ways #MeToo has affected them. Ever since I discovered Good in Bed, I've enjoyed listening to Weiner's oeuvre on audio. If That Summer felt a few hours too long for me, at least I got to spend it in the pleasant vocal company of Sutton Foster, Broadway hoofer and star of Younger, which is sadly ending its final season any day now. But all the innuendo on Younger couldn't begin to prepare me for Foster's excursion into the book's majorly epic sex scene. That said, when Foster started talking about the protagonist's clitoris, I couldn't help but wish her statement on Instagram Live about The Music Man and Scott Rudin had been delivered with the same level of passion.
Photo: Publisher
Length: 18 hours, 6 mins
Read by: the author
Speed you can listen: 1.8x
For fear of leaving you with only beach reads and celebrity memoirs, I have to reach back to April for this amazing non-fiction account of the rise of dangerous painkillers in America and the family that just kept selling and selling them. It might be gauche to call this audiobook "addictive," but it moves so swiftly, like a very stressful, sometimes bleak, never boring legal thriller. I also found myself crushing on Keefe's soothing speaking voice. Not many authors can sustain your attention reading 18 hours worth of their own content. It's also an excellent companion to another of my obsessions this month — Mare of Easttown on HBO, which I like to call Broadchurch with OxyContin.