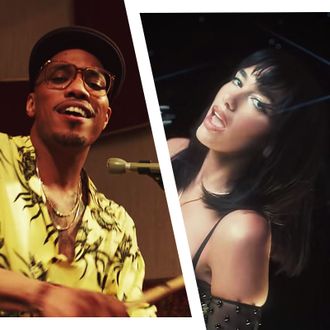 Photo-Illustration: Vulture; Photos by YouTube
We're still looking for a dance floor to run on, and Dua Lipa is still looking for her first No. 1. After an unusual two-day delay, the new Billboard Hot 100 is here, with Lipa and DaBaby's remix of "Levitating" rising to a new high of No. 2 — after some projections had it topping the chart. Instead, "Levitating" was blocked by "Leave the Door Open" by Bruno Mars and Anderson .Paak's duo Silk Sonic, which returned to the top spot for a second week. While "Levitating" earned more streams (21.9 million to 17.8 million) and sales (19,900 to 14,200), "Leave the Door Open" secured a big enough win at radio impressions (87 million to 59.7 million) to eke out No. 1. A statement with Billboard's story on the new chart says, "The announcement of this week's Hot 100 was delayed by approximately 48 hours while Billboard and MRC Data conducted standard audits on reported data, working with data partners to recognize and resolve anomalies." Last week, Billboard updated the top ten after its initial announcement; the chart misplaced the Kid Laroi and Miley Cyrus's "Without You" remix at No. 10 before correcting it to No. 8.
The possibility of Lipa's first No. 1 was hotly anticipated, after the pop star's song "New Rules" previously peaked at No. 2 in 2020. This new No. 2 peak for "Levitating" comes nearly 14 months after she first released it on Future Nostalgia on March 27, 2020. Lipa released a remix of the song with Madonna, Missy Elliott, and the Blessed Madonna in August, ahead of her remix album Club Future Nostalgia, then a second remix with DaBaby in October. The rapper already has a No. 1 to his name, thanks to last year's runaway song of the summer, "Rockstar" with Roddy Ricch.
Elsewhere in the top ten, J. Cole's The Off-Season single "i n t e r l u d e" enters at No. 8. His 21 Savage and Morray collaboration "m y . l i f e" is expected to debut highly on next week's Hot 100, as is former chart-topper Olivia Rodrigo's new single "good 4 u." With one of those songs likely earning next week's No. 1, and BTS's new English single "Butter" dropping after that, this week looked to be Lipa's last chance at a No. 1 off the current "Levitating" remix. So much for leaving the door open.