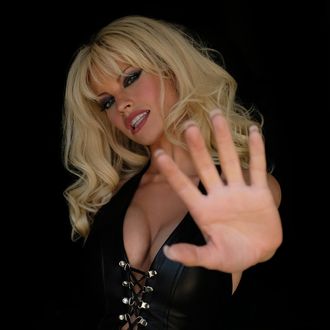 Wow, well, first of all, sorry to all these TikTok teens who are going to get their nipples pierced this year. The '90s was a much more nipple-piercing-filled era, and it's only natural they should make their cyclical return to the zeitgeist. Here to be their harbingers are Sebastian Stan and Lily James, who on Friday posted their first, unsettlingly accurate photos as the titular, tatted married couple Pamela Anderson and Tommy Lee in Hulu's upcoming Pam & Tommy.
According to The Hollywood Reporter, the upcoming limited series will return us once again to 1995, when the couple's honeymoon sex tape was stolen from their home, leaked to the internet, and changed us as a nation. Seth Rogen co-stars as Rand Gauthier, the tape thief himself, with Taylor Schilling appearing as his wife, Erica, and Nick Offerman as porn-world power player Uncle Miltie.
Written and executive-produced by Rob Siegel and D.V. DeVincentis, and directed by Craig Gillespie, the eight-episode show will follow the romance of the Baywatch star and Mötley Crüe drummer as they marry approximately four days after they meet, then later enter into a legal battle with Internet Entertainment Group for attempting to distribute their sex tape illegally, eventually agreeing to a settlement that allowed the video to be disseminated. And, well, here we are today. Sure, a few other things happened since then, but this whole saga is definitely in the top ten when it comes to the trajectory we as a country have continued on ever since. We can't wait to live through it again.