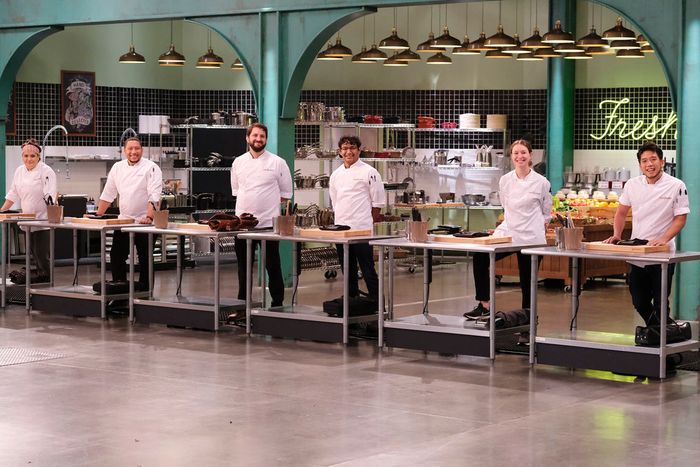 We're only a few episodes in, but season 18 of Top Chef is already different than any season that came before it. This season was filmed in the midst of a pandemic that heavily impacted the restaurant industry, and amid months of protests for racial justice. It's also based in Portland for the first time, and the "cheftestants" have spent the first few episodes exploring Portland's unique cuisines and flavors. Speaking of the chefs: this season started with 15 and by the beginning of episode 4, we're already down to 12. Remaining in the competition are Kiki Louya, Avishar Barua, Dawn Burrell, Gabe Erales, Nelson German, Byron Gomez, Sara Hauman, Maria Mazon, Shota Nakajima, Gabriel Pascuzzi, Jamie Tran, and Chris Viaud. Read on for what you missed in episodes 4, 5, and 6, and you can also catch up on the first three episodes here. Bon appétit!
Episode 4: "Thrown For a Loop"
"If there's one thing that this year has taught us, it's that we should all keep our pantries very well-stocked," host Padma Lakshmi says at the beginning of this week's soup-based Quickfire Challenge, bringing back bad memories of stockpiling dry foods in March 2020. She opens a pantry filled with soup cans, and tells the chefs that their task is to use one of the cans to create a dish that evokes a special food memory. The winning dish is a grilled cheese with tomato soup vinaigrette from Chris, who made it as a tribute to his wife. (How cute!)
For the Elimination Challenge, Padma tells the contestants that they'll be heading outside of Portland to Oregon's Fruit Loop, a 35-mile scenic loop through the Hood River Valley known for its local farms and fruit harvests. The chefs' challenge is to create a savory dish featuring fruit that they'll pick themselves from Mountain View Orchards. (They'll also cook en plein air at the orchard.) It's time for a road trip! ("This is so beautiful," Kiki says as they drive the loop. "Now I understand why people want to live in Oregon.") When they arrive at the orchards, they're treated to another twist: They won't be allowed to use any vegetables in their dishes.
The outdoor challenge is physically hard on the chefs, as they run through the orchards collecting their ingredients. ("I'm sweating in places where sweat should not be allowed to be," Maria says.) Bees buzz around their workstations while they're cooking, and the gusty wind doesn't help, either. The winner of the challenge is Gabe, who made smoked and glazed plums served with pork and chicken. On the bottom are Kiki, Nelson, and Avishar — Kiki's dish included raw chicken and Avishar served undercooked rice, so the judges are not in a good mood. Kiki is the one who must pack her knives and go; the raw chicken is an absolute no-no in Top Chef world. "I have never in my life served raw chicken to anyone, and I just ended up serving it to 10 Top Chef judges," Kiki says on her way to Last Chance Kitchen, adding: "I am proud of myself for giving every single challenge my all. I needed to shoot from the hip and I didn't allow myself to do that in this competition. I tried to be more in control of it and I just couldn't."
Episode 5: "Meet You at the Drive-In"
Everyone is feeling a little down after Kiki got sent home, but a bright, spring-y Quickfire Challenge is here to boost spirits. The chefs enter the kitchen to find that it's been covered in roses, a nod to Portland's identity as the City of Roses. "The people of Portland love roses, and so do I," Padma says. "About half a million rose bushes line 20 miles of streets here in the city." (The city is also home to the historic International Rose Test Garden, the oldest of its kind still continuously operational in the United States.) Padma explains that the roses are also a symbol of Mother's Day, and the chefs' challenge is to create a dish that pays tribute to the mother figures in their lives while also incorporating roses or rose-flavored ingredients. The chefs are not so happy about this one. "Cooking with rose is challenging," Sara says. "For me, I get a really soapy flavor from it so too much is going to be overpowering." The judges' favorite dish is from Chris, who made labouyi, a cornmeal porridge with rose water and candied pistachios. (It's also his second Quickfire win in a row.)
For the Elimination Challenge, we're going to the movies! The chefs' challenge is to feed 50 cars of movie buffs at a pop-up drive-in theater in Portland. The dishes need to be able to be eaten comfortably inside of a car, and the six-course menu must be inspired by different film genres — comedy, drama, action, science fiction, horror, and romance. It's a team challenge, so the chefs are split into two groups: a green team and a yellow team. One chef on each team will cook for each of the genres, and those two chefs will go head to head. Whoever wins the round gets a point for their team.
The green team surges to an early lead, thanks to Byron's "comedic" chicken dish and Dawn's gourmet popcorn (served in the drama course, for some reason). However, things start turning around for the yellow team when Nelson bests Avishar in the science fiction course with his UFO-shaped pupusa. Other highlights include Shota's creepy-looking black corn dog made for the horror course, and Sara's romantic strawberry milkshake. The teams are tied at the end of the night, so the judges' overall favorite dish decides the winning team. That dish is Byron's Korean-style gochujang fried chicken, meaning someone on the yellow team is getting eliminated. It ends up being Jamie, who made sticky fried chicken wings with a fish sauce glaze for the comedy course. "I've grown a lot," Jamie says to the judges on her way out, joking: "If I could show you physically, I would be 6'5" right now."
Episode 6: "Stumptown U.S.A."
After Jamie's exit, there are only 10 chefs left! This season is flying by. The remaining contestants walk into the kitchen for the week's Quickfire Challenge to find that it's been transformed into a "magical Top Chef kitchen forest," as Sara puts it: There are piles of mushrooms everywhere and tree stumps on the floor. Padma explains that the mushrooms are sourced from seven different regions in Oregon, including Portland, and the chefs' challenge is to create a fungus-forward dish. (She even makes a requisite "fun guy"/fungi pun.) As an ode to Portland's nickname, Stumptown, the chefs will have to use the tree stumps — which are very short and very small — as prep stations. The winner of this challenge is Gabriel, who made seared foie gras with fried chanterelles and oyster mushrooms.
After the Quickfire Challenge, Padma explains this week's Elimination Challenge. "Oregon was once home to over 60 different tribes of indigenous peoples," she says. "We want you to honor the Indigenous people of this area by creating dishes featuring some of the first foods." The chefs draw knives to determine which food they'll be cooking — it's all local fish or red-meat protein, like catfish, rabbit, salmon, and antelope. This is a surf 'n' turf challenge, so each chef must pair up with another chef who has the opposite type of game. (To add to the pressure, it's a double elimination week and both members of the losing team will be sent home.) Before they get to cooking, the chefs go to the beautiful Cascade Locks to meet with local leaders from the Confederated Tribes of the Umatilla Indian Reservation and Warm Springs, who will also serve on the judges' dining panel this week. "Having this opportunity, it's a huge honor," Portland local Gabriel says. "Even though I was born and raised here, I've never gotten to see Oregon like this before."
During the allotted cooking time, there's a little bit of tension within some of the teams — most notably Nelson and Gabriel, and Byron and Maria — but the judges note that, overall, this is some of the best food they've had so far this season. ("Whoever goes home tonight will be going home having made a good dish," Padma says.) The winners of the challenge are Sara and Shota, who made smoked smelt and rabbit loin. The losing dish is from Nelson and Gabriel, who made crispy-skin steelhead trout with antelope and chanterelles. The two had disagreed about how to cook the steelhead, which is clear in their different exit quotes. Nelson, who has been dealing with knee pain ever since the orchard episode, says he's "proud of what we did and proud of myself for going through these pains and sticking it through." Meanwhile, Gabriel says: "I don't think I deserve to go home right now. … I'm going to Last Chance Kitchen to get back in this competition, I don't care how many chefs I have to cook against." It's on!
Ed. note: After publication of this article, reports of misconduct regarding contestant Gabe Erales surfaced. You can find more information about the allegations here.
Welcome back to normal? Not quite. Portland has never really been normal. It's a city that's perfectly imperfect. A place where possible is still possible. It's James Beard's hometown and America's culinary epicenter, filled with food carts, farmers' markets and award-winning restaurants. Portland may not be for everyone, but it's definitely for you. Welcome to the new not-normal. Welcome to Portland. Plan your visit today.
This advertising content was produced in collaboration between Vox Creative and our sponsor, without involvement from Vox Media editorial staff.