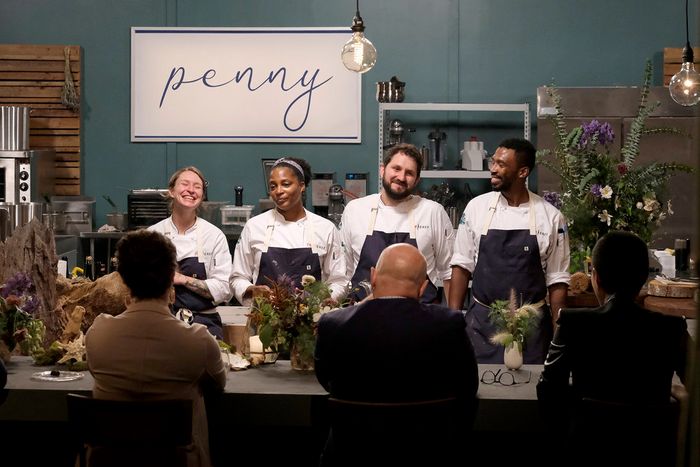 We're down to the single digits, folks! There are less than 10 "cheftestants" left in this season of Top Chef, and the competition is starting to heat up (well, the ovens are anyway). This season is based in Portland for the first time, and the chefs have spent the first half of the season exploring everything the city and its surrounding areas have to offer — from the scenic Fruit Loop and its orchards, to the beautiful Cascade Locks, where they met with local Indigenous leaders. They've also worked with ingredients that the Portland area is known for, like coffee, beer, and roses. Remaining in the competition are chefs Avishar Barua, Dawn Burrell, Gabe Erales, Byron Gomez, Sara Hauman, Maria Mazon, Shota Nakajima, and Chris Viaud. Read on for what you missed in episodes 7 and 8 of Top Chef, and catch up on earlier episodes here and here.
Episode 7: "Feeding the Frontlines"
When the contestants arrive at the kitchen for their Quickfire Challenge, host Padma Lakshmi informs them that they'll be joined by one of the eliminated contestants, who has earned their way back by competing in Last Chance Kitchen. The returning contestant is…(drumroll please)… Jamie Tran! It's so good to have her bubbly energy back in the kitchen, and the other chefs agree. "I don't think I've ever seen a group of chefs more excited to see another competitor," Padma says. For the Quickfire Challenge, the contestants must make a second attempt at a dish they didn't quite nail the first time around. Shota wins the challenge with his braised fish head.
For the Elimination Challenge, the contestants are giving back. Padma introduces Chef José Andrés, who has helped make meals for frontline workers throughout the pandemic with his relief organization World Central Kitchen. "Every time after an earthquake, hurricane, fire — people need people like us to take care of the food needs," José, appearing virtually on video, says. "World Central Kitchen is very simple. We don't wait: We show up, and we start feeding." Padma explains that the contestants will turn the Top Chef kitchen into their own version of World Central Kitchen and feed staff at three local hospitals in Portland. They'll each have to make 65 portions of a dish that must be nutritious, easily packed into to-go containers, and able to be reheated. Maria, who's married to a firefighter, gets emotional about this challenge: "This challenge hits home," she says. "They are truly heroes — doctors, nurses, all these people. They're not thinking about themselves or their families. They're putting the sick person first. That speaks volumes."
After the chefs cook their 65 portions, the judging panel made up of all-star Top Chef alums drives the food over to the local hospitals. At Judges' Table, the contestants are shown a few videos from the frontline hospital workers who ate their meals, and more than one contestant tears up. The winner of the challenge is none other than newcomer Jamie, who made kimchi tofu soup with braised pork, eggplant, and steamed rice. On the bottom are Avishar, Maria, and Chris. Maria gets dinged because her homemade tortillas were raw, and the judges tell both Avishar and Chris that their dishes didn't have enough flavor. Avishar ends up getting the boot; his dish was Bengali-style beef curry with cauliflower and basmati rice. "I never thought I would even cook professionally, but I made it this far in the competition," he says in his exit interview, adding: "Take the risk, take the chance, and go for it." We'll miss you, Avishar!
Episode 8: "Restaurant Wars"
It's Restaurant Wars week, y'all! For any new Top Chef fans, Restaurant Wars is a fan-favorite, mid-season staple where the remaining contestants are split into two teams. Each team must put together their own pop-up restaurant, complete with a name, themed decor, and multi-course menu. Because this season was filmed during the pandemic, this year's Restaurant Wars looks different than any that came before it. Instead of hosting hundreds of people at their restaurants, the chefs will instead be serving the judging panel in a "chef's table" format, meaning the panel will have a full view of the chefs as they cook their seven-course meal.
The contestants are split into two teams of four. ("Portland's name was decided by the flip of a coin, and so will your teams," Padma says.) Byron, Jamie, Maria, and Shota are on one team, while Sara, Chris, Dawn, and Gabe make up the second. After a brief planning session, the teams drive all over Portland to purchase their ingredients and restaurant decor. Byron, Jamie, Maria, and Shota agree that they want to do Japanese/Latin fusion cuisine, so they name their restaurant "Kokoson" — a portmanteau of the Japanese and Spanish words for "heart." Meanwhile, playing on Portland's origin story, the other team goes with the name "Penny" and decides that they're going to do a seafood theme.
On the big day, everyone is stressed out and there's tension in both teams. However, it's clear early on that Kokoson is a more cohesive group — they're more relaxed, and have appointed one person to be the "executive chef" and keep things running smoothly while they're being watched. Their preparation pays off: The judges love all seven of their dishes and make note of the care that went into their setup. Meanwhile, back at Penny, things are less organized. The judges can sense more disagreements in the kitchen, and they criticize the order of the seven courses. When it comes time for Judges' Table, Kokoson is declared the winner of the two restaurants, and Maria, who made a beef lengua sandwich, nabs her first individual win. Meanwhile, the four members of Penny are on the chopping block. Sara, who made a creamy halibut dish and crispy salmon skin, ends up being the one sent home. "I've made myself more vulnerable than I ever have, and in return I finally gave myself a chance," she says as she leaves. "I'm super happy that I did this."
Ed. note: After publication of this article, reports of misconduct regarding contestant Gabe Erales surfaced. You can find more information about the allegations here.
Welcome back to normal? Not quite. Portland has never really been normal. It's a city that's perfectly imperfect. A place where possible is still possible. It's James Beard's hometown and America's culinary epicenter, filled with food carts, farmers' markets and award-winning restaurants. Portland may not be for everyone, but it's definitely for you. Welcome to the new not-normal. Welcome to Portland. Plan your visit today.
This advertising content was produced in collaboration between Vox Creative and our sponsor, without involvement from Vox Media editorial staff.