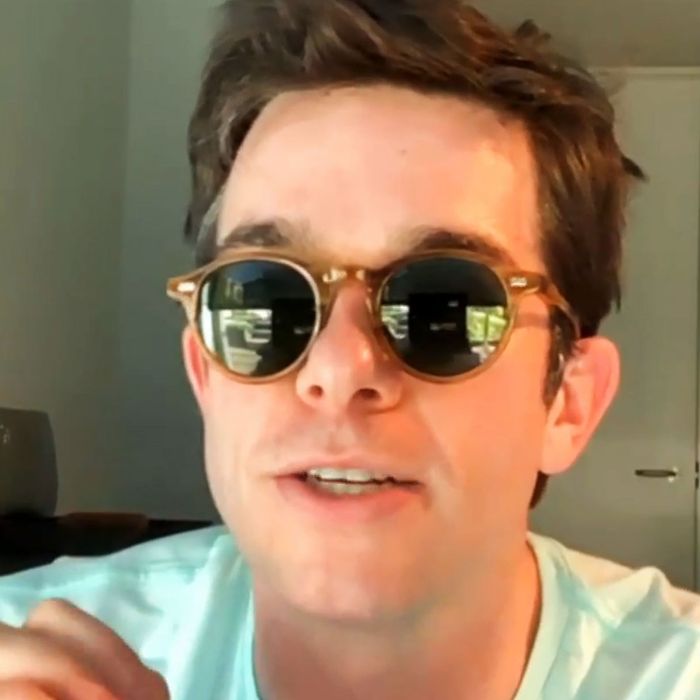 During quarantine, I've missed communal viewing experiences. Whether screaming in a packed theater at a movie's protagonist not to enter the haunted basement, or shouting at a home buyer for his love of wall-to-wall carpet from the couch, there is a camaraderie in the group viewing experience that has been missing over the past year. It's become something of a tradition in my family, when we're all together, to watch House Hunters and yell at the home buyers for decisions we each hate for different reasons. I might hate someone's obsession with white cabinets, while my dad might despise the concept of the show altogether. Despite attempts at innovation from streaming companies, there has yet to be a satisfying way to virtually watch stuff with family and friends without messing up synchronization or video feeds glitching out.
Enter House Hunters: Comedians on Couches, a show I stumbled upon after subscribing to Discovery+ so I could watch more House Hunters. As the name implies, the show involves comedians watching and joking about House Hunters over Zoom while sitting on their couches at home. The show first aired in Summer 2020 on HGTV, with a second season premiering in January 2021 on Discovery+, where it is for some reason labeled as House Hunters: Comedians on Couches UNFILTERED despite there being no noticeable difference from season 1.
Many ill-fated shows and movies have come out during the pandemic, like NBC's Connecting … or HBO's Coastal Elites, which were never meant to have lasting impact as the plots hinged on ongoing global catastrophe. But unlike this other quarantine content, Comedians on Couches could (and should) easily survive in a post-pandemic world. The show brings together the best part of TV commentary without the grating effect algorithm-friendly YouTube reaction videos have had on the format. Hosted by comedians Natasha Legerro and Dan Levy (the writer on The Goldbergs, not the one from Schitt's Creek), the show features a rotating collection of guest comedians, like John Mulaney and Ali Wong, watching an episode of the show and critiquing the onscreen home buyers for their choices.
If there are people out there who watch House Hunters without yelling at the TV, I have never met them. A hallmark of watching the show — which has been on since 1999 and has aired over 1,000 episodes — is feeling completely qualified to judge the home buyers for their wishlists, taste in décor, and health of their relationships. There's always a wife who demands a double vanity, a husband who needs a space for his band to practice, and the couple that seems on the brink of divorce while making a monumental financial decision.
To love House Hunters is to hate House Hunters. The show is unflinchingly formulaic, making its idiosyncrasies both comforting and irritating, like family. Each episode, the home buyers — usually a couple — visit three homes available for purchase based on a wishlist of their wants and needs (a yard for their dogs, extra bedrooms for a growing family, a kitchen with an island, etc.). The Realtor factors in style preferences, like when one buyer wants a cute bungalow and another prefers a sleek modern cube. Often, a couple who want different things end up halfway between, making the choice seem like a compromise nobody wants. As Bobby Finger wrote about House Hunters in the New York Times, "American homeownership is made to look completely ludicrous, a never-ending series of disappointments."
This dynamic is on full display in Comedians on Couches, which features episodes hand-picked by HGTV producers, chosen because they are "fan favorites." This usually means they feature buyers with strange requests (a house with outdoor space for fire dancing) or unsettling dynamics (a couple that nearly breaks up mid-episode and, by the end, gets engaged). While a normal episode of House Hunters may have a few wrenches thrown into the home-buying process, the episodes on Comedians and Couches have the whole toolbox.
In one episode of Comedians on Couches, John Mulaney joins the show to watch an episode where a couple — a stylist and a professional roller skater — look for a home in Joshua Tree. While the couple wander through a dilapidated compound, Mulaney quips, "That's not a bad room, if you've never been in a room before." Seth Rogen makes an appearance to watch the iconic "throuple" episode of House Hunters, where three polyamorous partners look for a home and use the word "throuple" roughly 400 times. J.B. Smoove watches an episode where a husband, and his wife who appears to hate him, look for a house for themselves and their three cats. The husband is obsessed with building a "cat tube" from the house to the garage. Part of what makes the show great is that it doesn't need prewritten jokes — J.B. Smoove incredulously saying "cat tube?!" over and over again is enough.
Other guests include Ali Wong, Chelsea Peretti, Whitney Cummings, Chris Redd, and, for some reason, Blake Griffin. Most of the guests proudly admit to being obsessed with House Hunters, something that only endears their commentary. The comedians will describe a scene as a "classic House Hunters moment," like when the couple shares an awkward drink at an empty bar to discuss the houses, or when one of them climbs into the bathtub to test its size. They know the ins and outs of the show as well as I do, which almost makes me forget they're rich celebrities with nicer houses than me — or any of the people they're critiquing.
Levy told Architectural Digest that Comedians on Couches originated from a live comedy show he and Legerro did with John Mulaney, where they dissected Zillow listings on stage. Levy also said he'd been trying to pitch a comedy show to HGTV "for a very long time" but that "they just were not really ready to make fun of themselves." That is until the pandemic hit and they suddenly needed programming.
During quarantine, my personal House Hunters viewing drastically increased. While stuck in an apartment that, despite it's having some flaws, I am lucky to have, I found myself craving a new home, one with a bigger kitchen, a yard, more windows, a bathroom that doesn't have a flimsy accordion door. At the height of quarantine, when I was extremely cautious about leaving the house, I started to feel like a rat clawing at the walls. I would watch a couple on TV complain that a perfectly fine kitchen was a "total gut job," while cooking in a kitchen the size of a hallway. (I call it a "booty-bumping kitchen," a term I heard coined on the show years ago by a couple describing a kitchen where two people can't walk without bumping butts.) Even though the people in these episodes now had to quarantine in whatever house they bought, and had to go through the same pandemic-related pains as everyone else, I still envied that they could do so with their yard and big kitchen. And I know I'm not the only one to obsess over the fantasy or reality of a new home. The housing market is currently going through a massive boom, with the median price of homes increasing 18 percent in March 2021. While looking at apartments recently in Pittsburgh, where I live, multiple landlords told me they'd never had this much interest in their units.
Like any good House Hunters viewer, I know that when I'm furious at a couple because they picked a hideous house, I'm yelling at an illusion. The buyers on the show have often already put an offer on a house before even filming the show. But that doesn't matter. When Chelsea Peretti deadpans "this show should be called farm sinks," after a professional poker player looks at a third house with a farm sink, it feels like watching TV with friends.