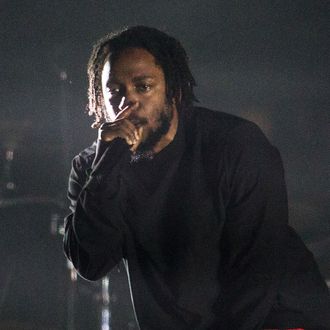 There's always 2022.
Photo: Santiago Bluguermann/Getty Images
Kendrick Lamar has booked his only performance of 2021 — but in news that'll have you saying "damn," the preeminent rapper won't be bringing new music with him. Probably. Lamar will headline the 2021 Day N Vegas festival on November 12 in a set billed as "One Night in Vegas. From Section.80 to DAMN.," named after his first and most recent albums. 2021 marks the tenth anniversary of Section.80; meanwhile, it's been more than four years since Lamar released his last project, 2017's DAMN., which became the first pop album to win the Pulitzer Prize for music. (In fact, the festival set will come over a year after Lamar's last verse, on Busta Rhymes's "Look Over Your Shoulder" in October 2020.) Fans, of course, have been anxious for new music — when label Top Dawg Entertainment teased a May announcement that ended up being rapper Isaiah Rashad's comeback, many hoped for new Kung Fu Kenny. But maybe he's just saving the new stuff for Coachella 2022? Regardless, you can catch the main himself in Vegas alongside an otherwise stacked lineup, including Travis Scott, Tyler, the Creator, DaBaby, YG, Lil Baby, Doja Cat, Saweetie, SZA, Lil Uzi Vert, and more.